Increase Brand Awareness with User-Generated Content
By Megan Marshall, Tuesday, January 17, 2023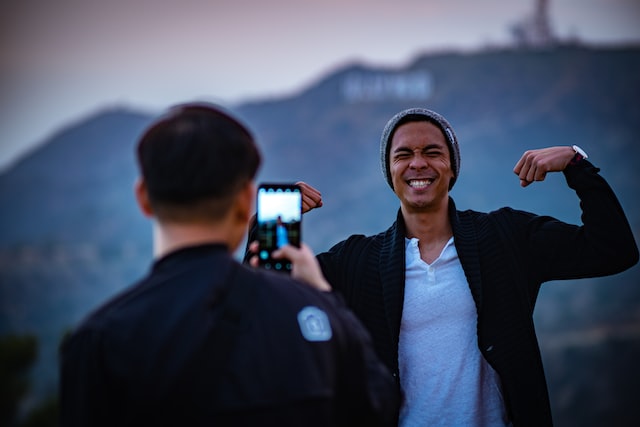 As a business owner, your goal is for your target audience to know your name. But given how many businesses are going after the same audience, it can be a challenge to stand out from the rest. By taking extra steps toward achieving brand awareness, you will differentiate yourself from your competitors. And brand awareness is the crucial foundation of the marketing funnel. The question is: How do you achieve this?
Content is key. You need to take advantage of content creation. This means making blog posts, videos, and graphics to spread around your channels. As you strengthen your content marketing efforts, you will grow a more loyal fan base. That said, you don't have to take this on alone. Let's walk through everything that you need to know about the promotion of user-generated content for businesses.
What is
user-generated content
?
Think about the kind of content you create outside of your business accounts. Do you enjoy taking photos of food when you go out to restaurants? Have you ever posted videos from concerts? What about group pictures with your family at an amusement park? Oftentimes, those of us who aren't influential figures don't even really stop to consider what kind of an impact we are making. You might be the one to inspire someone to go to that restaurant, venue, or park.
With user-generated content, you essentially make a statement that you endorse a particular business. So, consider this from the angle of your own business. When you agree to repost user-generated content from online supporters, you are taking a step back from the in-house content creation process. The current members of your loyal fan base attract the eye of their followers with high-quality, brand-specific content, earning your channels more attention.
Ways to gain
user-generated content
The best way to locate user-generated content is when members of your audience tag you on social media. This allows photos and videos to show up directly in your feed. Sometimes, you will get lucky with users simply choosing to post about your business just because. Other times, you need to make an effort yourself. Your business has a wide range of options when it comes to encouraging followers to create content, including these three opportunities:
Host an event
User-generated content can come from your customers and employees. They are advocates of your business. For this reason, you should be sharing your gratitude with them. If you are looking to create a sense of community, a public event is a great way to achieve it. Humans crave interaction, especially now in a world that is largely remote. By opening your business's doors to a fun-filled occasion, perhaps on your anniversary or during the holidays, you foster relationship-building with your audience. Your event does not have to be anything huge, but it must emphasize your company culture. Encourage attendees to post from the event, then make use of those photos afterward when you say "thanks for coming."
Create a contest
A few times a year, consider boosting your brand's channels by holding a contest or giveaway. People love winning free things! This means, with the help of a well-executed contest, you are likely to increase engagement, sales, and subscribers. With the right type of contest, it also means that you can gain a considerable amount of user-generated content. Make one of the requirements of your contest that participants create something for their submission. They should share this creation on their public profile so that can access it. Note that you need to have quality guidelines in place for these submissions. That way, your company has the best possible photos and videos to work with.
Make a trend
So much has happened since the start of the World Wide Web. And so much of that has happened just in the past few years. Look at the massive cultural impact that TikTok has made, for instance. Many major companies and small businesses have benefitted from keeping up with trends on this platform. However, in today's age of social media, trends come and go extremely quickly. You need to stay on top of them with your content creation efforts. But it isn't just the case that you should be following the trends created by other businesses and individuals. Come up with your own that is sure to attract your audience and convince them to make related user-generated content. This might be a dance, song, phrase, or filter.
Why is
user-generated content
successful?
Consumers are less interested in professional advertising than they once were. Now, they are driven to action when they see other consumers positively engaging with a business. In fact, 99.9% of customers read reviews while online shopping to ensure the product or service is worth their money. Many even look for online reviews while they are in-store. It might even be the case that they got onto a website or showed up at a store because of a post they saw on social media by a valued source.
So, while one reason why user-generated content is successful is because of its cost-effectiveness… At the heart of this type of content is that it is a trust signal. Trust signals are elements that show how legitimate a business is. Social proof is one of the most effective ways to harness this sense of trust, and even has the ability to indirectly improve your SEO.
Brands that use
user-generated content
More and more marketers are taking advantage of the powerful tool of user-generated content for the sake of authenticity. It doesn't matter what industry your business falls under. Big-name companies across industries utilize user-generated content all the time on their social media platforms. When they repost content, they will often tag the creator to further emphasize the more human aspect of their brand. Here are three companies that are known to post free or commissioned content.
Apple
Hashtags enable your social media content to be found by the right people. While you should use hashtags that are popular and trending, you can also come up with branded ones. You might be familiar with #shotoniphone. Through this hashtag, Instagram users are able to find other users who take amazing photos on their iPhone. While it was first developed as a challenge for macro-focused images using iPhone 13 devices, the hashtag continues to regularly be included on the posts of amateur and professional photographers.
Adobe
Be considerate of what is important to your supporters. Find ways to engage with them that make sense with who they are and what your brand is. Multinational computer software company Adobe is a major advocate of user-generated content. An example of this comes from the company's Global Creators series. This space allows its audience to discover artistic styles from around the world. Illustrators, designers, and photographers contribute to Adobe with guides and pro tips featuring their own work.
Aerie
Did you know that apparel retailer Aerie hasn't retouched photos in its advertisements since 2014? The brand has been quite serious about establishing its reputation as "real." But to further push the narrative that they are all about real people, Aerie decided to boost spending for user-generated content from influencers. Aerie has been known to align itself with Gen Z's social consciousness, making this a smart business decision. The company recognizes how impactful it is to reach younger generations with an unfiltered approach, with the help of expert creators that they value.
There is a lot to love about user-generated content. In a way, it takes the "business" out of your business by showing your human side. That's the side that buyers want to see. It shows those buyers how people just like them can benefit from your products and services. So, start encouraging your loyal followers to create meaningful content on your behalf. It's sure to be a game-changer.
Comments are closed.