What Does it Take to Be a Successful Content Creator?
By Megan Marshall, Friday, August 26, 2022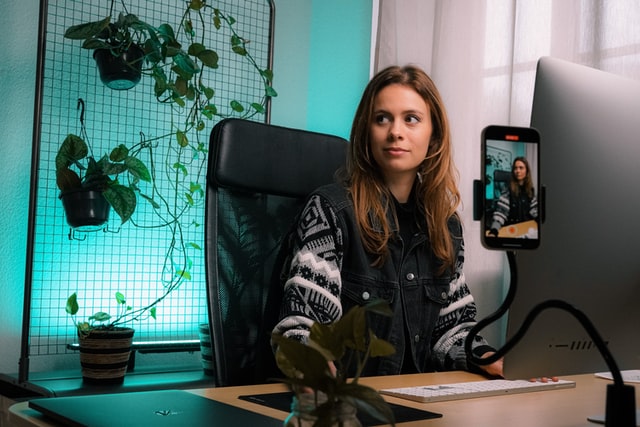 More and more digital careers are popping up. When you go on job sites like LinkedIn and Indeed, you will see that there are plenty of options for writing, social media, and videography. There are even countless opportunities to do freelance blogging. When it comes to creating content, the list goes on. The people who have been dubbed "content creators" are those that bring value to the internet. Businesses need to invest in their skills.
Having someone on your team who is knowledgeable about audience engagement is the key to success. Otherwise, you simply cannot expect to build the level of trust that is required to, in turn, further build that audience. It all comes down to having a well-executed, customer-centric plan. If you are interested in becoming a successful content creator yourself, keep reading to learn about how you can get there.
Infographic: Content Creation Statistics
46% of businesses want to increase their content creation spend in 2022

29%: American kids that want to be YouTube stars

59% of marketers use video in their content campaigns

42% of marketers will be increasing their budget for VR and AR

94%: Content marketers that are using social media as a distribution channel

Popularity of content types

77%: How-To Articles

49%: News & Trends

47% Guides & E-Books
What do
successful content creators
actually do?
Content creators are essentially responsible for maintaining brand identity through informational or entertaining material. While marketing extends beyond what businesses are capable of doing online, content creation predominantly involves digital media. This is true for creators of any size, in any industry. So, here are three types of content that they can work with.
Written Content
Plenty of businesses have opened up their websites to include a blog. It provides the opportunity to gain more traction in the search engine results pages (SERPs). You can use specific keywords to capture the attention of those searching for queries relevant to your business. But blogging isn't just for businesses. Individuals who are building a brand can take up writing a blog, too. Maybe you write weekly updates about life, educational how-to pieces, or inspiration involving a particular subject matter. Note that blogging content creators should follow the same SEO practices as marketers do. That way, your work actually gets acknowledged by their target audience.
Of course, written content doesn't have to just include blogs. It may also be e-books, case studies, and product descriptions. Even reviews are on the table. For instance, you could be a notable foodie or book reviewer. The sky is the limit as you strive to be a successful content creator. Consider what the world needs more of, in regard to captivating storytelling.
Audio Content
As of March 2022, Spotify had reported that its platform has approximately 3.6 million podcasts. Obviously, this number doesn't even include all of the other podcast hosting platforms. The point is, though, that people love to tune into podcasts. Listeners want to learn new things, be entertained, or find some sort of inspiration. There is an audio show for everything these days. If you are interested in making your own, you need to talk about things that you are passionate about. That passion will show to your audience. They trust creators who are invested in the same topics that they are.
When you make audio content, you can't find yourself wandering. There should be at least a loose script that you follow. Otherwise, the episode could get so off track that you miss the initial point entirely. If you want to have more of a conversation with your show, invite guests on. They should be people who have the right knowledge and entertainment factor to keep listeners from clicking off.
Visual Content
If you use social media, the odds are that you are consuming photos and videos every single day. In fact, this is most likely true if you use the internet at all on a consistent basis. Visual content is what draws attention. It tends to get more views, shares, and likes, especially if it is relatable. Thus, as a content creator in this space, you get a boost in your exposure. The reason why consumers appreciate visual content so much is on account of the fact that it communicates information effectively and memorably. That is, if you are executing it correctly.
To be a successful content creator, there is no way to ignore the storytelling element that consumers crave. For that reason, you need to have a clear subject matter when you create visual content. This means centering your photo or video around one topic. Don't clutter up the mind of a consumer with too much information about too many different things. Keep it simple. Your visual should be easy for anyone to understand.
Which platforms are the most popular for content creation?
The sky truly is the limit. As long as you know the guidelines for the platforms that you are working with, you can be competent as a content creator. There are many that you can choose from, depending on what kind of business you are running. Figure out where your audience is primarily hanging out. It may be one of these three very popular channels.
YouTube
YouTube would not be what it is today without successful content creators. It paved the way not only for what video content could be, but also content creators at large. There are many big names in Hollywood who have grown from YouTube. Some people may not remember that musical artist Justin Bieber was discovered there. Since that first singing video, he has become one of the most widely known names in music. Other celebrities have obtained their claim to fame in different ways. Take internet personality Liza Koshy, for example. As a Vine star that moved to YouTube, she has since found herself as an actress and host in several high-quality productions.
Arguably the best part about YouTube is that it is home to a wide variety of video content. You can find anything from music videos to math tutoring. The team behind YouTube encourages those who produce videos on their platform to tell their story and build a community. And that is precisely what corporate content creators aim for.
Instagram
As a highly visual platform, Instagram is the place to go if you are a creative in the visual content category. It's relatively easy to get discovered in the Discovery feed of users who have similar interests. But keep in mind that it's about more than just having the right angles and hashtags. Today's Instagram influencers and marketers know exactly how to bring in followers and attention to their posts. They follow three core principles… Content, community, and consistency.
The first step is content. In order to be a successful content creator, this is a given. You have to stay true to your niche and establish the pillars of your content. From there, build visual pieces that showcase your knowledge and passion. This is where community comes in. Your audience on Instagram is going to be your guiding light. Provide them with beautiful images and meaningful captions to keep them engaged. And you have to do this consistently. If you were to post sporadically, you won't be able to accumulate a loyal fanbase. So, don't take the month off.
TikTok
If the algorithm likes your videos, you can go viral on TikTok extremely quickly. This is why we see so many celebrity statuses growing from the app, including Addison Rae Easterling and Charli D'Amelio. These two young women started their journeys as dancers. Now, Addison can be seen in a Netflix film and Charli's family has their own Hulu show. Both have even become the faces behind respective beauty lines. So, while there continue to be those that TikTok content creators aren't celebrities, it stands to reason that they are experiencing similar accomplishments to stars twice their age.
For those that want to make something of themselves on TikTok, whether it be at an individual or business level, you need to be mindful of the current trends. This could be an audio clip, filter, or joke. These trends pass you by very quickly, so staying on top of them is a must in order to garner success. And take care to appropriately respond to comments. A considerable amount of engagement is going to happen there.
What jobs can you get as a
successful content creator
?
Anyone is capable of becoming a content creator. However, to be a successful content creator, you are going to have to take things more professionally. Now, "professional" doesn't mean that your content can't be centered on humor. It just has to have a high level of craftsmanship and effectively showcase your experience, and you have to regularly monitor its performance.
Social Media Strategist
Businesses need someone to be the bridge between them and the social media community. They need to be personable and interesting. Someone that the audience can feel comfortable with. It is a task meant for someone who is capable of wearing a lot of hats. After all, a social media strategist will be the one developing, implementing, and managing plans for the content going out on all of the business's channels. On top of the three that were previously mentioned, this could also potentially include Facebook and Snapchat. Once again, it depends on where the right customers actually are.
You are going to be the one analyzing social trends. There is no way to develop the perfect strategy without seeing the data behind customer behavior. And the data doesn't stop there. Social media strategists measure the success of every campaign across their channels. Monthly key performance indicator (KPI) tracking ensures that no changes do unnoticed.
Content Marketer
A niche that falls under digital marketing, content marketing involves a wide array of places to connect with customers. One example could be that you would write email newsletters. These might be distributed on a weekly or monthly basis. Don't go too long without sending them. Your subscribers hit that button to join your email list for a reason. They want to know what you're up to! Also, continue to work on the content within your newsletter to keep leveling up your click-through rate. Come up with intriguing subject lines that aren't necessarily clickbait but make someone want to click.
You can't be a successful content creator in the marketing space without focusing on your audience's wants and needs. A big part of that is being able to provide them with value. Businesses have to fight back against competitors every day to keep customers interested. This notion should follow you in any other content marketing efforts, whether you are making quick tip videos or statistic-heavy infographics.
Web Copywriter
Are you an expert at writing for sales purposes? Then being a web copywriter may be the perfect position for you. People consume a lot of online content on a day-to-day basis. As they browse through the websites of businesses, they want to find out what is so unique about them. They need someone to convince them of the quality of a product or service. Although a picture is worth a thousand words, it doesn't mean that you can stop there. Optimized text is a big part of wooing a buyer. Web copywriters are the ones who achieve that. These are successful content creators of the highest caliber, coming up with irresistible text that convinces someone to purchase that product or service.
In order to write for a website, you have to be up-to-date on your SEO knowledge. You should be able to integrate keywords in a natural way, and know what consumers are actually searching for. The language should be detailed and active. Because they have such short attention spans, it's critical that you get the necessary information across to readers as quickly as possible.
Freelance Creator
You can make a living writing without being tied down to a particular company. Currently, there are over 57 million freelancers in the United States. More professionals are finding this to be a great way to diversify their skillsets. They are able to perform jobs as they please, per a contract with a client. A benefit of taking on a role as a freelancer is that you have the freedom to choose which of those clients you work with. There can be as many or as few as you are capable of handling at a time.
Those clients might be searching to hire a freelance blogger. Across industries, businesses rely on successful content creators to provide them with high-quality pieces. This happens when they don't have a member on their team who has the time to crank out content. Or else, it may be that they don't feel strong in their writing abilities. Another common freelance offering is graphic design. This is for those who are experienced with designing book covers or logos to develop effective brand identities.
Content Editor
There is a lot of writing that goes into maintaining a web presence. The person who is doing the writing could hold any of the positions mentioned above. As successful content creators, they know what they are doing. However, you can't just send out the content without looking over it again. Mistakes are likely to turn up that way, even if they are minor spelling or grammatical errors. As a content editor, you will oversee all aspects of the content. The responsibilities range from researching to proofreading to reworking. These are all incredibly important steps that need to be taken before a piece is published and shown to the public.
Content editors follow a style guide that explains how formatting and voice are supposed to be in a piece. Based on that, they provide detailed feedback. But the skills required of a content editor go beyond just being detail-oriented. Collaborative nature is also important. You have to be excellent at written and verbal communication. This way, the writer knows what they need to improve upon currently and in the future.
Brand Representative
For those that have accumulated a considerably large social media following on their own, being a brand representative is very attainable. Essentially, you are the one showing off the values and identity of that brand. One type of representative is a brand ambassador. These are content creators that focus on online promotions. As an ambassador, you can have conversations with those businesses about promoting them, their products, and or their events on your personal social media channels. This means you need to maintain knowledge about the business. And collaborating with them gives you the chance to further build your own.
Do your research into the brands you work with before committing. They should be ones that you would even promote in your regular life. The products and services that they provide should fall in line with what both you and your followers are interested in. Consider exploring local businesses in your area, in particular.
Ready to become a successful content creator? Whether you are taking the journey on your own or joining a team, find your own voice. There are so many other content creators out there who are offering similar advice and ideas to you. Being able to stand out with your personality will be what keeps readers and viewers interested in what you have to say.
Comments are closed.