Why Is Content So Important for SEO?
By Lizzy Cederberg, Wednesday, March 11, 2015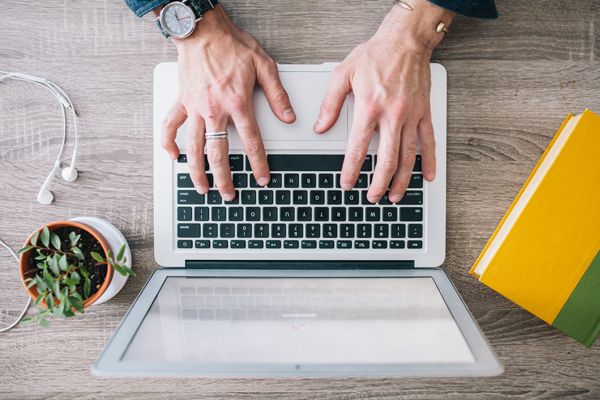 This is a question we get asked a lot – why does content matter so much? The truth is, it matters because search engines care about it.
In the good ol' days when having a website for your business was more of a luxury than a necessity, there was less competition for that #1 spot in search engine results. Now you can't afford not to have a business website, which means lots of pages competing for very few spots at the top. So search engines had to get tougher. One of the chief metrics Google, Bing, and Yahoo look at now is content – is your content relevant? Is it fresh and new? Is it real, human-produced content? Is it original?
With the extra scrutiny comes the need for extra effort. To have a top-ranking website you have to work for it (or hire an SEO company to work for it). Google's not going to give that spot away to a website with a few short paragraphs that haven't been updated since 2006. So, when you're ready to start writing, here are some strategies and tips for getting the most bang for your mental effort buck.
Keywords Count, But Don't Get Carried Away
Before you start writing, you should do a little keyword research (there are lots of online tools for this). You want to find out what terms people search for when they want to find a product or service like the ones you offer. Create a little target keyword list; be sure to include some general terms and some longtail terms. Long-tail terms are typically longer and more specific. For example, "carpet cleaner" is a general keyword while "best shag carpet cleaner for pet stains" is a long-tail keyword. For best results use both.
Now that you have your list of terms, make sure you include them in your content, especially in your titles and subtitles. Don't overload every piece with keywords; search engines will often flag this as spam. Try to include them where they fit naturally. Chances are, if you're writing about something related to your services, you'll have to include keywords. Don't believe me? Just try writing about carpet cleaning without mentioning carpet cleaner.
Quality AND Quantity
If you're blogging for your business website, then it should come as no surprise that your posts need to be well-written. You need to use proper grammar and a professional tone. You don't have to be incredibly formal (i.e. using "you're" is OK, but never "u r"), but you do want to sound authoritative. And unless your target audience is other people in your field, you don't want to get too technical too quickly. Blogs should be easy to read.
You also need to write a lot. I don't mean super long pieces, though the general rule of thumb nowadays is 900-1000 words, but you need to write frequently. A good goal to set for yourself is one piece per week. Ask other members of your staff to write, too. The more frequently you post, the better, so long as you're not sacrificing quality.
Mix It Up
The most common incarnation of a blog post is the informational article (like this one!), and they're great. Articles are probably the easiest way to get information to an audience; they're straightforward and no one is left guessing what you're trying to say. But variety is the spice of life, so don't be afraid to try out some other types of posts.
Videos, infographics, and slideshow presentations are all excellent ways to present content, too. You just need to make sure the information you're presenting goes with the medium you choose. For example, this article would make a terrible slideshow – no one wants to look at 20 slides of plain text. But "The Top 10 Web Design Trends of 2015" might make a lovely slideshow since viewers could actually see the design elements in action. Don't forget to add metadata so Google knows what you're talking about, too.
Meta What?
Metadata, or meta tags, is information in the code of your website that helps search engines quickly identify the subject of a web page. If your website is built on a CMS platform like WordPress, you can usually use an SEO plugin that makes it easy to add a Meta title and description. Include keywords in both, if possible. This is also what shows up in a search engine.

To truly optimize your website, you will want to include metadata on all your site's pages, not just blog posts.
Spread the Word
Before you share your blog with the world, make sure others will be able to share it, too. Add social sharing tools to your blog so visitors can easily click and post your content on their own profiles – it's free advertising! And make sure you share all of your blogs on your own social networking pages, as well. Speaking of, if you don't have Facebook, Google+, and Twitter for your business, it's time to get on it. Also consider Linkedin, Pinterest, and Instagram if they're relevant to your industry.
Where's the Proof?
I could spout off statistics – such as SEO customers who opted for professional content writing saw on average a 56% greater increase in organic traffic to their sites than customers who did not – but it's always more fun to see the results yourself. The best way to see the added value to your website is through Analytics. If you don't have Google Analytics set up for your website, stop what you're doing and set it up. Really.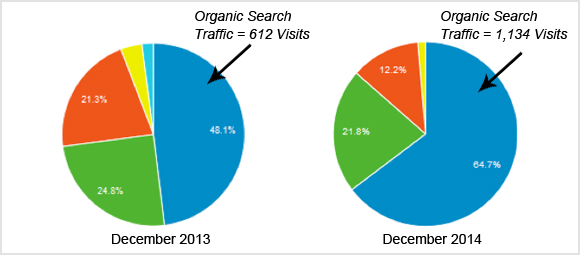 Analytics gives you the ability to actually measure your site's progress. While I don't want to advocate putting off writing, installing Analytics now and waiting a month will give you a good baseline measurement of typical monthly traffic to your site. Be sure to look at the traffic breakdown, too – how much traffic comes from search engines, social networks, referral sites (if you have listings on directory sites, review sites, etc.), and how much traffic goes straight to your domain.
After blogging regularly (and sharing!) check back and compare traffic from month to month. You should start to see it creep up, especially traffic from your social media pages and search engines.
Don't forget that content writing is just one piece of the larger SEO puzzle, but it is a crucial one. Following these guidelines and writing about interesting and relevant topics will help more users find your website. It's not an overnight success story, though, so be patient and just keep writing!
2 responses to "Why Is Content So Important for SEO?"