Best Halloween Marketing Ideas for Businesses
By Megan Marshall, Tuesday, October 4, 2022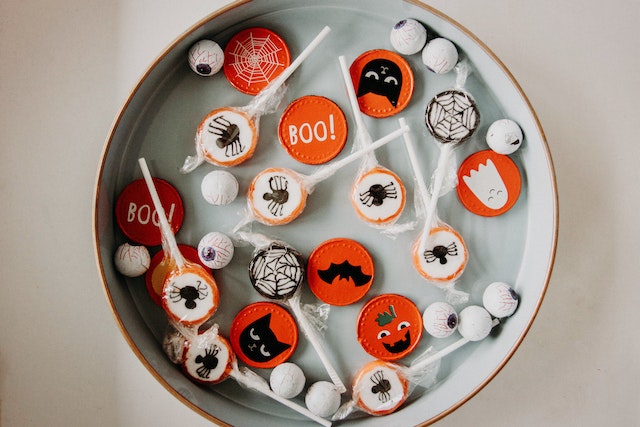 Although the idea of Halloween has changed in modern times, its origins date back several generations. In fact, the holiday is credited to the ancient Celtic festival of Samhain. It marked the end of the summer harvest, when ghosts returned to the earth. By the late 1800s, Americans had transformed October 31st into their own tradition. It was about bringing the community together for neighborhood parties and seasonal foods. Costumes that had once consisted of animal skins were now more festive. Over the course of the past century, Halloween has continued to push the entertainment narrative with trick-or-treating for kids and horror movies for adults.
In 2022, businesses of all types can be seen participating in the holiday. There are entire stores dedicated to it, like the largest Halloween retailer in the United States, Spirit Halloween. Local grocery chains even carve out sections for their Halloween merchandise. But you might be wondering how your company, in particular, can get involved. You will find that there are plenty of ways to engage with both your employees and your customers during the month of October. Now, readers… Let's get spooky with Halloween marketing tricks (and treats)!
Infographic: The Real
Halloween Marketing
Stats
Annual Halloween expenditure in the United States is $10.1 billion.

35- to 44-year-olds spent the most on Halloween in 2021.

Discount stores and costume stores receive the most purchases.

The top area of inspiration for Halloween is online search.

Consumers spend an average of $102.74 on Halloween.

82% of households with kids celebrated Halloween in 2021.
Host a Halloween Event
There are two ways that your business can offer Halloween events. The first is a physical event. You can decorate your store with pumpkins and fake spiders, and buy or make delicious treats. Open the space up for trick-or-treaters on Halloween day. Invite customers in and encourage them to tag you in any photos that they post on social media. Consider even asking the businesses around you if they would like to participate with different activities. It's a fun way to get the community more involved. On the other hand, you can host an online event. Consumers love interactive content! Throughout October, your app or website could feature games for the whole family. You can also get creative with Halloween-themed tutorials.
Build Spooky Web Elements
For the month of October, really lean into that Halloween feel on your website. You don't have to execute a full redesign. Instead, create a banner or pop-up ad that reflects the spirit of the season. This is something that you will be able to do for the other holidays, as well. But in your Halloween version, it could have a witch or a ghost who is purchasing your product. If the skills on your team allow for it, animate that witch or ghost to walk across the image. This adds another visually interesting layer. Another option for your Halloween marketing efforts could be a landing page. Make sure that any of these web elements is optimized for mobile devices so that every person who comes to your site views them in their glory.
Create Themed Social Posts
Step away from your regularly scheduled social media content by making visual materials that are centered around Halloween. This way, you can most effectively push your seasonal promotions. Post images of products that are suited for fall. A clothing shop owner could highlight their cozy sweaters for the changing weather. They can artistically place the sweaters against an orange background with mini pumpkins surrounding them. If your team loves the holiday, include them in your Halloween marketing. Take photos of them helping with decorating your business or being dressed up in their own costumes. Reward the best user-generated Halloween content made by your followers by posting them, too. This way, you get real people on your pages to diversify the content.
Run a Halloween Contest
Contests are a great way to obtain user-generated content. It thrills consumers to know that they have the potential to win something. Promote a Halloween contest across your social media channels and website. Send out email blasts to remind subscribers about the contest, as well. Ensure that all of your supporters are aware of it, both in regard to what the terms are and what they are competing for. It might be that your customers should show off your products in a Halloween setting. Or they could have to carve a pumpkin with something related to your business. A third option might even be a scavenger hunt around your area, in which you can partner with other small businesses. Go through the photos that are sent in or posted by participants to pick the winners, or else allow your followers to pick.
Offer a Seasonal Discount
Encourage consumers to purchase from your business by giving them holiday deals. This, of course, doesn't have to be limited to Halloween. However, for a Halloween marketing deal, you can place a deal on a seasonal product. If you own a bakery or coffee shop, this might be your pumpkin treats, for instance. You know that these are already going to be hot sellers. People look forward to Starbucks' pumpkin spice lattes all year round, after all. So, by offering discounted pricing on fall-flavored goodies, you get your buyers even more excited about them. You can even do something fun like offer discounts to people who show up in costume on Halloween. For that kind of marketing strategy, you need to have promoted it online.
Participate in Local Events
Does your community host any holiday markets or festivals that you could get involved in? If so, consider setting up a booth. For Halloween-focused events, embellish your booth with tons of orange, purple, and black decorations. Go with something more subtle for events that are centered around autumn itself. In either case, you will have the in-person platform to sell your products or talk about the services that you offer. Maybe, instead, you're feeling particularly charitable going into the season of giving. So, you can ask your team if they would like to participate in a Halloween-themed run that is sponsoring a local non-profit organization. Let your audience know about any event that you will be at so that they can come to support you or participate themselves.
Halloween Marketing
Campaigns in 2021
When you decide to invest in Halloween marketing, there are a few different routes you can take. "Scary Halloween" is very different from "cute Halloween," in terms of appropriate slogans and imagery. For that reason, you need to really think about who your target audience is. Check out the Halloween marketing efforts of four major companies to gain inspiration for your own campaign.
Chipotle's Roblox Boorito Maze
In 2021, Chipotle turned its Halloween marketing to the online game Roblox. This was a change from their traditional, in-person burrito giveaway event. Developed as a Halloween event, the Boorito Maze was a hit. Players were able to compete for exclusive daily items. 30,000 participants were even provided with limited-time codes for a free burrito (in real life, of course) which would expire two weeks later. It was a great way to encourage the younger generations that already play the game to get excited about their brand, while also bringing Roblox new users.
Nike's Halloween Dunk Low Sneakers
Made specifically with the holiday in mind, Nike has Halloween-themed sneakers that will only be available this October. With the orange, black, and white color scheme, it's the perfect wear for the season. The iconic swoosh is boldly showcased in black, along with the "NIKE" label on the back. Because these Dunk Lows aren't decked out in Halloween imagery, you can feel comfortable wearing them all year round.
Heinz's "Heinz Tomato Blood" Commercial
Thinking about making your trick-or-treating costume gory? Ketchup might be just what you need! Last year, the popular ketchup brand Heinz came out with their commercial entitled "Heinz Tomato Blood." It's a 15-second piece that clearly lays out what you need to know. That is, the fact that "if you have Heinz, you have a costume." Through the use of ominous, flashing lighting and spooky music, the company uses its Halloween marketing campaign to push the narrative that your product isn't just a condiment. It can also level up your look as a ghost or another undead figure. They even asked viewers to share their costumes on social media with the hashtag #HeinzHalloween to keep that theme and engagement going.
Crest's #BringOnTheCandy Safes Giveaway
Between October 6th and 9th of 2021, Crest hosted a giveaway for adult U.S. residents. As a toothpaste company, Crest is all about dental hygiene. That's precisely why it decided to invest marketing into a holiday that is centered around candy. The Halloween giveaway was called #BringOnTheCandy. They offered limited-edition safes with the claim to help keep children's teeth protected. All parents had to do for a chance to win was make a tagged post on Instagram about why they were participating in the contest and love Crest.
We want to know how your business is planning to celebrate! Drop your Halloween marketing tactics in the comments.
Comments are closed.