7 Strategies to Market Yourself as a Writer
By Megan Marshall, Tuesday, October 11, 2022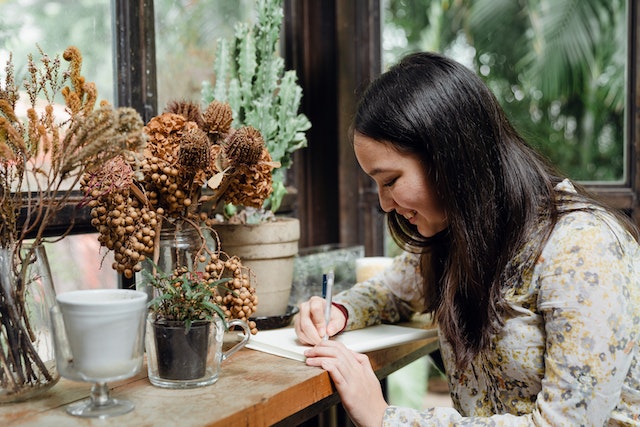 It doesn't matter whether you write fiction novels or business web copy. And it doesn't matter whether you are just starting out or if you've been published several times. You need to be able to market your talent. But getting your name out there is easier said than done. The internet is full of creators trying to find their way. Decide what makes your skills different and how you are going to stand out. When you start marketing yourself as a writer, consider taking these steps.
1) Make your personal self known.
The goal of writing is to provide readers with something of value. They are searching for writers who achieve a strong emotional connection with them. And although there doesn't necessarily have to be a face behind the pages or screen, it can be the right idea for furthering that connection. People are interested to know who they are reading from. By including a headshot on your Amazon page, you have the potential to attract more readers.
For that matter, you should also have an author bio. This is a paragraph that explores who you are that goes at the end of a blog post or the back of a book. It could be establishing your credibility on the subject you wrote about. Otherwise, your author bio could involve your hobbies outside of writing. In either case, readers should come out of your author bio with a little bit more insight into your life. Think of it as an approachable way of laying out the facts.
2) Build a website to show off your skills.
Everyone is making websites these days, and there's good reason for it. For businesses, it's a matter of showing off their products and services so that they can draw in sales. In your case, you need a space that is dedicated to your personal craft. This way, people that have enjoyed their first interaction with your writing will have a one-stop-shop to learn about everything that you have accomplished. To best market yourself as a writer, incorporate an organized portfolio into your website. Keep it as simple as possible.
A portfolio allows visitors to see your past work. If you have positioned yourself as a freelance writer or ghostwriter, some of those visitors may decide that they want to hire you. Novelists, on the other hand, can beautifully display the covers, descriptions, and retailer links of their books. At a glance, the public can learn whether your work would be a good fit for them.
3) Be active on social media.
If you want an easy way to market yourself as a writer, you will use social media. There are countless opportunities that come from making social media profiles. By using the right combination of hashtags, you can get a lot of different eyes on you, from people who may have never found your work otherwise. It isn't mandatory to be on every platform out there. You may even find that Instagram is the only one you really need to reach your audience. But to determine that for sure, you need to do some trial and error research.
It isn't just about being present by posting useful content on social media, either. Once you have made the right profiles for you, encourage your followers to share and engage with your posts. If we go back to the Instagram example, you have the ability to make 24-hour Stories. Here, you can do a fun Q&A where you directly interact with your audience. Find ways to get them involved.
4) Create a regular newsletter for supporters.
Staying at the forefront of your readers' minds is key. With so many other writers out there in the world, you want to be one that they constantly come back to. That's why you need to reach them right in their inbox. One of the most personal ways that you can market yourself as a writer is through a newsletter. It lets you showcase your personal voice in a longer format than the author bio does. Plus, it gives you a direct line of contact with your audience because you know that they will be checking their emails throughout the day.
When you create a newsletter, you have more space to get your points across than you do with social media. And unlike Instagram, where you can't include clickable links, you can incorporate them in emails with colorful buttons. But whether you are planning to execute your email marketing campaign on a weekly or monthly basis, you need to make sure that you have enough to talk about. Always provide your subscribers with something new and interesting, even if you didn't publish a piece that week.
5) Start writing your own blog.
If you are known for your blog writing, you might think it's simply more work to create a personal blog. However, it can be a real game-changer in terms of gaining attention. From a search engine optimization (SEO) perspective, having a blog on your author's website gives you the chance to hone in on relevant keywords. This means that you will start to rank higher on Google. SEO is a critical part of expertly marketing yourself as a writer on account of the fact that, as was previously mentioned, there are so many other writers out there that you are competing against.
Through the help of your blog, establish yourself as someone who genuinely cares about your reader base. You might find that you are able to gain more professional guest posting or interview opportunities in doing so. People are going to recognize the time and effort that you are putting into maintaining your personal writing. You shouldn't think of your blog as a diary, but you should be open to exposing your character and opinions.
6) Keep up with the community.
Never stop sharpening your knowledge of the present. Continue to ask yourself what kinds of trends are going on right now and what events within your niche are coming up. This way, you can participate in discussions alongside the members of your community. Of course, that isn't to say that you are expected to talk about something just because it is the latest industry news. But capitalizing on topics at the moment can get more eyes on you.
There are ultimately two ways that you can engage with your reader community. As we know, there is interaction with them online. You might be inspired to create or join a Facebook Group. The other way is to participate in person. Find out when writing conventions are going on so that you can be part of a panel. Consider even hosting your own meet-up or signing at a public spot in town, such as a bookstore.
7) Take the time to promote other writers.
Despite the fact that you are in the midst of competition in search engines, networking is a key part of marketing yourself as a writer. You need to take the time to engage with others. Those interactions could pave the way for building long-term relationships. Share their latest piece on your social media and tell your audience to check them out. They may decide to reciprocate on their own channel. Then, you both experience the benefits of reader crossover.
Guest blogging is a great way to team up with fellow writers. Even better is the fact that it's free! Reach out about an opportunity to swap insight so that you can each earn a backlink to your site. You can also do an exchange of reviews on one another's latest books. After all, every author wants to maximize the quality and quantity of reviews. What better way to do that than with someone who truly gets the subject at hand?
Here at WEBii, we are professional content writers. Our writing portfolio spans a wide variety of industries. Not only do we write blogs, but we also construct metadata to keep websites search engine-friendly and keyword-rich copy for your freshly-designed web pages. Make sure to check out our services and the rest of our blog to learn more about how to best maintain your channels.
Comments are closed.