The Three Pillars of SEO
By Jacqueline Sinex, Friday, July 8, 2022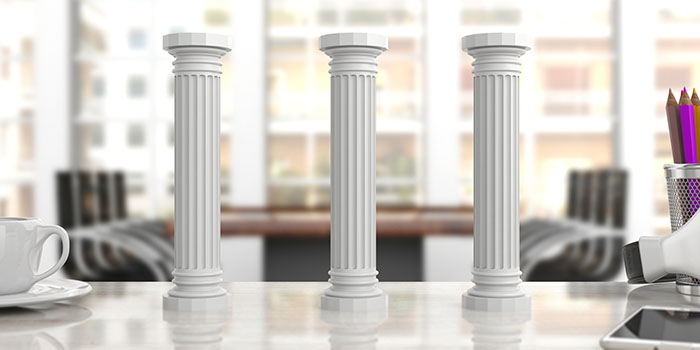 I bet most SEO professionals get this question a lot: "What is SEO?" As search engine optimization has evolved over the years, the definition has remained confusing to many website owners. Ultimately, people want to know what kind of work is going to be done to achieve results.
My first comment to these inquisitors is often that SEO is not really "hard" more than it is "tedious." There is not just one magic task that a professional optimizer does to suddenly rank your website (despite what solicitor emails will tell you).
If your goal is to get more traffic from search engines, your first goal is to rank higher in the results. The closer your listing is to the top of page one in searches, the more eyeballs you attract. The more eyes who see your listing, the more opportunities for a click-through to your website. The more you increase visits to your website, the more you increase the potential for leads.
Working toward these results involves three important pillars of SEO: content, reputation, and website.
The SEO Content Pillar
You may have heard sayings like "content is king" and "content marketing drives results." While those sayings are a bit tiring to hear these days, they ring true.
Quality, relevant content is essential for good SEO. This is because search engines like Google are trying to give their customers good answers to their searched inquiries. When someone types in a search phrase or question-related to your industry, they should get a list of qualified resources to click on.
When your website offers high-quality content that is optimized with the right keywords and the right structure, it is more likely to be recognized as one of these resources. A great SEO content specialist will know how to craft well-written articles for your blog, your landing pages, and other areas. They should write compelling information that is relevant to topics your audience is searching for, and they will ensure the right amount of keyword presence and readability of the article is ideal.
Besides content on your own website, there are other forms of content that make a difference. Examples are: guest post articles you submit to other blogs, articles you publish on LinkedIn, press releases, and shared presentations. These types of content increase your visibility and referral traffic. It's very helpful to have a clear content strategy in your SEO plan that touches on all types of content creation.
The SEO Reputation Pillar
Search engine optimization does not stop with blogging. Building a strong online reputation is also vital for gaining results. Online reputation involves a variety of things, such as: online directories, online reviews, answering questions in community forums, being cited in news releases, earning links on other high-ranking websites (also known as link building), and increasing your domain authority. (Learn more about domain authority here.) As you continue to build your reputation in the WWW ecosystem, search engines—and humans—notice. Think of each gradual tic on this task list as a vote of confidence for your company. However, it's important to focus on quality resources here, rather than only quantity. Submitting your links to spammy sites will not benefit you. Having your reviews and links published on high-ranked reputable sources will move the needle.
The Website Technical SEO Pillar
Last but certainly not least, your website! This pillar covers website structure and performance—the more technical side of SEO. Normally when you begin a new SEO project, it will start with a lot of research and the "on-page" tasks, which are largely part of this website pillar. Today, the performance of a website is a major factor in user experience. If a site loads too slowly, or if it has errors, customers are likely to bounce away. Google picked up on this issue several years ago and began developing tools to test and measure website performance. This continues to be an important Google ranking factor.
There are also a variety of tags and code elements that are best practices for websites. Some of the tags also feed additional information to search engines. There are many different types of meta tags and schema tags that describe what a web page is about, what kind of content it is, and even the who, when, where, and why for your business. Feeding this information to search engines helps them index and categorize your site better. To put things plainly, if you have excellent web development practices in place, you are one step closer to good SEO.
Challenge yourself to invest some time in each of these areas over the next six months. With good SEO strategy and consistent, mindful effort, the three pillars will make an impact on your marketing.
---
Looking for help to lift the weight of search engine optimization off your team's shoulders? Contact me to request your free SEO assessment here.
Comments are closed.