Effective Growth Strategies for Non-Profit Organizations
By Megan Marshall, Friday, October 7, 2022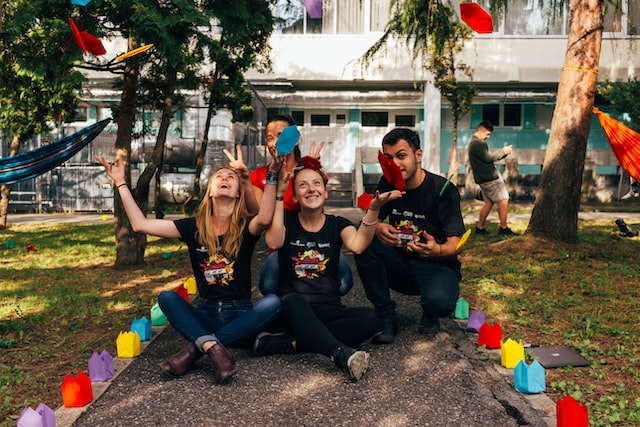 In order to best serve your community, your non-profit organization needs to be able to expand its programs and services. This can't be done without having supporters back your initiatives. And you can't earn those supporters if they aren't able to find you to begin with. You need to get yourself in front of them by developing a web presence. Learn what growth strategies you should implement for your non-profit.
Be meaningful with your website.
When someone lands on your site, it should be clear to them what your mission is. Having a mission is the heart of what it is that you do. It guides the strategic planning and decision-making of organizational leadership. From the perspective of someone outside of your non-profit, the mission statement is also what encourages them to dig deeper into your content. For that matter, storytelling is going to be a crucial part of your marketing campaign. Personality matters. So, communicate your values and goals in a voice that makes sense to your organization. Beyond that, it should be easy to navigate between pages explaining the various facets of your non-profit. Each section must have a purpose. Hold your visitors' hands as you educate them every step of the way.
Take the time to create videos.
As you share content, keep an eye out for what your audience is most resonating with. It may be the case that your videos perform especially well. In general, video content is one of the most effective ways to engage with an audience. Due to them receiving an increasing number of click-throughs, videos are a great choice for leveling up your digital marketing efforts. You don't have to have the best videographer in town to make a meaningful piece of content. The point of this growth strategy for non-profits is to keep someone's attention for longer. This is true whether you are using the video to introduce your organization, educate viewers on a specific topic, or highlight a member of your team. There are a lot of directions that you can go in. Just remember to maintain the personality you have in your written content.
Start up a volunteer program.
As a non-profit, you rely on the people who are willing to champion your cause. This means it's necessary to find the right volunteers for the job. Who are you hoping wants to make this particular social impact? Once again, you need to create content that resonates with them. Figure out which keywords are the most popular and center your content around those. You should be actively trying to capture the attention of prospective volunteers online as they are searching for organizations to support. Upon their discovery of your non-profit, they should be able to clearly locate volunteer position descriptions. This way, they know that their skills are needed. Show and tell them how they can be a part of your story. Then, keep them in the know about what opportunities you have to offer with the simplicity of newsletters.
---
75% of donors say that the key influence behind their giving is due to them feeling passionate about a cause they identify with.
---
Offer incentives to members.
Many non-profit organizations choose to give their supporters something for taking the initiative to initially get involved. This could include special offerings or physical products. Incentives are a good growth strategy for non-profits because it makes those volunteers feel appreciated. When you give them a reason to trust and admire you from the beginning, they will likely stick around for longer and promote the cause more frequently. The same goes for your donors, to who you should also show immediate gratitude. Make them up a gift basket when they first invest in a membership with you or cut you a check. Later down the line, you could even give an end-of-year award to the person or group that made the biggest donation.
Publish testimonials on your website.
You appear more credible when someone else lifts you up. This is as true for non-profit organizations as it is for businesses. People want to know that their time, energy, and money are going to a trustworthy place. In a testimonial, a current supporter can express the impact that your organization has made in their own life or on the community at large. Because this is coming from a real person who doesn't necessarily have to be invested in your success, it increases conversions. On account of that, it is a smart idea to put testimonials on your lead generation pages. These are web pages that are designed for capturing personal information so that you can best move them down the conversion funnel.
Host fundraising events.
Events give all of your supporters the chance to gather. As a collective, they are able to get more energized about your cause. They will feel inspired to further give back. Before you start planning your fundraiser, though, make sure to look up what your state's regulations are. This growth strategy for non-profits cannot be executed in certain locations unless you have a license. Chat with your board members about this. Once any regulations have been accounted for, another thing to note is that you should put out a press release for the event. Write a newsworthy piece that will compel readers to attend, as well as generate more media coverage.
Interact with others on social media.
Engaging with your online community is a necessary part of these growth strategies for non-profits. You can do this through the powerful tool of social media. There are several platforms out there that could benefit your organization. Facebook is one of them. It allows you to raise awareness at both a local and global level, depending on how far your reach is. You can make event pages to create buzz, and then livestream the event for those who couldn't make it. Facebook even offers you the ability to create a fundraiser right from your profile! With that in mind, social media isn't solely a space for you to post visually attractive content. It also allows you to quickly communicate happenings with the public and respond to any questions.
Raise awareness with challenges.
Another way to increase interest in your non-profit organization is by promoting unique challenges (or campaigns). These are a way to spread the word about your cause while having fun with it. Perhaps you are familiar with Movember. This is an annual charity event that has been going on since 2003, and the audience has only continued to grow. Hosted by the Movember Foundation, this event is driven by the goal of changing the face of men's health. The focus is on cancers and mental health. Participants are encouraged to grow their mustaches throughout November to raise awareness and funds, as well as run or walk 60 months during the month to honor lives lost.
Send emails about updates.
Don't just use emails for donation confirmations. Your stakeholders should know what you have been up to lately! By keeping them in the loop throughout the year via email, they will be more likely to continue to involve themselves with your organization. Email marketing is an important part of growth strategies for non-profits due to it being an easy, fast way to connect. You also stay at the top of peoples' minds better considering they are already constantly checking their emails. So, whenever you have an announcement or a new success story, send it out in mass with the help of a platform like Mailchimp. Through Mailchimp, you can better target segments of your audience to boost loyalty, and you get personalized content recommendations.
Regularly thank your supporters.
As mentioned earlier, incentivization is a great way to influence people to join your cause. However, you shouldn't stop there. One of the best feelings comes when someone shows you that they are grateful for everything you have done for them. Your volunteers and donors want to experience that. As they continue to be advocates for your non-profit, continue to thank them. Host a fun appreciation gathering or mail them handwritten notes. Get out of the digital sphere to personalize the experience.
We could all use some uplifting going into the holiday season. That goes for your website, too! WEBii can take your site up a notch with our team of expert web developers and designers, and SEO professionals. We will get you through the process smoothly so that you can continue to focus on giving back to your community. Let us know how we can help implement better growth strategies for your non-profit organization.
Comments are closed.