How Professional Credentials Help Advance Your Career or Business
By Megan Marshall, Friday, October 14, 2022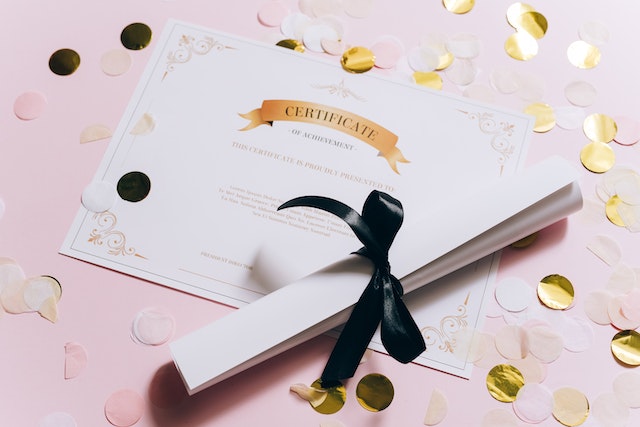 Something that isn't always apparent growing up is that you don't necessarily need a specific degree to get your dream job. Of course, there are employers who are going to expect you to have that particular degree. It all depends on your field. But you shouldn't feel as though you are bound to your college major. This should similarly be the case if you are planning to start your own business.
There are courses that you can take either within or outside of a typical educational institution that could give you the expertise you need in a field. Or, for that matter, in your current field. You are able to learn a lot about a subject in a relatively short amount of time so that you can best apply it in your career. Come with us as we explore what it means to obtain professional credentials for your newfound skills.
3 Types of Recognitions
Although the words have a similar connotations, certifications, certificates, and licenses are not exactly the same. While they all equip you to work in a certain field, where they differ is in the education required of them. Let's define these professional credentials.
Certifications
You earn a certification when you complete coursework through a company, association, or independent organization. That third party verifies that you have met certain criteria for a job or skill. Oftentimes, this verification comes from passing an assessment at the conclusion of a course. Note that you may already need to have a certain amount of experience before starting on your certification journey. This way, you aren't going in without basic level knowledge.
Some jobs that tend to require certifications include:
Public relations manager

Clinical lab technician

Dental assistant

Automotive mechanic
Certificates
When you attend college or a vocational school, you may participate in a certificate program. This is a program that is shorter than your degree, working you toward mastery of a specific topic. To achieve mastery, you need to earn passing grades. You are able to get a certificate whether you are brand new to the industry or are an experienced professional looking to get ahead. But keep in mind that you aren't certified to work within an industry with just a certificate.
The University of Texas at Austin, in particular, offers certificate programs in:
Creative writing

Public policy

Forensic science

Environment and sustainability

Pre-health professions
Licenses
Due to the fact that licenses are issued by state governments, requirements vary between states. However, they still share some characteristics. Licenses, across the board, need to be obtained in order to legally practice an occupation. Many licenses do come with the expectation that you have a degree, with some going as far as you needing a doctorate. Even after you have obtained a license, you will typically need to continue your education. This allows you to renew your standing later on.
You are required to have a license if your job is:
Physical therapist

Attorney

Electrician

Real estate broker

Social worker
Figure Out Which Ones Will Be the Most Valuable
There are lots of professional credentials that are in high demand. If you want to impress recruiters or show clients just how knowledgeable you are, you should do your research on which ones are most relevant to your field. Are there any credentials that will fulfill the expectations of your career? Which ones will provide you with new, helpful techniques and information that will drive your success? Will getting this recognition boost your efficiency in the workplace?
Essentially, determine what is going to best establish your credibility on your résumé. And decide how much you are willing to invest into achieving mastery in a subject. Some courses are going to take longer and be more expensive than others. Plus, because some credentials don't last a lifetime, you will have to keep up with the renewal process. So, formulate your career goals with the future of your education in mind.
---
When you have highly engaged employees, your business can experience a 202% increase in performance.
---
Improve Workplace Productivity and Confidence
Taking a course to earn a professional credential gives you a solid foundation to stand on. The work you have had to complete was highly specialized. By passing assignments and assessments with flying colors, you gain a competitive advantage. After all, you have demonstrated how committed you are to excelling within your career path. Because you are up to date with the latest strategies in your field, you increase your chance of receiving a higher salary.
Certifications, certificates, and licenses will also help you attract and build trust with clients. They bring peace of mind. People will ultimately feel better partnering with you if you prove to them that you are a legitimate source of industry knowledge. You need to not only be able to tell them about that knowledge, but also show them that you are capable of meeting their needs.
Earning certifications, certificates, and/or licenses is extremely useful. They may be what you need to push you over the edge as a job candidate. But the biggest benefit of professional credentials is that you are continuing your education. Should you come across a reputable group that is offering a course that speaks to you, jump at the opportunity! And make sure that you put in the effort as you would in any other professional or academic setting.
Comments are closed.