How to Create an Effective How-To Guide
By Megan Marshall, Tuesday, March 21, 2023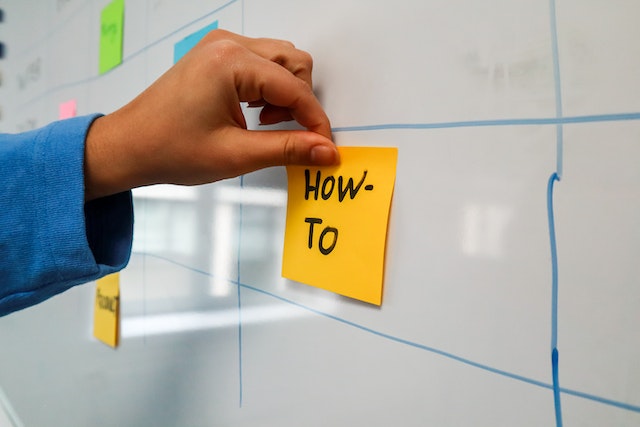 Every day, it is the goal of businesses to prove themselves to their audiences. But that proof doesn't solely come from making high-quality products and services. It also matters whether you are capable of displaying your business as an expert in your industry. Consumers will ultimately take you more seriously and be more trusting of your brand if you are seen to be knowledgeable. That means producing informative, meaningful content is a must.
Content creation comes in many forms, but we are going to be focusing on how-to guides. These are step-by-step pieces that aim to help the members of your audience complete a task. Depending on the needs of your consumers, tasks may be simple or very complex. No matter the level of difficulty, though, your how-to guide should offer a clear picture of the process. Keep reading to learn more about executing the best possible how-to guide.
Get to know the needs of your audience.
Going into creating a how-to guide, you need to have a specific problem in mind. Think about what members of your audience already have trouble with, based on your previous experience. Is there any issue you have heard of, time and time again, that you could easily break down? You can even do a quick Google search to discover what the most asked-about topics are in your industry. This will give you a great idea of where you start. If you are writing about something that no one is actually asking, you are not going to get the level of engagement you want.
Because you are writing instructions for beginners, you should be an expert on the chosen topic. That means doing any necessary research to solidify your own understanding. Just because you believe that you know everything you need to know to resolve a problem doesn't mean that you will be able to effectively explain it without doing research. You need to get into the mind of your reader. Consider demographics like their age to determine the level of complexity of your steps.
Write actionable steps that are clear and simple.
After determining who your ideal reader will be, start making an outline. Organization is key when it comes to how-to guides. If it is the case that your steps have to be in a specific order, make the time to construct a chronological outline. Alternately, if your how-to guide is more of a way for you to provide professional tips, much like this one, make appropriate subheadings for a logical sequence. Essentially, were someone to simply skim through your guide, they should have a good idea of what to expect from the more detailed, explanatory text.
Once again, understand that you are writing with beginners in mind. There is no need to include a lot of technical jargon that only other experts will comprehend. Your aim should be to write sentences that are short and active. Think of it like a recipe. When baking a cake, you are told to preheat your oven or crack two eggs. Similarly, for an industry-specific guide, you will say to do X, Y, and Z. Of course, every description should be meaningful, so if you need to provide additional tips along the way to best complete a task, make sure to do so.
Incorporate useful media elements and resources.
Not everything in your how-to guide has to be in text form. In fact, having giant walls of text could make readers abandon your blog altogether. It is very helpful to include media throughout your written content. Show what you mean by a particular step with short video clips, screenshots, and/or graphics. You can even take photos of yourself performing a task, from start to finish. These elements could make your instructions easier to understand, especially for those who are more visual learners. Note that your media should be high-quality and that, if you did not create it yourself, you give the proper credit.
Your ho-to guide is also able to benefit from your past creations. Perhaps you have other content on your blog or website that responds to follow-up questions about your chosen topic. By linking back to that content in your guide, you provide a one-stop shop for your audience. They can keep clicking through your internal links until they have resolved all of their issues. This is part of what makes a linking strategy so critical.
Proofread and test your how-to guide.
The fact of the matter is, readers of your how-to guide will not trust you if it is full of spelling and grammar errors. Similarly, they won't trust you if you have evident mistakes in your instructional content. Therefore, you cannot neglect the essential step of proofreading. While you should definitely read over the guide yourself before publishing it, getting another set of fresh eyes on it could be highly beneficial. We also recommend using a tool like Grammarly. This cloud-based typing assistant identifies errors within your text, on any device and across platforms.
Beyond ensuring that your guide reads well, you have to test it. Pass it off to another member of your team. The hope is that you will have done enough research to write instructions that are easy to follow. However, your reviewer may notice that there is an important step that has been omitted. They may even let you know that it would help to include another media element under one of your steps. Take this feedback seriously as you finalize your how-to guide so that you can give your readers the best possible experience.
Share your content with your audience.
Let your audience know that your new how-to guide is available now. This can be as simple as putting the link in a post on Twitter or including it in a content round-up in your next newsletter. By getting the word out through multiple types of promotional efforts, you drive greater blog traffic and engagement. Plus, you are nurturing your relationships with your followers as you show how considerate you are able the problems they face within your industry.
Down the line, it may be the case that you need to update your guide. For example, say you have written a guide about how to use a particular software. If it has been a few years since your guide came out, that software may have changed several years, making aspects of your instructions outdated. No one wants to read a how-to guide that is obsolete! Once you have made any necessary fixes to your content, keep your audience in the loop by sharing it again. You can even change the publication date of the piece or include a notice about when it was updated to emphasize that it is new and improved.
WEBii has accumulated several how-to guides through the years, related to search engine optimization, social media, e-commerce, and so much more. Have you ever created a how-to guide for your business? We would love to hear about how the writing process went for you, so leave a comment about your experience! And if you were inspired to make a how-to guide based on this blog, we wish you all the best in your content creation efforts.
Comments are closed.