Tips for Creating a Successful Mobile App for Your Business
By Megan Marshall, Tuesday, March 14, 2023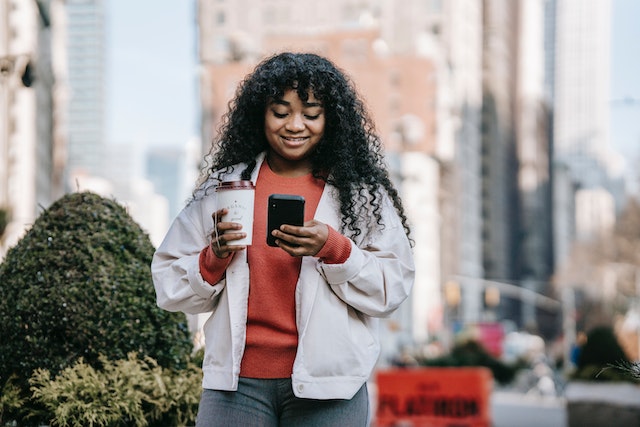 How many times have you checked your phone today? This may have been to take calls, respond to texts, send emails, scroll through social media, or even make a purchase. In today's age, there is so much that we are able to do so quickly, thanks to smartphone technology. Businesses around the world recognize this, and have taken smartphones into account when designing their websites. This is crucial because if your website isn't optimized for mobile users, you are missing out on a huge segment of your audience.
But you aren't limited to just having a website for your business. You can also create a unique mobile app to improve the overall experience that your brand offers. We see so many restaurants and stores taking advantage of this opportunity. But an app can only be as successful as you make it, and the market has become increasingly competitive. Let's discuss the key expectations that users will have for your mobile app.
Solve a problem for your audience.
Above all else, just like with your other marketing efforts, you need to put your customers first when designing your mobile app. This means paying attention to demographic data and user behavior. Find out what they are already doing and want to see more of. Once you have collected the necessary insight from your identified audience, establish how you will be responding to their particular needs. If your app is without a clear purpose, those consumers are not going to feel encouraged to download it.
You should be providing real value. It may be the case that this value comes in the form of convenience. Take the popular chain Crumbl Cookies, for example. On top of having a website where you can order from, Crumbl Cookies also has a mobile app so that you can purchase cookies or gift cards on the go. It also allows you to keep up with the latest flavor releases, given that they have a different selection every week. And when the business offers Mystery Cookies, you can find out which one your nearest location has through their map function. This mobile app is your one-stop shop for all things Crumbl.
---
Fun Fact: It is estimated that the average adult in the United States spends 88% of their time on mobile devices using mobile apps.
---
Keep your
mobile app
simple.
You should be simplifying a consumer's life with your app. Therefore, your app should be simple. User experience is so vital to your success in the mobile space, so focus your efforts on minimizing the steps leading to a desired function. If you make things too confusing or the processes take too long, customers are likely to just uninstall the app. They may even uninstall the app if you go overboard with notifications. To keep this from happening, ensure that the app's flow is intuitive, that you aren't infringing on a user's personal space, and that every feature is relevant.
Of course, you may be unsure about which features are the most relevant. It might seem to you like all of your ideas during the design stage are indispensable. But by spending too much time on the least desired elements of your mobile app, you risk your ability to solve the aforementioned problem that your users have. This is because by not focusing on the areas that you should be, they can end up being lower quality.
Cross-platform app development is key.
Some mobile apps are created for just iOS or just Android. A benefit of native apps is that they are able to fully leverage a device's functionality, meaning the user experience is elevated for that device. However, the issue is that, obviously, the app will not cater to the portion of your audience using the other operating system. This problem is avoided with cross-platform development. With this process, your app is built to be used on several operating systems. For businesses on a limited budget, this is a timely, cost-effective approach to app creation.
Make sure your
mobile app
is secure.
Let's say your mobile app's purpose is to help users easily make purchases. They are able to pick the items they want, drop them in their cart, and then fill out the appropriate information on the check-out screen. But the promise of safety is of the utmost necessity when you are expecting users to input personal information into your app. If someone were to hack into your app, they could have access to the credit cards of hundreds, thousands, or even millions of users. Once this happens, your brand as a whole may never be fully trusted again.
When developing your app, address cybersecurity concerns by following standard practices. This includes having proper encryption of sensitive data. Encryption means that unauthorized users who intend to compromise or manipulate the data will not be able to read it. Multi-factor authentication is another very important feature. Consumers are able to prove themselves to be the owner of a mobile app account by receiving a code through their email, text, or phone call to add another layer of protection.
Test your
mobile app
before launch.
Once your mobile app has been developed, you cannot simply put it out into the universe. You need to make sure that it works to the best of its ability. Testing is an integral part of any development project because it shows you where fixes are still necessary. Customers will be frustrated if certain features don't function as they should or if they encounter critical bugs. A bad in-app experience could result in a stain on your brand's reputation. It indicates to your audience that you don't put enough care into the products you release.
If you already have a website, or even a web app, you might be familiar with the concept of testing prior to launch. Unlike mobile applications which operate on mobile devices, web apps are software applications that are accessed through web browsers. In regard to testing, where they differ is that mobile apps are focused on device types instead of browser types. With both cases, the functionality and appearance alike must be validated. You also need to keep an eye on any upgrades that need to be made over the course of an application's life.
Pay attention to user insights.
It may be the case that your mobile app users are directly telling you what fixes need to be made through a feedback channel. Because it likely is not the case that you have someone 24/7 monitoring your app, this feedback is incredibly helpful. And with ready access to an in-app communication channel, your business succeeds at getting users the help they need. You should analyze the provided information as quickly as possible so that few other users experience the same issues.
Another thing that you must do in order to retain users is track analytics. This will help you understand how your users are behaving. Even if they don't use the feedback channel, in-app analytics will paint a picture of what features have been the most valuable. Use this knowledge to further optimize the user experience.
Your
mobile app
should be free.
If you want to drive installs and maximize the number of users on your mobile app, offer it for free. Every month, there are more downloads of free apps than paid apps. In fact, even more affluent consumers prefer free apps. Mobile users do not want the risk of paying for something that is ultimately not going to be of benefit to them. And they won't know that until they start attempting to utilize your premium features. So, for those who are still wanting to make money off of their mobile app, consider the try-before-they-buy method with a seven-day free trial.
Determine how to go about marketing.
You can't expect your audience to just know about your new app. They won't be scrolling through their app store in hopes of stumbling across it. So, you need to effectively promote the app, as you would with any other product or service. Break your campaign into the three key phases of pre-launch, launch, and post-launch. This way, you are able to capture the attention of as many people as possible, no matter when they are engaging with your brand.
Essentially, don't wait to start your marketing plan until your app is already available. With the pre-launch phase, before your app even goes live, you will be building up excitement for it. Post on your social media channels about what is to come. You can even incorporate the announcement in your newsletter or a press release on your website. Leverage all of these mediums during the launch and post-launch phases, as well. Keep finding ways to share the benefits of your mobile app with your target audience.
WEBii is a web development agency based in Austin, Texas. We have decades of experience with web application development, specifically. Our work has ranged from custom shopping carts to e-learning courses to voting and polling tools. Find out more about the custom programming that we can do to fit your needs.
Comments are closed.