Black Friday Marketing Ideas for Your Small Business
By Megan Marshall, Tuesday, November 1, 2022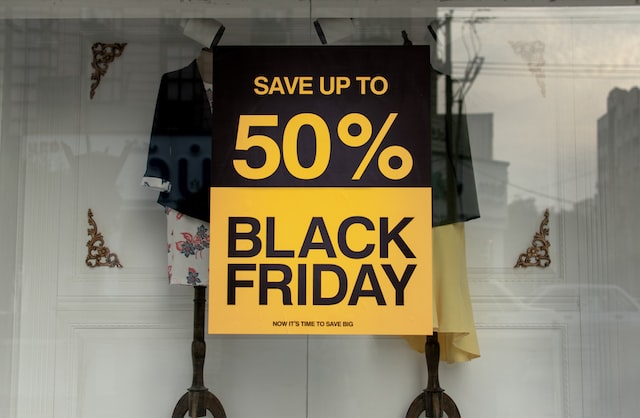 Despite the cost of products being slashed significantly, Black Friday is a big deal in the United States because it brings in billions of dollars per year. The occasion marks the biggest retail sales day in the nation, so Black Friday is often considered the start of the holiday shopping season. With that in mind, it's the time for your business to amp up holiday promotions. Although Black Friday is technically the day after Thanksgiving, many stores start their sales as early as Monday. This allows those businesses to incentivize even more shoppers. Let's dig into the top Black Friday marketing strategies that you can utilize to attract consumers.
Unveil New Products
Consumers get excited when they know new products are being released. They want something fresh on the market. Just look at what happens when Apple does its annual launch event. Each time, there is so much buzz surrounding the latest iPhone series. And that has also become true with the latest AirPods and Apple Watch models. Apple's launches happen over the summer, but you can take the same marketing idea with you around Black Friday. In the weeks leading up, hint that something new is coming. Consider adding a countdown timer to your website. The sense of anticipation that this will bring is sure to get your supporters talking about your business. Then, unveil your product a few days prior to or on Black Friday. This results in lots of sales coming your way.
Do Something Special for VIPs
Your VIPs are customers that have been incredibly loyal to you. They may have been supporters of your business for several years now. This makes them a great target for your Black Friday marketing campaign. Likely, they were already considering purchasing from you during this occasion. But by providing them with a special discount, you reel them in even more. After all, keeping your VIPs feeling special and valued is necessary to also keep them making purchasing. Segment your email list to give them a discount code that they can use online, or a coupon that they can bring in-store. A good idea is to open up access to your Black Friday deals for those supporters before the general public.
Make a Discounted Product Bundle
Savings are the primary motivation for holiday shoppers. So, a fantastic way to drive sales is by leaning into the "buy more, save more" tactic. With the Black Friday marketing strategy of bundling, you encourage customers to notice what a great deal you are providing. Bundling ultimately makes your products appear more attractive. Those products should make sense in combination, such as kitchen utensils and gadgets. Rather than having to buy individual items from the bundled set, consumers get to purchase them at a fraction of the cost in one go. This could mean being able to buy five products for the price of three. Note that you should consider doing bundles throughout the year, as well. People love to buy gift sets for other special occasions, such as birthdays.
Offer Hourly Flash Deals
One of the best tips that we can give for Black Friday marketing is to create a sense of urgency for customers. Offering a 24-hour discount is wonderful for increasing your conversion rate. However, what evokes even more excitement is flash sales for unique sets of products. These sales can be held every hour on the hour for the full day of Black Friday. Once again, we suggest having a countdown clock running in a banner on your website. This lets shoppers know how long a particular discount is good for. It could drive them to make impulsive decisions because they don't want to miss out on a great deal. You will see fewer shopping carts being abandoned when this strategy is implemented.
Add an Element of Surprise
Throughout your Black Friday marketing efforts, you need to put yourself in the shopper's shoes. Think about what will encourage them to take action. A big part of this can be making your promotional efforts interactive. This is a fun way to get consumers interested in what your business has to offer. For instance, you can offer mystery savings with a gamification option. You might be familiar with scratch-offs. These are small cards that give you the potential to win a prize, such as 25% off your next purchase. Traditionally, you would use the edge of an item like a coin to rub off the thin layer separating you from that prize. Now, though, you can supply your supporters with digital scratch-offs via email. This builds anticipation over what additional discount a consumer will receive.
Provide Free Shipping
If a shopper gets to the final stage of their journey and realizes that shipping is the same price as what is in their cart, it might turn them away. Free shipping is highly attractive to buyers, and is a basic offer from brands during Black Friday. It could be the final factor that drives someone to make a purchase. And your small business can do this without suffering a loss on smaller orders. With conditional free shipping, you pick when the deal is applied. An example is if a consumer purchases over $50 worth of items, then they receive free shipping. You can even offer it for specific products only, such as the oldest inventory.
Donate to Your Favorite Charities
People love to support businesses that care. It isn't solely the products that convince them to make a purchase. You need to step up your marketing game by highlighting what it is that your small business values. Throughout the year, there are many ways that you can give back to the community and, thus, show what your values are. But during the holidays, when giving is especially emphasized, you should consider how to integrate meaningful causes into your marketing campaign. Black Friday marketing is made all the more powerful when you commit to local—or even national—charities. Make it clear to your audience where a portion of your Black Friday revenue is going. If it is a cause that they, in turn, would like to support, it sways those shoppers and builds your brand credibility.
Develop a Social Media Campaign
Social media is, hands-down, the best space for getting a lot of eyes on your small business. You can execute Black Friday marketing on a variety of channels. Video content, in particular, will bring an increase in interest. If you have short promotional videos, post them on Instagram Reels. Or if you want to livestream explanations of your products, consider Facebook Live. Be mindful of where your audience actually spends their time online when you are strategizing your social media campaign. From there, you will be able to most effectively engage with your followers. As it gets closer to Black Friday, create a series of thematic posts. These should be visually attractive and excite your followers about what is to come out of your Black Friday deals.
Partner with Influencers
Don't feel like you have to carry a social media campaign single-handedly. You may find someone who can be an impressive voice for your business. Influencers are people who have built reputations on social media. They might be known for their comedy sketches, dancing videos, or educational content. Some influencers are even known for teaching recipes to the public. The followers of influencers trust them because of the time and energy put back into evolving and maintaining their personal brands. When partnering with an influencer for your Black Friday marketing efforts, make sure that they are someone who is relevant to your business. This way, it makes sense why they would be promoting your products to their audience. You need to have an overlap.
Send Promotions via Email
Email is going to be your best friend when it comes to Black Friday marketing. It is fairly quick and easy to send out your promotions that way, thanks to the power of automation tools. Subscribers of your email blasts likely already check their email on a daily basis. So, they will be ready to see your messages as soon as they arrive. But in a sea of emails from other businesses during Black Friday, yours needs to stand out. Maybe this is through email-exclusive deals. You also need to be able to get in and get out of the shopper's inbox. The email content shouldn't be long and drawn out. Make an impact with copy that is straight to the point, while still giving a personalized experience.
Create Posters and Flyers
You don't have to just work on digital marketing. Find ways to promote your Black Friday deals to your in-person customers. Put posters up in the windows of your retail store. These should have bold, eye-catching colors and fonts. This helps people notice your small business when they are walking past. If they have never been in your shop before, this may encourage them to do so, even if it's just to scope out what products you offer. If it is clear what your deals are going to be, they may add you to their game plan for Black Friday shopping. Another option is to send out flyers in the mail. This catches the attention of consumers from their mailboxes, making for a fast way to spread the word.
Give Customers Free Gifts
Receiving free items is a Black Friday marketing strategy that anyone will appreciate. When a customer makes a purchase, send them on their way with the addition of a small gift. This might be a sample of one of your other items, to encourage them in the future to buy that. Otherwise, it could be a complimentary item that pairs with the products they are currently getting. Regardless of how much this gift costs, it will still please the recipient. Of course, you shouldn't feel as though you have to offer a free gift with every purchase. You certainly can, but it may not make sense of your margins. Instead, the free gift can be provided to a buyer if a certain amount of money has been spent.
Get Your Website in Shape
If you have promoted your business well, your website is going to experience a significant increase in traffic on Black Friday. The question is: Will the site be able to withstand that traffic? Your web developer should help you determine that the site is in a good place, performance-wise, before Black Friday is upon us. On a typical day, it is frustrating enough to deal with lagging product pages and shopping cart errors. Consumers abandon websites if they don't quickly accomplish what they need them to. With how many sales Black Friday draws in, problems with your site could mean serious consequences for the amount of revenue that you bring in.
Consider teaming up with WEBii to ensure your site is ready for Black Friday. We can handle all of your professional web design and SEO needs. It doesn't matter whether you sell clothes or electronics—we have you covered. Contact our team to get started. And let us know what your plans are for Black Friday marketing in the comments!
Comments are closed.