Everything You Need to Know About Cyber Monday
By Megan Marshall, Friday, November 4, 2022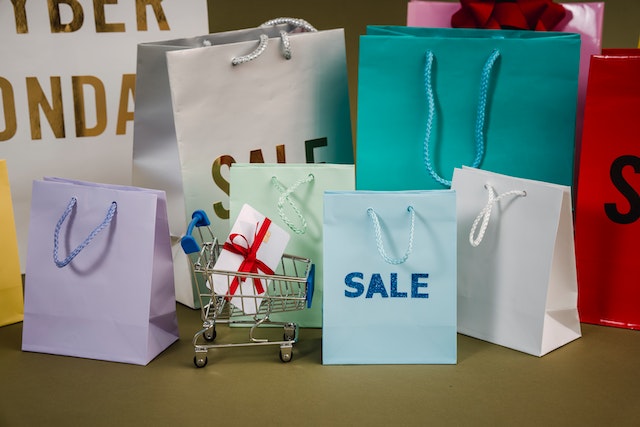 "Cyber Monday" is a term that was first used in 2005 by the National Retail Federation (NRF). It intended to encourage consumers to shop online, and that has certainly been achieved. Held officially on the Monday after Thanksgiving, Cyber Monday has grown into a $10.7 billion holiday. Today, it is the biggest day of the year for online sales in the United States.
Businesses across the country are devoting more and more time to creating attractive and functional e-commerce shops. Doing so benefits them throughout the year. But at a time when capturing the attention of millions with your best discounts is key, online convenience definitely acts as an incentive. Check out how your business can execute and benefit from Cyber Monday deals.
Infographic: A Quick Look at
Cyber Monday
and Black Friday
Cyber Monday

The most popular purchases were toys, video games, and electronics.

Between 2020 and 2021, the average price of all items rose by 11%.

The top sellers of 2021 included AirPods, Hot Wheels, Nintendo Switch, laptops, and TVs.

The average order value was $164.

Sales were boosted in the waning hours of the day.

Black Friday

Retailer foot traffic rose from 92.3 million shoppers in 2020 to 104.9 million in 2021.

Curbside and in-store pick-up opportunities boosted retailer revenue by 50% compared to those without.

Consumers spent $8.9 billion online during Black Friday 2021.

The average mobile conversion rate was 60.2%, while desktop was 39.97%.
The Rise in Popularity of
Cyber Monday
In a world where we are increasingly using the internet for day-to-day activities, it isn't a surprise that e-commerce dominates holiday sales. This has especially been the case since the pandemic began. Shoppers weren't able to go out as much to find gifts for family and friends. So, instead, they turned to the websites of their favorite stores. This essentially forced businesses to take up residence online, if they wanted to keep growing.
Despite our society moving into a post-pandemic world, things will never be as they once were. More than ever, consumers are using their mobile phones to purchase products. We have discovered that there is an ease that comes from buying online, especially when it comes to items that we can't find locally. With all of this in mind, Cyber Monday has continued to evolve into an occasion that retailers and customers alike can highly benefit from.
Comparing
Cyber Monday
to Black Friday
In general, the deals that are offered during Cyber Monday and Black Friday are quite similar. They aim to intrigue customers with discounts on high-demand products across a range of business types. Where they differ is that Black Friday wasn't always held online. Because it dates back as far as the 1950s, Black Friday was around long before the casual use of the internet. In recent years, it has shifted to being found in both physical stores and e-commerce shops. However, Cyber Monday solely revolves around e-commerce.
The two holidays work together in what is known as BFCM Weekend. If you are unable to get the deal you want from that Friday, you might find it on that Monday. It ultimately depends on the store and product, though. For those looking for home appliances, for example, Cyber Monday is a great time to snatch them up.
How to Prepare Your E-Commerce Store
In order to create a successful e-commerce website, you need to focus on branding. There should be consistency across your pages in terms of colors, fonts, graphics, and images. Your product pages should be easy to understand, and there should be no challenges with utilizing your shopping cart. On Cyber Monday, users will be expecting zero difficulties. Otherwise, they will take their business elsewhere. Here are three ways to get your online shop ready for buyers.
Build Anticipation for Your Deals
Don't wait until the day of to start promoting your BFCM Weekend deals. Your audience needs to know what is coming so that they can be prepared. Note that you don't necessarily give away all of your secrets weeks in advance. But people will be more likely to check out your e-commerce shop if they have been led to be excited about what is to come. Take the time to create buzz across your channels before Cyber Monday arrives.
Optimize Your Website for All Users
No matter what device consumers are using, they should be able to easily navigate your website. Many visitors are going to be arriving on your site from mobile devices. So, if your e-commerce web developer has not taken mobile shopping into consideration, it could mean a very poor experience for the potential customer. In order to secure those mobile sales on Cyber Monday, your site needs to be considerate of the user.
Be Able to Handle the Demand
Although this may be obvious, it must be said… You need to have enough inventory to meet the demands of shoppers on Cyber Monday. Have a chat with your team about which products you think are going to have the highest demand, based on historical data. Stock up in time for the occasion so that you don't sell out faster than you intended. And keep an eye on the performance of your site. If it crashes due to being overloaded with traffic, people may not bother to return once you go live again.
Create Your
Cyber Monday
Deals
Take a look at what some of the biggest faces of Cyber Monday have done in the past for their seasonal promotion. This could help you draw inspiration for your own business's efforts. Amazon, for instance, has a vast inventory and range of deals throughout the year. You can find just about anything, from personal care items to technology to home decor. Last year, for Amazon's Cyber Monday event, they decided to start early. Instead of just being one day, they made it a weekend event, beginning on Saturday. As a global retail giant, there is a lot to learn from Amazon in terms of determining the best deals and policies for BFCM Weekend.
Expand Delivery and Pick-Up Options
Attract customers by making your shopping experience easy from start to finish. Convince them that your products are worth hitting that final purchase button for. This means being able to serve them while adapting to the unique hurdles of today. During the pandemic, it became commonplace for many businesses to expand their delivery and pick-up options. An example of this is the rise in curbside pick-up. Buyers can sit in their cars in the parking lot of a business and wait for the products to be brought out to them, to minimize human contact. Be mindful of which options will be the most helpful to your audience.
How to Do Your Own
Cyber Monday
Shopping
Cyber Monday isn't just for your business's customers. You can participate in your own right by shopping from your favorite online stores. By doing this and getting first-hand experience from the buyer's perspective, you will be able to better prepare for the occasion next year. But how do you get yourself ready for a pleasant Cyber Monday experience? These are three ways that you can get the most out of the special e-commerce holiday.
Buy from Sites with SSL Certificates
The point of a Secure Sockets Layer (SSL) certificate is that it authenticates a website's identity. You know that a site has an SSL certificate if it has a closed lock icon in the browser. By enabling an encrypted connection, the certificate ensures that, when you input your personal information, it will be safe. This includes credit card information. If a hacker were to get into an unsecured site, it could spell a lot of trouble for both the business and the customers.
Use a Price Comparison Tool
Just because a deal looks good doesn't mean that it's the best one. Luckily, there are apps and toolbars that you can use to assure yourself that you are saving as much money as possible. It is recommended not to pull the trigger on a Cyber Monday deal, just in case you can get a better one elsewhere. But be aware that you have limited time before a product may sell out, so don't take too long to hit purchase.
Make Sure to Stick to Your Budget
Regardless of which e-commerce store you are purchasing from, you are going to be shown plenty of complementary products. Not only that, but the sites will attempt to upsell you for premium versions of products. Try not to be too swayed toward items that you don't actually need. To stick to your personal budget, consider creating a spreadsheet. Include the links to products and sales information so that you have a clear breakdown of how much you are planning to spend.
Want to have the best Cyber Monday possible? Partner with WEBii to get your website in shape. Our team of developers and designers has been in this industry for over 26 years. That means we have seen a lot of holidays come and go. We will use SEO best practices to keep your site performing its best when faced with a significant increase in traffic. Send us a message to learn more about our services and share your unique needs.
Comments are closed.