Anyone Can Write!: The Guide to Publishing Your First Business E-Book
By Megan Marshall, Tuesday, July 12, 2022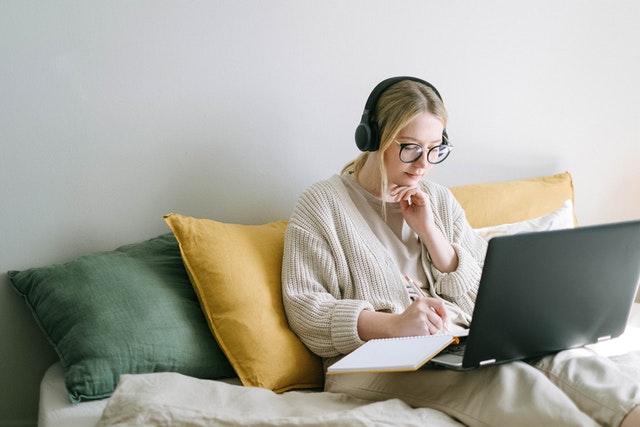 E-books, or electronic books, are exactly what you think they would be. They are book files that you can read on a device, rather than in a printed copy. No matter what size device you are accessing them on, they are able to fit your screen so that you can easily follow along. This goes for desktop computers, laptops, tablets, and smartphones. When it comes to business e-books, more specifically, they often go in-depth on one specific topic that you know readers are interested in. Before you start digging into exclusive long-form digital content for your business, check out our advice.
What Should My
Business E-Book
Be About?
If you have written content before, you know that you have to do so with your audience in mind. After all, they are the ones reading it. So, if you have a topic that doesn't relate to them, they won't be bothered to download your business e-book. Having a blog is helpful in this instance because you can see which posts users are checking out the most. How-to content might be your most popular.
For those that aren't sure where to even begin, one way to ensure that you are working with a topic that they want to hear more about is by directly asking them. This can be done through a poll in your newsletter or on social media. Provide some general options. For instance, an advertising company may ask if consumers would prefer a deep dive into Google Ads, video content, or retargeting campaigns.
How Do I Go About the Writing Process?
There are three steps that go into the writing process for any type of text. The first is that, once you have an idea, you have to expand upon it. Note that writing a business e-book doesn't have to be an intimidating experience. They can be as short or as long as you wish. So, don't go into it believing that you have to write a novel about your professional experiences with a subject. If you only have enough to say for fifteen pages, that's perfectly okay.
Some topics are simply going to require more explanation than others. This is where the second step of organizing your details comes in. Rearrange all of your information so that it has an appropriate flow. You want readers to be able to follow along without confusion. And then the final phase of your journey is to actually do the writing! Set some time aside each day to add to your business e-book. This keeps you from feeling overwhelmed about doing it all at once.
Should I Get Someone to Edit my
Business E-Book
?
One of the best decisions that you can make with writing something long-form is letting it sit for a while. If this business e-book has been a project you have been adding to for several weeks, you have become too close to it. Work on your other tasks for a few days. Following that, you will have a more critical eye toward the content. Perhaps you will find that your fifth chapter would be better suited as your third, or that certain lines don't make much sense. Because it should be something that everyone can enjoy, reviewing and editing your business e-book is going to take time.
You should always have someone look over your content before it's published. Their fresh eyes may catch some mistakes that you have missed. That isn't to say you have to go out of your way to find and hire an editor. Instead, you could just ask a member of your team to help you out. Don't be upset if they decide that there are sections or pages that you need to change in order for them to be more readable. You're all in this together.
Do I Need to Use Images and Graphics?
Is it possible for your business e-book to just consist of text? Of course. But if you want to produce something that is simultaneously informative and visually appealing, using images and or graphics can make a world of difference. One that you shouldn't skip out on is the cover. When people say "you can't judge a book by its cover," they are lying. We absolutely do judge books by their covers, making it an important marketing tool. You can either create the cover yourself or have one professionally made by a cover designer.
This is also the case for any visuals within your business e-book. If you are a master of Photoshop, you will be able to construct some high-quality graphics of your own. On the other hand, if you are going to be using any stock photos, keep in mind that you have to make sure that you aren't using anything that is copyrighted. Get permission from the copyright holder if you are in doubt. Regardless of how you get ahold of this content, it is intended to be complementary to your writing. Images and graphics enhance the experience of your readers.
Is There a Specific File Format I Should Use?
You have completed your business e-book. And now it's time to get it ready for distribution. One of the most used formats for business e-books is Portable Document Format (PDF). Adobe created this 30 years ago. Technically, PDF e-books aren't true e-books because they aren't reflowable and have limited interactivity. Even so, with its fixed layout, it continues to be an easy way to view documents. If you are confining your e-book to being downloadable content on your website, PDF is just fine.
Another widely used file format is EPUB. Unlike PDFs, EPUB adjusts to optimally adapt a business e-book's layout according to the screen size. It's compatible with multiple devices. Written in XML and XHTML, EPUB was specifically designed for the creation of e-books. Having been standardized by the International Digital Publishing Forum, it has become popular among major publishers.
What is the Best Way to Promote my Final Product?
If consumers don't know that your business e-book exists, how do you expect them to read it? You can't just place it on a landing page and expect them to show up. Instead, make sure to clearly advertise it in other places around your website. There could be a call-to-action button that leads readers there from one of your pillar pages or your homepage. It can even be done through a pop-up ad. But don't overdo it with the pop-up ads because it can get frustrating for users that aren't interested in your e-book content.
Actively increase your business e-book's visibility. We live in the age of social media, which gives us endless opportunities for promotion. Social media reaches a large audience that, if handled effectively, goes beyond just our loyal followers. This means that people who are interested in similar topics will be able to see your content, regardless of whether or not they are following your pages. Make use of each of them for maximum engagement.
Why Should I Even Write a
Business E-Book
?
The biggest goal of content marketing is to provide your audience with something valuable. This will keep them coming back to you and, thus, make them feel loyalty toward your company. Those who may have otherwise not partnered with you could find themselves drawn to you because of what you have written. Creating free content shows what you have to offer without appearing aggressive about trying to get a sale.
With that in mind, your company needs to be focused on boosting brand credibility at every turn. A business e-book can do this for you because it offers a deep dive into a specific, industry-related topic. It sets you up as a trustworthy expert that is capable of helping someone solve their problems. Understand, though, that you shouldn't just stop at writing one piece of content. Stay consistent with your marketing efforts to minimize the chance of consumers moving toward the competition.
If you would like to see an example of what a business e-book could be, take a look at one made by WEBii! You can download A Website Redevelopment Check List today. It lends a helping hand to those site owners who are considering going through the redevelopment process.
Comments are closed.