12 Tips for Posting Social Media Stories
By Megan Marshall, Friday, November 25, 2022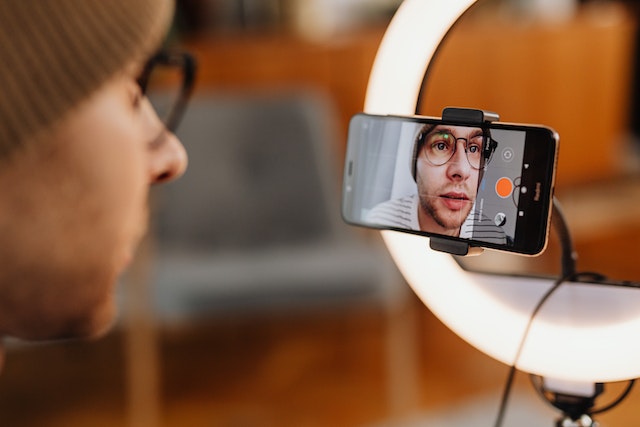 There is no better way to build brand loyalty than through storytelling. Every time you make a post on social media, you should not solely be thinking about what products or services your business offers. Instead, you need to consider who you are at your core. What do you value? Where did you come from? How have you been able to grow? Your audience wants to get to know you better. A quick and fun way to achieve this is through social media Stories.
Stories are a concept that started on Snapchat in 2013. They are posts that only last 24 hours. Many other platforms, including Instagram and Facebook, have since integrated the feature. They allow you to give your audience a glimpse into your business. Learn how you can best execute social media Stories to engage with your followers.
#1: Always Think Vertical
Because the majority of people hold their smartphones vertically, going mobile-first also means going vertical-first. When you create a website, it must have an attractive, functional portrait orientation for mobile users. The same sentiment goes for social media Stories. Craft your Stories content specifically in a vertical format. Don't expect users to turn their phones to read your captions.
#2: Be Highly Visual
Social media platforms give you the opportunity to extend your storytelling beyond just words. Design eye-catching graphics and film fast-paced videos that are sure to keep the attention of users. This isn't to say that you shouldn't use keyword-rich text within your posts. You need to, instead, use visual elements that enhance your text. Even if a user doesn't read the caption, they should understand exactly what you want from them. Beyond that, every time a user interacts with your posts, you want to make sure that they have a good first impression.
---
Fun Fact: Approximately 500 million Instagram users, alone, watch Stories on a daily basis.
---
#3: Pick Appropriate Colors
Your social media Stories aren't limited to black and white text. There is an entire world of colors that you could be using! When writing captions, you can either stick to your branded colors or utilize pull colors. Pull colors are the shades that you get from using the eyedrop tool somewhere on your image or video. You might pull the color from a particular product. This keeps the Story looking clean and consistent. Just make sure that whatever color you end up choosing is legible. A color block may help with this since it adds a contrasting background to your text.
#4: Be Present with Your Followers
One of the best things about social media Stories is how they are able to immerse and engage with your followers. There is a live feature of Stories that allows you to interact in real-time. Your followers can ask you questions about your brand in the chat so that they get to know you better. Consider doing a live tutorial with your latest product or showing what the office experience is like. Make sure to post a Story saying when you plan to go live so that your community knows when to tune in. An alternative to this would be a text-only Q&A session. Create a Story that asks users to drop a question that you can publicly respond to later.
#5: Create Polls and Quizzes
Interactivity can be further achieved through polls and quizzes. With polls, you can directly ask yes or no questions about your products or things related to your business. Get to know what your audience likes and dislikes. On the other hand, with quizzes, you can give a few different options for users to select from. Branch out from your business specifically by asking industry-based trivia questions. See how much your audience already knows, and come up with more educational content in the future to fill the knowledge gap.
#6: Promote Future Events
If your business is planning anything fun in the coming weeks or months, let your audience know about it. Will you be sponsoring a booth at a local festival? Are you hosting a charity gala? Is there a conference coming up that you think your followers would like to attend? Include links to web pages with more information and tickets for sale. Be open about any company announcements, too. Any upcoming product launches should be highlighted on your social media Stories so that you can draw out the excitement.
#7: Do a Story Takeover
Do you have connections with anyone else in or related to your industry? They might be willing to swap social media accounts with you for a day. In this mutually beneficial exchange, you will both get to reach an overlapping audience to show off life at your business. Alternatively, you could have one employee—someone who doesn't handle social media—do the takeover. Keep in mind that not all of your social media Stories need to be stylized. The person doing your Story takeover might decide to share behind-the-scenes from an event, for instance. In-time photos and videos will display the reality of being part of your company.
#8: Offer Special Deals
Catch the eye of your followers as they are tapping through social media Stories by promoting your latest discounts. You need to make sure that everyone knows about these discounts so that they are taken advantage of. Otherwise, these could be deals that only your social media audience has access to. This encourages more consumers to follow your accounts. They want to get the most bang for their buck, after all!
#9: Repurpose Your Content
Get the most out of the graphics and videos that you have already created. Of course, as long as they were made vertically or are easy to crop vertically. By repurposing content, you maximize the number of eyes that are on it. Make sure to link back to relevant content, as well. Lead users away from your social media Stories to landing pages, recent blog posts, or particular products. The goal behind this is to gain more traffic on your website.
#10: Use Multiple Platforms
More and more social media channels are offering Stories. They have proved to be a short but effective way to touch base with followers, regardless of industry and background. Naturally, the key is to use the platforms that your audience is on. But once you have established where you must be present, here are all of the places where you can create Stories:
Instagram

Facebook

YouTube

Pinterest

TikTok

Twitter (Stories are known as Fleets)
#11: Don't Overdo Stickers
There are many options available to make your social media Stories more visually interesting. Stickers are one of them. You can find stickers that relate to your content by searching for keywords as you are creating your Story. For example, perhaps your business is a bakery and you are posting about your holiday deal on cookies. In this case, you would do a quick search for "cookies" and pick out a still or moving graphic of a cookie that fits your brand. However, you shouldn't put every single cookie graphic you see. If you overwhelm your Story with stickers, it actually takes away from what you are trying to accomplish.
#12: Stay Within Guidelines
Each channel that you use has a particular set of guidelines about what you are allowed to post. They are put in place to ensure that brands uphold positive images for their audiences. By following these rules every time you make a social media Story or post, you set yourself up for success.
Today's users expect to receive valuable content from the brands that they support. For that reason, by the day, social media is becoming more complex. We will continue to see features pop up that allow brands to better represent themselves to their audiences. Right now, though, we should all be taking advantage of what social media Stories have to offer. Because that is a craze that is showing no sign of slowing down.
Comments are closed.