Building a Personal Connection with Interactive Content
By Megan Marshall, Wednesday, October 13, 2021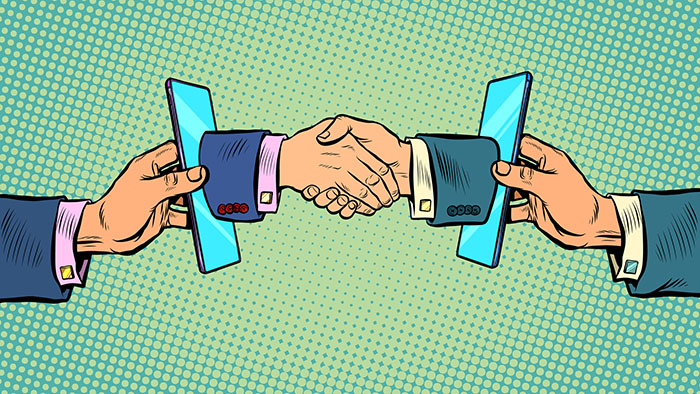 At the heart of marketing is content. By producing dynamic content and, thus, improving your online presence, you will have greater success at converting visitors into leads. People want to feel that they are connected to brands and capable of having their voices heard. This is where interactive content comes into play.
Interactive content encourages the active engagement of users, as opposed to their passive consumption. Directly involving them in the buying process makes their experience on your website memorable, and will make it more likely that your business achieves its desired goals. Let's talk about some ways to simultaneously increase the time that users spend engaging with you and collect data on their preferences.
---

Fun Fact: In recent years, there has been a shift away from text-based content, with 91% of buyers searching for visual formats that provide them with an immersive experience.

---
Polls and Surveys
As the most common type of interactive content, polls, and surveys supply you with consumer feedback on products and services. Whether you are curious about insights on items or pricing, you have the fast and easy opportunity to gather data. Surveys require greater attention than polls since they typically include multiple sections, but both aim to get your questions of interest answered.
There is a multitude of ways to introduce enticing polls and surveys into your marketing strategy. For example, Twitter makes it simple to post polls, offering four potential responses and letting you select the duration of time it's available. It is important to find the balance of how many times to put out this type of content and how many questions are necessary to ask, given that people may be deterred if it's too much at once.
Augmented Reality Ads
Acting as the ultimate virtual immersion, Augmented Reality (AR) ads create an emotional link with consumers, going beyond the reception toward your everyday banners and images. These ads layer graphics onto the real world so that the consumer can interact with the space in a new way. Some brands, such as Gucci and Sephora, have revolutionized the retail industry by helping potential customers "try on" products from wherever they are, in order to drive sales.
AR ads can be built either as marker-based (using a target image) or location-based (using GPS). Geolocation marketing uses an estimated location to determine what content will be relatable to a consumer, helping local companies profit from the creativity of those consumers. Working to enhance business reputations with an unforgettable visual experience, AR ads make consumers have a positive brand association.
Gamified Content
Gamified content brings together the realms of video games and marketing through the notion that people are competitive and will appreciate a brand that appeals to their nature. In order to effectively execute gamified content, you must ensure that your participants won't be confused about your activity. Not having clear instructions will result in high dropout rates, so take the time to look at how other companies have structured their own scales, rewards, and tactics.
It all comes down to what your target audience cares about because, if they are not interested in your incentives, there is ultimately no point in proceeding. Once the activity begins, use analytical tools to track the behaviors of the participants to see if your goals for time spent playing, game completion, and the like are achieved. Gamification is about making the learning process fun, so you will have to make changes to your strategy if participants aren't as satisfied as they could be.
When you create intriguing gamified content, people feel obligated to link back to it, instead of just mentioning your content. Therefore, the probability you will gain backlinks for your SEO is higher.
Embedded Calculators
The point of an embedded calculator is to provide instant answers to specific pain points. Using data provided by a customer that is at the middle or end of their buyer's journey, the calculator produces valuable information for them and collects insights for the company. This is a low-cost tool that requires little effort on the user's end, yet it has high viral potential due to the personalized content being of value to your audience.
You are able to incorporate a variety of interactive calculators, including return on investment (ROI), financial planning, and energy saving. This resource gives your sales rep a lot of power when it comes to the process of lead conversion, and doesn't require a direct interaction between them and the consumer. Being viewed as an expert by the public also improves your website's chances of being cited, consequently generating referral traffic.
Contests and Giveaways
Contests and giveaways are short campaigns that have the ability to increase your number of followers, boost your website traffic, and grow your overall brand awareness. With the addition of social media, contest entrants can participate in bonus actions to earn points with the business. These actions may include tagging their friends on a post, visiting the company's website, or downloading an app.
Hosting contests results in the expansion of your user-generated content (UGC) since more people will be engaging with your social media channels. By monitoring UGC, you can keep track of the conversations that people are having about your business and the visual content that they are sharing. Starbucks, for instance, kicked off its annual Instagram campaigns in 2014 when they encouraged the submission of cup designs and the use of a hashtag, with the incentive of a gift card and a limited-edition tumbler.
While text-heavy content is still an important part of business growth, interactive content leans into the ongoing trend of consumer personalization and helps your standing in algorithm-based feeds. After all, visual content increases conversions by 86% and is 40 times more likely to be shared on social media.
There is no better time than the present to start refining your online presence. Check out our site to learn more about how you can improve your SEO through content marketing.
Comments are closed.