Snapchat for Business: Reach a Younger Audience
By Megan Marshall, Tuesday, July 19, 2022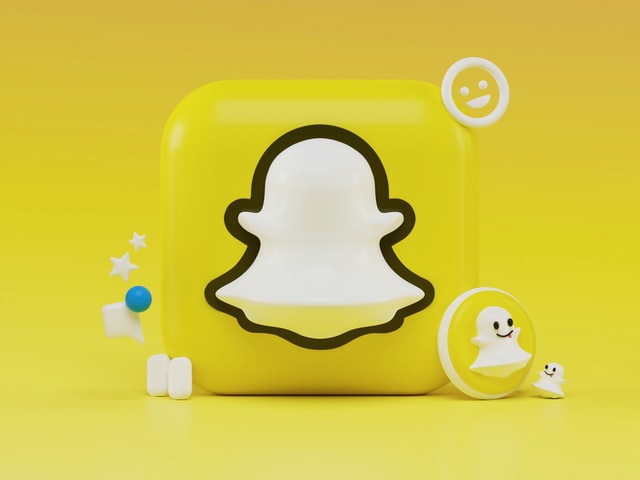 Over the course of the past decade, Snapchat has made major strides in terms of its design and capabilities. The core concept has been to allow users to communicate online creatively. However, it has grown significantly since its start as a person-to-person photo-sharing app. Today, you are able to message multiple users at once. You can also send videos up to 60 seconds in length, use a variety of fun filters, and even play games with your friends. Snapchat has even acted as the inspiration for other big platforms like Instagram, which took its Stories concept and ran with it. Essentially, Snapchat has revolutionized how we broadcast our lives and interact with our followers. But let's dig into what Snapchat can specifically offer your business.
Infographic: Statistics About
Snapchat for Business
The average user spends approximately 30 minutes on the app every day.

Of Snapchat's 538 million users, the United States accounts for 106.2 million of them.

76% of users engage with augmented reality (AR).

To date, 2.5 million lenses have been made and viewed over 5 trillion times.

An average of 500 million minutes are spent on AR playtime daily.

Starting at just $5 a day, businesses are able to advertise on Snapchat.

Snapchat Ads are 2x more likely to capture the attention of users than Facebook Ads.

Snap Games are played by 30 million users on both Apple and Android devices.
The Basics of Using Snapchat
Before you start using Snapchat for business, you need to be aware of what the app entails. As we know, it isn't just an extra camera for your smartphone. Users have an ever-growing number of abilities to interact with friends and consume visual content. These are six features that Snapchat offers.
Stories
You have 24 hours to see the Stories of someone that you follow on Snapchat. Users can create three types of Stories—My Story, Private, and, the most recent addition, Shared. As the names imply, Private Stories are made to only be visible to specific friends, while Shared Stories allow your friends to collaborate. My Story, on the other hand, will show your posts to all of your followers. Under each addition to your Story, you will get to see how many of those users have viewed it. That number won't change because it is on a per-user basis rather than the number of times actually viewed. Note that you can include content from both your Snapchat camera and your smartphone's camera roll. There is no limit to how much you can post in a day.
Memories
If you don't want to lose your Stories after the 24-hour mark, you can save them to a personal folder known as your Memories. With the current design of Snapchat, you can locate these posts when you swipe up on the camera page. Every time you save a Story to your Memories, it will be tagged with the date, time, and location it was taken. These posts will be saved in chronological order. Every month, Snapchat will remind you of what you have been up to recently. And every year, it will inform you of what you had been doing on this exact day previously. You can repost any of this content when it is convenient for you. This is a great addition to Snapchat for businesses that want to post throwbacks.
Discover
Ranging from People Magazine to the accounts of verified celebrities to short text-based stories, Snapchat Discover has it all. Even short shows are posted here. Discover is basically at the heart of the business content that Snapchat offers. In order to get on this page, one option is that you can try to become a Snapchat publishing partner. This means making an agreement with Snapchat about what kind of high-quality content you are willing to bring to the table. If you aren't able to become a partner, however, don't fret! You can still submit content to be featured on a current partner's Story. Otherwise, as long as your posts are meeting the community guidelines and submit to Snapchat's Our Story, you could end up on the Discover page regardless.
Subscriptions
Is there any particularly interesting content that you have come across on your Discover page? Say you want to easily see the latest from Daily Mail. All you have to do is hold down on the post and flip the "Subscribe" switch on. Then, you will see the Daily Mail Story beneath your Friends' Stories. When a new post is added to a business's Snapchat, it updates so that you can have the most recent content the next time you check it out. But it isn't just brands that you can subscribe to. Influencer profiles also allow for this, for instance. How this differs from your Friends feed is that creators aren't able to see your personal content, unless they were to follow you.
Spotlight
Similar to TikTok, Snapchat has adopted a never-ending feed of video content with Spotlight. Also similar to TikTok, you are able to see who has used the same audio file, how many times a video has been watched, and subscribe to that creator. Where the two platforms differ is that Snapchat doesn't feature a public comments section, and the creators' profiles are set to private by default. At the top of the Spotlight page, there is a button that will lead you to the Trending page. It shows you the monetary challenges that are currently being offered to creators, encouraging them to get involved with the community. The hashtags, challenge details, and prize amount are located on each one. The top topics and audios are also provided, along with all of the videos under that trend.
Snap Map
When your location is shared with your followers on the Snap Map, they are able to see where you are in the world. You can share it with one friend, several friends, or your entire contact list. But if you don't want people to know your location, you can still use the Snap Map to check out local Stories. Anyone can submit a Story from anywhere. That being said, some places are going to have more local Stories than others. For example, Super Bowl game day will receive a greater amount of content than a small business on the edge of town. You will know that there is a lot of content if there is a bigger pulse on the map.
Benefits of Using
Snapchat for Business
You might believe that Snapchat is more for individual users than it is for businesses. In actuality, there is a subset of Snapchat that was made specifically for growing your brand. Through the use of public profiles, you can reach your target audience with ease. Get your content right in front of them.
Less Competition and More Opportunity to Shine
There is a lot of noise on social media. Businesses that have opted out of it are majorly missing out. Consumers who are interested in products and services from your niche can be found on every platform. And that is also true of Snapchat, which boasts a large population of young buyers. If you are selling something that is catered toward those young buyers, this could be a good app to incorporate into your strategy. First, though, peek around and see if any of your competitors are using Snapchat for their business. Are they marketing themselves differently than they do on another channel, like Facebook? Or is there a gap that leaves you with room to become a pioneer in the space? There are many brands who haven't leaned into Snapchat yet for their digital marketing efforts, so do what you can to reach that untapped audience.
Think Outside of the Box for Temporary Content
Unlike Pinterest, which thrives on the longevity of its posts, Snapchat keeps things fresh to encourage users to engage right now, before they miss their chance. Your account will never be stale. That is, as long as you are regularly coming up with new pieces of content to create. You don't want to keep posting the same thing on your Story over and over. Audiences get bored of that quickly. They expect you to supply them with long-term benefits for following you. With that in mind, Snapchat is a good tool for businesses because it makes you push creative boundaries. This is true whether you are posting content made by your team or by supporters. User-generated content, after all, is a key way to strengthen your brand's credibility.
Advertising on
Snapchat for Business
Want to make an instant impact? Snapchat makes it simple for brands to promote themselves. With millions of users on the app every day, you can create effective ads and launch campaigns on a reasonable budget. Once you have made a Snapchat account for your business, you will be able to go to your Ads Manager on the browser version. From there, you can pick which kind of ads you would like to make.
Instant Create
If you want a quick and easy way to create Snapchat ads, Instant Create is for you. First, you are going to have to choose an objective that aligns with your business goals. An example of this might be app installs. This is for businesses that have a mobile app—perhaps a game—that they would like for users to download. Other options for goals include website visits, promoting your local place, calls and texts, and app visits. Fill out all of the information accordingly. Then, you can start designing your ad. Upload your content and input your relevant text information. And before you are able to publish, select who and where your ad will be targeting, as well as your budget and payment details.
Advanced Create
On the other hand, you may want to have more control over your Snapchat ads. Advanced Create allows you to do tons of entertaining things with them. This includes AR lenses, filters, Snap Ads, Story Ads, Collection Ads, and six-second commercials. In the same way as with Instant Create, you first have to choose your objective in order to set up your campaign. However, they are further broken up here into awareness, consideration, and conversion. Once you have settled whether driving engagement or catalog sales, for instance, are more important to you, you can build your ad sets. This is where targeting and designing come back into play, and it's all extremely specific. Make sure you know exactly what audience needs to be seeing your content so that it's ready to go to publication.
Tips for Running a Snapchat Account
With any digital effort, you want to get users interested in your brand. In order to achieve this, they have to first either see you in their feed or hear about your account elsewhere. For those utilizing Snapchat, you are able to flip the script on captured and shared moments to make them into a meaningful marketing strategy. Here are some ways that you can make the most out of Snapchat for business.
Promote Your Snapchat Outside of the App
You can't expect your supporters to know that you are on Snapchat if you don't tell them. So, make sure that there is an icon on your website that navigates a visitor there. This can go in the footer, alongside your other channels. Another way to do this is by making a Linktree. It's a fantastic tool for keeping all of your important links together. You can put in the bios on your other profiles. This way, your Instagram followers can easily access your TikTok, Facebook, website, and newsletter. Finally, you can provide your Snapcode. These are QR-type codes that link to your account with a simple scan from a smartphone. If you have a brick-and-mortar store, you could put a printed version of this code up on a wall.
Give Your Followers Exclusive Content
If you want users to follow you on a specific platform, the best way to reel them in is through the promise of photos and videos that they can't get anywhere else. Of course, you want to stay true to your brand. Don't post anything that is completely off the wall. But find something that you haven't done yet on your other platforms and figure out how to best amplify your message. Think about offering exclusive discounts or hosting giveaways. People love free stuff, so they will be encouraged to check you out on your Snapchat business account if they know that's what you are doing. Or post behind-the-scenes footage of what your team is up to at the office or store. Be as relatable as possible. This isn't a B2B space, so you shouldn't feel stressed out about keeping an overly-professional image.
Ask Influencers to do Account Takeovers
You may have heard of Instagram takeovers. These are when someone else uses your account to share content. It's a fun way to build your following and promote your products. And you can do this with Snapchat for business, too! Look into whether they are content creators who have an overlapping audience with your own. This could be on Snapchat or otherwise. The goal shouldn't be to have an identical audience, though. Your aim should be to diversify. Gain the people from their audience who aren't already a part of yours. Consider doing a content swap with the creator. It could be them doing the Story takeover for your channel, while mentioning your product in a post on theirs. Both of you have something to gain from this connection.
Design an AR Lens for Your Business
A great way to make your business's Snapchat stand out is through AR lenses. If you have a designer on your team who knows a thing or two about AR, they can take this on. Essentially, your business can create 3D effects, objects, and characters to inspire consumers to further check out your brand. There are several types of lenses that you can choose from. They range from entertainment to shopping to utility. Each has the goal of enhancing the world around us. Users can access them by going into their camera screen, tapping it, and scrolling through the carousel of lenses across the bottom. They can also hit the "Explore" button to search for more lenses that aren't located on the immediate list.
Create a Sponsored Geofilter
When you take a photo or video, you have the option to add Geofilters, if you are in a location that has them. These are special overlays that you can't get elsewhere in the world. The city of Austin has several Geofilters that use its name in some sort of creative format. Businesses can also create them so that they can advertise their name. These can either be in similarly creative formats or just include their name and city in a white font. But Geofilters aren't made for just locations. Events can have them, as well. So, if you are hosting a festival, conference, or big party that you want people to tag you in, make a Geofilter. When attendees add it to their Story, it will make their own followers interested in what you have to offer.
Share Announcements and Launches
Keep your audience up to date with what's happening in your business. The best way to do this is by promoting across platforms. Crossposting is beneficial because it increases brand awareness, getting your latest product out there further than it would have gone otherwise. Steer away from looking spammy when you do it. When you post the exact same message and visual everywhere, it won't look natural. Edit your announcements according to the individual guidelines of the platforms. This goes for character limits and image or video sizing. Make sure, too, that the vocabulary makes sense. On a Snapchat post, you can tell someone to "swipe up" to get to your link, which you wouldn't be able to do on Instagram.
Brands You Can Find on Snapchat
When you scroll through the Discover page, you are likely going to come across several familiar names. Despite your competition being limited in comparison to other channels, there are still quite a few businesses that have taken advantage of Snapchat as part of their digital marketing campaign. Here are two major brands that can be seen using Snapchat for business.
Adidas
Bitmojis are personal avatars that Snapchat users can make while in the app. Oftentimes, they look like the user, but they don't necessarily have to. You are able to customize their body type, hair, eyes, and coloring however you see fit. And one big thing that is constantly updating is the clothing options. Adidas partnered with Snapchat to create a virtual line of their lifestyle and streetwear brand. There are full outfits available, as well as individual tops, athletic pants, shoes, and hoodies to make the experience more personalized. It makes you feel as though you are at a real mall, trying on clothes. Other brands have brought their names to Bitmoji, too, such as Ralph Lauren, American Eagle, and Converse.
Invisalign
The key to making a good Sponsored Story is by adding movement to it. Users want to have more of an experience with advertisements. This is precisely why, in a recent Snapchat business ad by Invisalign, the text and the images are in motion. It features a set of teeth that gradually shift into place as the company informs you that, by swiping up on this ad, you can take advantage of the world's most advanced clear aligner system to upgrade your smile. Once you do swipe up, or at least press the "More" button, you are taken to a landing page to fill out your information. This Sponsored Story makes it easy for those who are interested in Invisalign to get to where they need to be.
If you are interested in taking on Snapchat for business efforts, remember to do two things… The first is to upload Stories regularly. You should be doing this across all of your social media channels. This way, as many people as possible are able to consume your content. And the second is to monitor your Audience Insights. To ensure that you are getting the most out of your Snapchat marketing strategy, you have to know who is engaging with your content. It will help you to further expand the reach of your campaign. At the end of the day, always give your audience what they want!
Comments are closed.