The Importance of Copyediting Your Website Content
By Megan Marshall, Thursday, January 27, 2022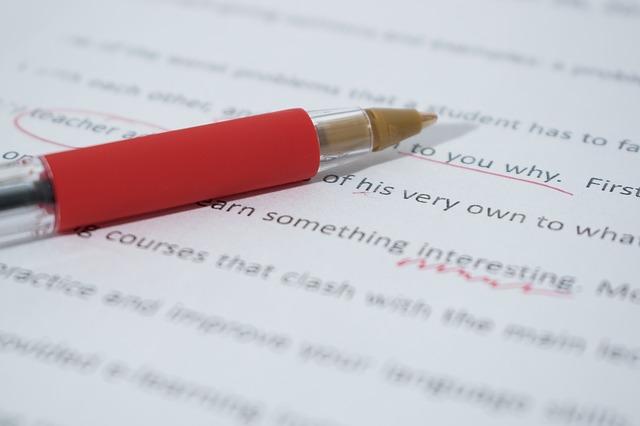 Once you have gotten all of the content integrated into your website, you need to edit it. The first stage will be reviewing the writing to see how cohesive and effective it is. Your business has a particular voice that needs to shine through, whether it's playful or professional. Are you accurately delivering your brand in not just your body text, but also your headlines and subheads? Have you incorporated enough relevant media into your web pages? Has the content been optimized for search engines? Is your reader going to understand the full scope of who you are from reading your website content?
When you have ensured that your site looks professional, you need to work on copyediting your website content. A copy editor differs from a content editor. Rather than checking the strength of the text, they identify more specific mistakes. By using your in-house style guide, the team member who is editing your copy will check for errors in spelling, grammar, punctuation, and syntax. They will also look at your metadata, image placements, and charts and graphs, or do any necessary fact-checking. The main goal for a copy editor is to enforce the text's flow so that the reader won't be confused. Let's dive into four key ways that you will inevitably benefit from copyediting your website content.
Credibility
If you have made several errors in your text, you are going to look like you don't care. Consumers today are especially skeptical about the online marketplace, so even the simplest misspellings can affect your credibility. They will inevitably turn toward your competitors if they have lost confidence in your business. Imagine spending all that time creating timely, interesting content that just makes people bounce. It's important to win them over from the first time they interact with you, and continue to win them over the more time they spend with you. Copyediting your website content helps your specific details appear more reliable. Just in case, once a copy editor has finished their work, someone else's fresh eyes should proofread the content to ensure it is ready to go live.
Readability
When your content isn't worded clearly, your visitors could have no idea what you are trying to say or what you are offering. On that same note, too many words in a sentence or paragraph will likely turn them off. Yoast found that, in order to have user-friendly content, you need to use approximately 20 words per sentence. This is ideal for anyone's reading comprehension. What this doesn't mean is that you should be writing on a child's level. It simply means that you should be clarifying your thoughts in a clean manner. Copy editors are able to tighten phrasing and eliminate unnecessary sentences so that the author's message is streamlined. Your website content should not be repetitive and full of jargon, nor should it be too short that you are missing out on critical elements to your story.
Consistency
Copy editors need to make sure that every web page matches. Invest Northern Ireland says that this is necessary for both functionality and visual elements. Consistency ranges from navigation to page layouts to typography to branding. If you are using charts, for example, they need to be uniformly formatted, for the sake of visual appeal. When you reuse the data from those charts elsewhere on your site, it needs to be identical, unless there has been new research that has changed the numbers. Regardless, when copyediting your website content, it is important to look back at the information that has already been pushed. This will allow you to create a stronger linking strategy and web design, as you will be increasingly aware of what your website's hierarchical structure looks like.
Accuracy
Accidentally writing a false statement could be bad for your business. This is why part of the copy editor's role is to verify the names, dates, locations, events, and quotes in your website content. If your business is in a very technical industry, this might mean that there is a lot of fact-checking that needs to get done. For this reason, copy editors triage fact-checking by how important the fact is. They prioritize details that could get your business in trouble or would be embarrassing. These are crucial to retaining the support your business needs because, if your information can easily be discovered to be inaccurate, you lose any leverage you had. Alternately, lower-priority details fall into the category of factual correctness, such as if the title of someone you mentioned isn't exactly correct. Copyediting leaves no stone unturned.
Infographic: How To Copyedit
First read: You will be getting a look at the big picture of a piece. Do not take any notes yet. Simply familiarize yourself with the content.
Second read: Ask yourself whether the sentence structure works logically and whether the author's intent is clear. This time, take notes.
Line edits: Work through your notes as you go through each line of the piece. Tighten up the sentences, focus on language, and offer stylistic suggestions.
Formatting: Adhere to the style guide that your organization uses. If you do not have a guide, make sure that the author's style is consistent.
Proofread: Do a final read-through of the piece to fine-tune it. Make sure that every error has been fixed, both within the text and the visuals.
We tend to gloss over our own errors. By going line-by-line through your website content, your copy editor will ensure that your word usage and structure are as understandable as possible. Your editing process will conclude with a final read-through as a quality control check. Then, it's time to go live! If you are in need of developing sophisticated web copy for your business, reach out to WEBii. We will tackle the writing, content editing, and copyediting of your website content, all while providing you with great SEO results.
Comments are closed.