Up Your Social Proof Game by Having a Press Page on Your Website
By Megan Marshall, Friday, September 30, 2022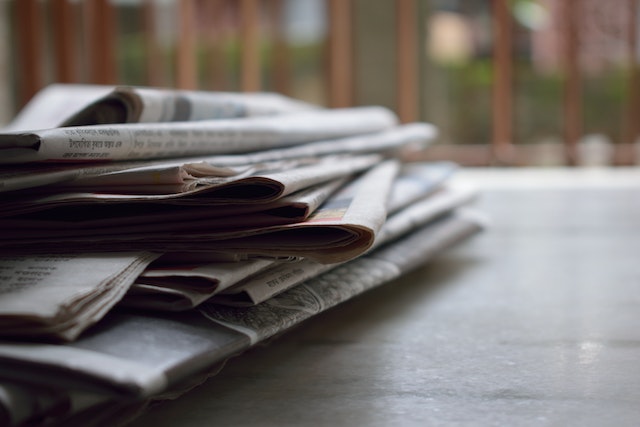 Press releases are for sharing information with the public. After being pitched, they can be picked up by other outlets to further spread the word in news articles or blogs. Even the smallest mention can bring you traffic. It also helps you to build your contact base within the media. So, when the time comes for your next big announcement, you will know who to call.
But if you want to provide information about your business without having to be hands-on with the media, you can implement a press page on your website. This keeps all of your press releases in one place. Plus, you get to lay out all of the facts as you see fit. A visitor will be able to scroll through to see everything you have accomplished through the years. Let's think more about what it means to have a press page on your website.
The History of the Press Release
Did you know that press releases have been around since 1906? The first one is credited to Ivy Lee as his agency was working with the Pennsylvania Railroad. He had decided to write up a story that he, himself, distributed to journalists, rather than waiting for the journalists to come to him. The rest, they say, is history. Despite the press release being born then, American theorist Edward Bernays was the one who made them commonplace. He became known as the pioneer of public relations and propaganda. Later, his obituary even stated that he was "the father of public relations."
Why Your Business Needs Press Releases
Content marketing is an important part of running a business. It's a strategic and creative way to communicate. You need to get your information in front of as many eyes as possible, and that can be accomplished with a digital press release. But what do they really bring to the table? The major points are trustworthiness, engagement, and management of the narrative. You are shaping the public's perception of your business through a short and sweet piece of recent news. It's the chance to answer the question, "Why should I care about this company?" The focus is on collecting valuable details that make the reader understand the relevancy of your experiences and offerings.
When to Make Press Releases
There are plenty of opportunities for you to add to a press page on your website. You just have to keep up with any newsworthy things that your business has been up to. Here are four things that you could write about.
Award Announcements
Being nominated for an award for your business is exciting! It's good for the morale of your staff who have been putting in the hours to make your brand exceptional. Even better, though, is when you actually win the award. Advertise your latest achievement so that you better display yourself as an industry leader. Instead of making this overly promotional, discuss the award from a business point of view.
New Partnerships
Be proud of your most recent collaborations. It may be the case that you have been negotiating this deal for several months. Now, you have the chance to benefit from one another, both in terms of the actual work and the publicity that comes from it. When you are letting the public know about your partners via the press page on your website, paint a picture of what this decision is going to do for your business. Your alignment of values could lead to other companies being interested in a partnership.
Grand Openings
If you are expanding your business to another location, you will definitely want to publicize it. Build up the hype by showcasing it in a series of press releases. The first one may be when the idea is officially underway, while another may be the groundbreaking ceremony. In the end, you should add the grand opening to the press page on your website. Generate media coverage so that your first day of business is a busy one.
Branding Changes
A rebranding is an interesting undertaking that can consist of an acquisition or merger. It may even simply be a decision to modernize your corporate image. When your brand shifts, oftentimes so do your messaging, focus, and potentially even your values. Current and prospective customers alike will be interested to learn what kind of direction you are going and why. Compile all of the information surrounding what this change means for your products and services into a press release.
How to Write a Good Press Release
When you are creating a press release, you need to make sure that you are collecting all of the pertinent details about the story. It has to bring value to the reader once it lands on the press page of your website. Incorporate these four things in your next press release.
Intriguing Headline
Your headline acts to convince someone that they should read your press release. It needs to be interesting while still making it clear what they can expect when they click into it. Give them a compelling summary that doesn't spoil the story. You can even include an emotional appeal so that you have the best control over your press release's narrative.
Use Active Language
Growing up, we were taught in school to always hook our readers from the very beginning with attention-grabbing leads. But writing for press releases is much different than writing creative stories or blogs. You don't have a lot of room to share your story, so you need to be concise and avoid flowery language. Maintain an active voice throughout your writing, including strong verbs. Elicit a sense of action from your readers.
Relevant Keywords
Be aware of search engine optimization (SEO) in everything that you do. These are the practices that not only improve the readability of your website, but also its positioning within the search results. Determine what keywords go along with your press release. These should be phrases that your audience actually searches for. Use them in both your headline and body copy.
Include Quotes
Upon a recognition or milestone moment, members of your leadership may have a lot to contribute. Ask them for quotes on the subject. These quotes don't have to be a full paragraph long. Two or three sentences are perfectly fine for what you are trying to accomplish. The goal should simply be to give the press page on your website more of a voice.
Include Multimedia on Your Press Page
A fundamental part of connecting with your readers is using visual content. These digital assets will support your written content. Above all else, take a photo or create a high-quality graphic to use as a featured image on your press release. That is what is going to immediately draw a reader's eye. It will also make your press release more memorable. A picture is worth a thousand words, after all. For a journalist that is drawing information from your piece, multimedia elements are especially helpful. Video, in particular, takes the press page on your website to the next level. Get footage from your big event or new product line.
Why You Should Hire a PR Firm
Public relations (PR) can be defined as the strategic communication between organizations and the public. The Public Relations Society of America adds that they two "adapt mutually to each other." It involves influencing and building relationships. This is done through the reputation management tactics of responding to reviews and engaging with social media followers. It also includes crisis management so that your business is prepared in the event of a major problem. And, of course, there are press releases that factor into the maintenance of your media relations. A PR firm is going to be the one getting your business the positive coverage that it needs to succeed.
Don't forget to check out the press page on our website! We have updated it through the years with content about big achievements that WEBii has made. These include recognitions such as being nominated as a top SEO, web development, and web design company in Austin. But we also highlight new website launches so that visitors can check out our latest work.
Comments are closed.