What I Have Learned About SEO in One Year at WEBii
By Megan Marshall, Tuesday, October 18, 2022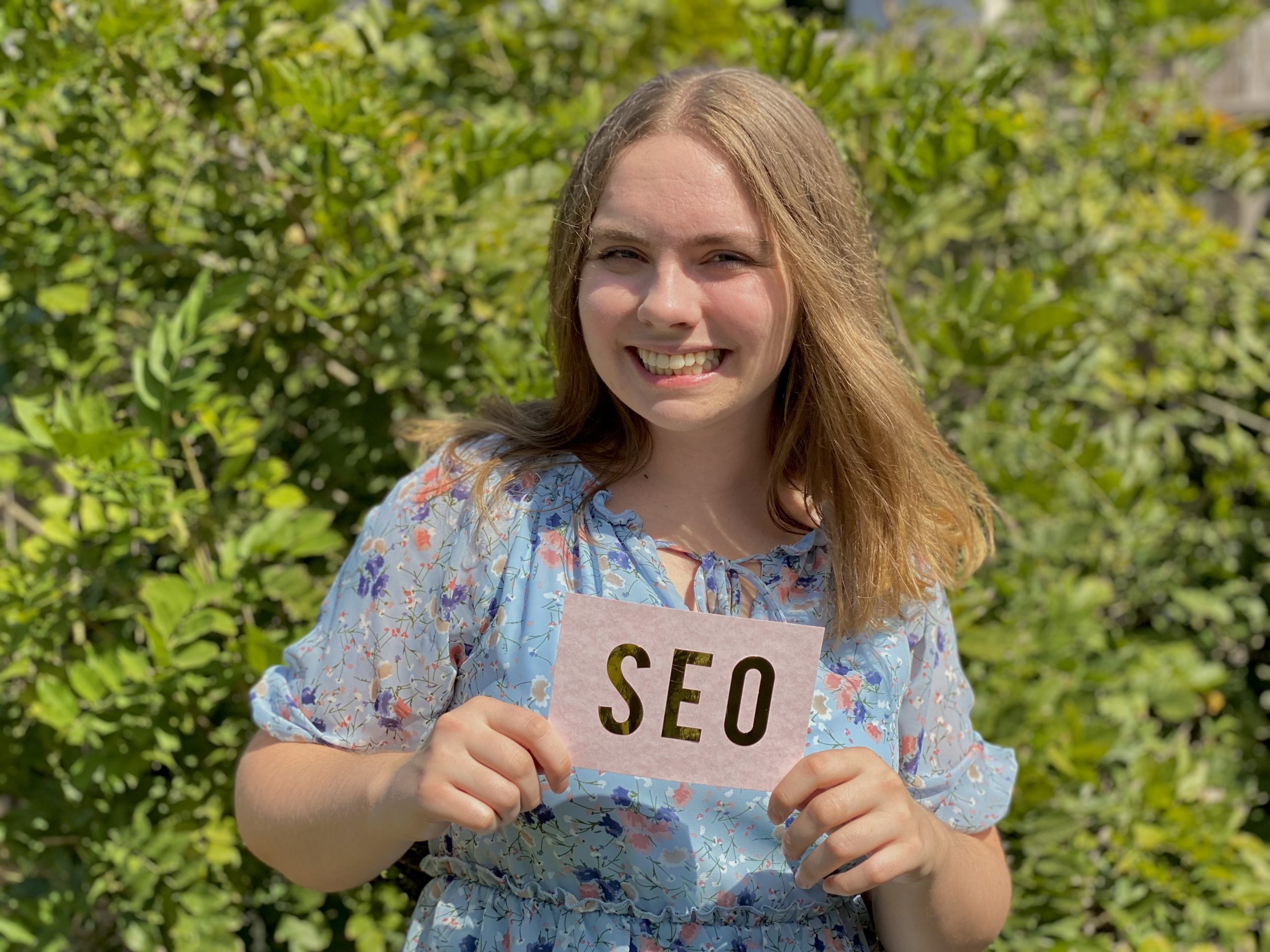 I didn't go to school for marketing. I'm an English major. To all of the other English majors out there reading this, hold your applause. You, too, can get a job after college!
Writing has quite literally always meant everything to me. When I was seven years old, my best friend and I would put our heads together during free time in class and write illustrated short stories. Then, I'd go home and do the exact same thing. I'd create worlds on paper or behind my mom's computer screen, and it just felt right.
Now, let's fast forward… Here I am holding down the fort with writing initiatives at WEBii. How did the little girl who was writing about anthropomorphic animals finding their way in the world get into search engine optimization (SEO)? Let's take a look at my takeaways from the last year.
I am fascinated by content marketing.
The fact of the matter is that this job has only made me appreciate writing more. I've gotten the chance to branch out in ways that I never would have expected, and I've learned an insane amount about topics that I may never have dipped into otherwise. If someone were to pass me on the street and ask about information technology or home remodeling, it's likely that I'd have a long-winded answer. Getting to do a deep dive into research across a variety of topics has been fascinating.
One major thing that I have been able to take away from being at a Texas SEO company has been, of course, the importance of SEO. Every single website can benefit from it.
I spent the majority of my life not knowing how something could find itself on the first page of Google, but that I was going to wholeheartedly trust the invisible process and primarily find answers there. If something shows up on page one, it has to be good, right?
Not everything can be on page one. A lot of content is actually hidden gems. They lurk in the shadows of the Big Ol' Cave of Google in hopes that someone (maybe you?) is going to mine through more pages to find them. The issue is that you may have expertly-written blog posts, but you haven't optimized anything on your site. So, if you're wondering "why the heck is my business all the way on page 20," there may be a reason for that. Luckily, you can rectify it!
I may be fairly new to the industry, but I'd argue that I know a good bit by now, thanks to the help of the long-time pros I'm surrounded by. That's why I'm bringing to you some things that I believe anyone who is new to SEO can benefit from knowing.
You can't just guess what people want.
Data. We use it for everything. It allows us to more effectively identify problems and figure out the best course of action to solve them. You can't expect to go into decision-making blindly. Otherwise, you will make mistakes every time.
When it comes to SEO, the data that is relevant is related to the performance of your website. This includes how much organic traffic a page is receiving, where that page is ranking, and the amount of time that a user spends browsing your site. Are you accumulating enough backlinks? Have you seen any recent changes in the number of conversions? These points add up to help you with your unique content strategy. You need to know exactly what your audience wants. If you don't take their behaviors into account, they are likely to continue bouncing from your site before fulfilling your call-to-action (CTA). That's the exact opposite of what you want to happen.
Google is the king of all search engines. With tools like Google Keyword Planner and Google Trends, you can dive into what people online are actually searching for. From there, you can better curate your content. And Google Analytics and Google Search Console are great for explaining how your site is performing. They break down how you are getting visitors, where they are coming from, and when they are the most interested in your content. These are tools you can't afford to ignore.
The numbers don't lie. If you want to see your site rise to that front page of the search engines, you have to be mindful of them.
That being said, understand that people aren't just a number. You can certainly go beyond what the tools are telling you and do your own research into the minds of your audience. See what kinds of questions they are regularly asking on forums. This can help you construct an FAQ page on your site. It's the perfect way to tuck in your keywords.
Everyone loves a good video (if done well)!
Did you know that the first TV commercial came out in 1941? That was a game-changer for advertising. Since then, the use of video ads by businesses and organizations has skyrocketed. It's now a multibillion-dollar global industry.
A lot of times, video ads are more entertaining than simply reading about products and services. Plenty of commercials for professional groups are centered on having awesome comedic timing. And the reason for that? To be more memorable. Advertisers have easily taken this concept into the digital sphere. They want you to talk to those around you about what a great video you saw the other day when you were waiting for a YouTube video to load. But you won't do that if you press "Skip" before the ad is even complete. So, these ad creators need to capture the attention of viewers as quickly as possible.
The same goes for you as the owner of a site. When you make a video for marketing purposes, it shouldn't drag on. Now, there is no overarching rule about how long a video should be. However, if you are recognizing that people aren't sticking around on your web page despite this additional content, you have hit a threshold where their interest was lost. So, it's necessary for you to have a concise script before you kick off filming.
You could have people in the video. Cartoons. A PowerPoint screen. At the end of the day, it doesn't matter how your video is made as much as it matters what kind of content you are displaying within it. Make sure that the information is what your audience cares about. It should also be explained in a way that they can understand. A longtime astrophysicist isn't going to need the same type of video as a middle school-level astronomy class does.
Through the decades, video has made many changes. Who would've thunk that we would have options like TikTok, where an algorithm of video content is so impressively catered to our interests? That's what you need to do as a video creator. Think like the TikTok algorithm.
The device is something to keep in mind.
Smartphones are still a relatively new phenomenon. Yet, the majority of the world has them. I'd argue that we take them for granted. You don't know how much you rely on your smartphone until you don't have access to it. Unlike with landlines, we have the ability to do just as many things on our mobile devices as we do on our computers. It's absolutely incredible.
If you are on the go and have a question, you just look it up on your phone. You can type it into your search engine browser or ask your hands-off virtual assistant. And this is where it becomes extremely important for your site to be optimized for mobile usage.
First, let's get into the browser experience. Someone will come across your site on, for example, Safari. They click on your link but, alas… Your site looks completely different than it would on a computer. It isn't responsive at all and the load time leaves much to be desired. They can't easily navigate between pages, read a full paragraph, or see the images you embedded. The user experience is horrible, so these users will leave. Your competitors are waiting for you to make a mistake like this, where you only focus on what your site looks like for larger devices.
Next, we should think about voice search. Your content should be considerate of natural human language. Don't cater everything to search engine robots. Sites that aren't optimized for the conversational questions that users are asking won't have the privilege of getting their answers up front and center. Like I said earlier, you have to know what your audience legitimately wants from a business or organization like yours.
All of this to be said, just because you optimized your site for desktop doesn't mean that it's optimized for mobile. A professional web designer can ensure that you are on the right track with that.
SEO is an ongoing process.
We live in an age where we demand immediate gratification. I know I do. I like being able to look up a question on Google and have the answer right in front of my face. According to Freud, this is called the pleasure principle. It's based on our most basic desires being our strongest motivating force. Waiting can feel like a pain. And it's safe to assume that if we were all dropped off in the pre-internet age, we wouldn't even begin to know what to do with ourselves. (Yes, that goes for people who were born during that age, too.)
The point is that SEO is that frustrating waiting game. You can't expect to be on page one for every keyword that you want to rank for the second you start a campaign. It isn't fair to your digital agency to assume that. There's a lot that goes on behind the scenes, and I have experienced firsthand that we do the best we can with what the search engines are giving us. After all, Google changes its algorithm thousands of times per year.
Some sites will take longer than others to rank. Other sites are going to experience backslides, going from the front page to page five in a matter of weeks. A digital agency will keep making adjustments for you so that you get the best experience possible out of the search engines.
If you want to have an SEO success story, you need to keep up with it in the long term. Your efforts should continue to evolve alongside your audience. Routinely post content, monitor your rankings, and network, network, network. You have to get your name out there as much as possible.
You want people to believe that your business or organization is credible. This means two things—getting testimonials from your clients and obtaining backlinks from other reputable sites. The more that people are talking positively about you, the better. It's give and take, though, so don't expect to put out poor-quality products and services if you want people to speak kindly on your name.
It truly doesn't matter what kind of business you are. You could be an app for banking, a cookie-making company, or an oral surgeon. Search engine optimization will undoubtedly change your web presence for the better. You just have to give your site a little extra TLC.
---
About the Author
Megan Marshall coordinates search engine optimization (SEO) projects for a variety of clients, producing original blog and press articles, content editing and optimizing, SEO progress reports, and social media content. Megan holds degrees from The University of Texas at Austin in English, Anthropology, and Sociology, and has received a certificate in Creative Writing. She has also completed training from HubSpot and Google.
---
Comments are closed.