Pro Tips for Conducting Remote Interviews
By Megan Marshall, Tuesday, September 27, 2022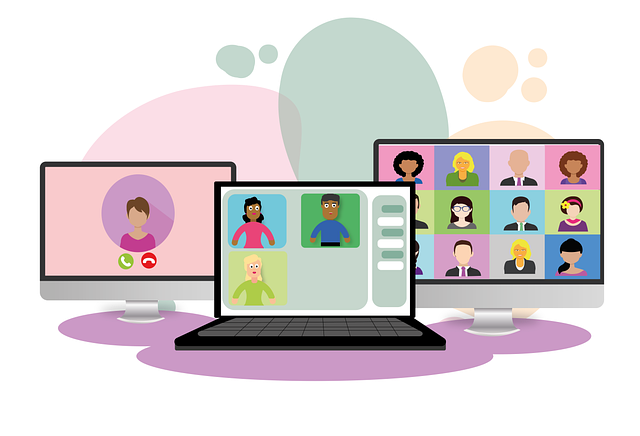 Connecting with someone through a computer screen can be a challenge. Think about the times when you've been on Zoom and a colleague (or perhaps even yourself) has endured internet problems. It takes away from the experience of the interaction. And it's safe to say that holding a remote interview is much less easy than speaking face-to-face.
However, when technology is functioning properly, everyone reaps the benefits. So many doors are opened because of the ability to host events and have conversations digitally. People from around the globe can come together for live webinars at any time of day. Consider the following expert advice when you are conducting your own remote interview.
Infographic: Key Things to Do in a
Remote Interview
Do your research.

Dig into who your interviewee is. What industry are they in? What contributions have they made? Background info will help you steer the conversation.

Write specific questions.

It's okay to let the natural flow of the conversation take over, but you should use your research effectively. Go in with a structured plan of what the interview would cover in a perfect world.

Let the interviewee prepare.

People don't like going into things blind. Make sure to provide the expected length of the interview, what the topic is, and who will be conducting it.

Prepare an intro.

Once the interview is underway, don't forget to give a brief biography about the interviewee. Don't get too detailed because that's what the interview is for!

Don't stress out!

You want the conversation to go smoothly. This means it's necessary for you to make the interviewee feel comfortable speaking. Stay in a positive frame of mind so that they feed off of your energy.

Give thanks.

No one is obligated to sit down for an interview with you. When you are closing, as well as after the session ends, let your interviewee know you are grateful for their insight and time.
Determine the best method for interviewing.
Not everyone is going to be excited by the idea of conducting a remote interview on Zoom, YouTube, or Facebook. You will find that there are three other options that they could go for. The first is an in-person interview. As companies are continuing to have employees move back into the office, this could end up being a good fit. Coordinate a day and time with your interviewee to meet up either at their workplace or yours. Next, we have the phone interview. This can be a bit of a challenge if you are looking for direct quotes. Should you decide to record the call so that you can transcribe it later, let them know. The last of the three alternative interview types is sending questions via email. This works best if coordinating is a difficult task. Give the interviewee a deadline to send their responses back to you.
Consider taking your
remote interview
live.
It may turn out that using a video conferencing platform is your best bet for getting everything that both you and the guest want out of the discussion. In which case, ask your guest if they'd be willing to welcome the public into their interview. To accomplish this, turn your remote interview into a livestream. You can send out the link for the stream to your supporters so that they can experience it in real-time. If they have comments, they can leave them in the chat box. Record the screen during the live interview and post it on YouTube once it's complete. This way, the supporters that weren't able to make it are still able to watch it. You are also able to post the most memorable clips to Instagram and Facebook. Keep all of this in mind as you figure out how to conduct the interview.
Know where you will be holding the interview.
Even though you won't have to find a physical venue, you still have to situate where the remote interview will be hosted. This is because your guest needs to receive a digital invite in order to participate. There are many platforms available for you to use. As we mentioned previously, there are Zoom, YouTube, and Facebook. If you are holding a live webinar, any of these three would be great choices because many people already use them. Otherwise, if it's a one-on-one conversation, you can certainly branch out to another quality conferencing platform.
Have expectations and questions prepared.
You have to know your audience to know what kinds of questions will be good to ask. Think about what someone who watches the interview would be interested in. Either directly ask them to send their questions ahead of time through a post or email, or do some thorough research. An example is if you are in conversation with a social media influencer. Your target demographic may not care about posting-related tasks and channel metrics. Instead, they could want to hear about how the influencer has grown their platform and what their brand collaborations have been like. Build a list of interesting questions that will similarly engage the interviewee. It helps to send them the questions beforehand, too, so that they have a general sense of what they'd like to say.
Test the technology before starting.
As you are likely aware, nothing is more frustrating than having everything set up, only for technology to fail you. Before you start the remote interview, give yourself enough time to mitigate any risks. For instance, if your microphone isn't picking up sound on your current device, you will know that you have to switch to another. The same goes for if your computer or laptop camera isn't working properly. The camera may be out, the internet may not be connecting, the video itself may be lagging… There are many obstacles that you could face if you don't situate everything prior to hopping on the call. Run a test call with the guest to ensure that all of their technology is doing what it should be, as well.
Look professional (at least on the top half!).
As you know, dressing professionally will make a good first impression. Despite the luxury of remote interviews being that you don't have to look flawless head-to-toe, you still shouldn't appear as though you just rolled out of bed. You are representing your company! That being said, make sure that you wear something comfortable. It may be the case that you will be stuck in the same chair for an hour, so avoid clothing that will have you picking squirming. Another major part of your appearance is also going to be how you show up on the screen. Keep your body centered so that your face and shoulders are in view. Have just enough lighting around you so that you aren't trapped in the shadows. Your background should be professional, such as a plain wall or organized bookshelf. It can even be an appropriate green screen of the local city landscape.
Be inquisitive, but don't be pushy.
Sometimes people don't know how to answer certain questions. Otherwise, they may not want to answer those questions. There is a time and a place for everything, so should your guest appear uncomfortable with anything you ask, just keep trekking along. This is something that you can avoid entirely by, as mentioned, sending them the questions ahead of time. On the spot, though, you should be as friendly as possible. Give your interviewee the chance to think through what they want to say. Without giving a few seconds of grace, you could accidentally wind up in the awkward moment of talking over one another. Take care to practice active listening in case they bring up something that you would like to spin into another question.
---
Check out WEBii's YouTube channel to watch our remote interviews with four of our small business clients!
---
Speak slowly and clearly throughout.
You want your guest to be able to understand your questions so that they can accurately respond. Similarly, your audience should be able to understand so that they can follow along. If you are too quiet or too fast, it could take away from the experience on both ends. Enunciate your words so that they are distinct. Note that you should get rid of any background noises, too. Even if they aren't loud enough to cover up your words, these sounds could be incredibly distracting to hear every time you turn your mic on.
Get help from the audience in a Q&A session.
If you have a Q&A portion of your remote interview livestream, don't forget to mention it at the very beginning. At a point during the middle when it's your turn to speak, you can remind your audience about it again. People should feel comfortable dropping their questions in the chat throughout the conversation. Depending on the platform being used, it may even have a specific section for the Q&A. If there isn't a Q&A feature, there are two ways to go about keeping up with the questions that they submit. First, you can watch out for them yourself and take quick notes. Otherwise, designate someone on your team to monitor them. Keep an eye on the clock so that you have a decent amount of time at the end. While you may not be able to get to every question, having audience participation makes them more engaged.
Have fun with your
remote interview
!
When you aren't excited about doing something, it shows through your body language and facial expressions. And when your audience gets the feeling that you aren't into the conversation, it will take them down a few notches. This is precisely why you should only be hosting a remote interview if you and your guest are extremely interested in the topic at hand. The most critical piece of advice that we can give you at the end of the day is to relax. Let the discussion flow naturally. By taking a deep breath and keeping a genuine smile on your face, you will make the best of your webinar. After all of the hard work that has gone into it, you deserve to enjoy it alongside your guest.
With much of corporate America shifting into a hybrid workplace in our post-pandemic reality, remote interviews look like they are here to stay. They save time and costs that are associated with travel. Although conferences and public speaking engagements have made their way back onto the scene, hosting a webinar is a great option to neatly fit a conversation into everyone's schedules. You just have to go into it with confidence!
Comments are closed.