Create an Impact with a Business Intro Video
By Megan Marshall, Tuesday, September 13, 2022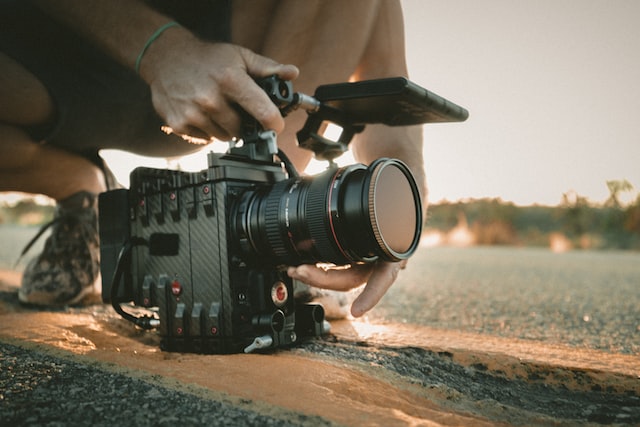 Your business needs to make high-quality visual content. It will go on your website or social media channels to attract visitors and, eventually, increase your sales. And why is that? Because people love photos and videos! They are a great way to keep users engaging with you and spend more time on your pages.
One example of what you can create is an introductory video. In this, you will briefly explore the problem that you solve and what that solution is. Highlight the benefits of your company so that it is clear to your visitors what you are offering them. The point is to push them toward seeing you in a desirable light. But how do you even get started with your business intro video?
Every video you make should bring value.
There is so much digital content online that is made just for the sake of making it. You don't want your content to be the same way. Otherwise, you will honestly be wasting resources. With everything that you create, there should be a genuine purpose behind it. Across the board, that should be to add value to the experience of a visitor on your website or other platforms. When it comes to your business intro video, you should place your value proposition. Make it clear what your brand is all about, emphasizing why it's something worth paying attention to. Give your target audience something meaningful to take away from it and remember. To gain some inspiration, watch "75 Years of BIC," a video full of text, graphics, and powerful music created for BIC's anniversary.
Keep your
business intro video
short.
When you are just introducing your business to a visitor, don't expect them to sit through several minutes of you explaining your history and products. That won't be what drives them to make a purchase, considering they very well might click off when they notice how long the video is. Humans have short attention spans. So, you need to give them easily digestible content. If you are able to keep your business intro video at around two minutes, it's much more likely that visitors will stick around until the end. Keep it to the point. Film additional videos that fill in the blanks of anything you weren't able to fully explore.
Have a professional but human script.
To ensure that you are staying on time, come up with a script. It can help to have an expert scriptwriter or creative video director involved in this process. They will be well-versed in how to keep viewers engaged from the beginning of your business intro video. After all, those first few seconds are critical. You need to set the right tone. Every company should have a distinct personality so that consumers can associate it with the brand. Maybe you want to be known for particular characters that like to joke around with one another. In which case, it wouldn't make sense to have a super serious video. Your personality is something that you have to drive home in your script. Allow your audience to connect with the human elements of your company.
Include a clear call to action at the end.
When you are writing web copy, coming up with a call to action (CTA) is simple. You can put "Learn More" or "Click Here" on a button. Once that button has been pressed, your website visitor will be taken to a page that will provide them with exactly what they expected. Now, in a video, that CTA is going to have to be either verbalized and or put in a text overlay text at the end. Ask yourself, though… What is it that you want consumers to do after viewing your business intro video? You need to be clear about it without being aggressive. That is to say, sell to them without outright selling. This will give them a reason to check out your company further.
Business intro videos
are about the customers.
Your business intro video isn't all about your business. You don't have to talk about your many awards in an attempt to prove your credibility. That's something that they will be able to go to your other web pages, such as a press release page, to find out more about. This video is, instead, the chance to talk about what you are able to do for your customers. You should be letting them know that you recognize their needs. If you have been in business for some time, it's a good idea to get your previous or current loyal customers involved. Their open expression of happiness about your solutions will go much further than you simply saying that you are the best in the industry. Take a look at "Living a Richer Life," an impactful video produced a decade ago by Airbnb that took this route.
Ensure that your content is high-quality.
One of the best pieces of advice when it comes to any kind of content marketing effort is that you shouldn't compromise on quality. People will notice when you rush through the production process. It could result in serious errors. Consider partnering with a corporate video production company to get things done on your business intro video without any of those errors. They will pull together the right lighting and angles, and ensure that there are no distracting background noises. Should you decide to film and edit the video yourself, note that you don't need to have the most expensive equipment. Still, you should have a camera that can shoot in 1080p, along with a tripod or gimbal to keep it steady.
Display your
business intro video
prominently.
You have put a lot of energy into making your introductory video great. So, don't hide it from your website visitors! The majority of them are going to wind up on your homepage. They expect to develop a positive first impression of you. Therefore, in order to get the most out of your video, place it on the prime location that is your homepage. Make sure to monitor the average time spent on the page to determine if it has been effective. But that isn't enough to maximize it. You should also post your business intro video on your social channels, and potentially even integrate it into your email nurturing process. Get as many eyes on it as possible so that you can increase your return on investment.
Searching for a professional videographer in Austin to take care of your business intro video? Consider the directing and production skills of Matthew Lemke Photography. Lemke has served for nearly two decades in the Austin area, but has been creating visual content for even longer. Check out his digital marketing story to learn more about him.
Comments are closed.