YouTube Live: What to Expect Out of Video Streaming
By Megan Marshall, Tuesday, June 7, 2022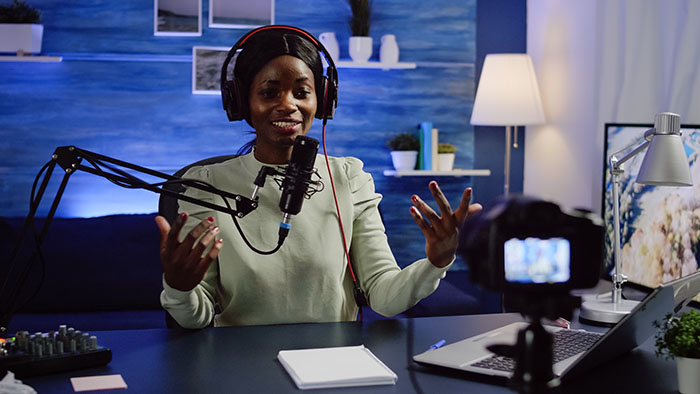 The first YouTube livestreaming event, aptly named YouTube Live, was hosted in 2008. It was simultaneously broadcast from San Francisco and Tokyo. Although the celebrity-filled event was intended to be an annual show, it has yet to be repeated. In fact, it wasn't until 2015 that the platform really invested in its livestreaming capabilities. YouTube Gaming came out after they were unable to purchase Twitch. And although Twitch still remains supreme, YouTube Gaming has certainly been on the rise over the past couple of years as they have picked up content creators with big audiences.
However, that isn't to say that only gamers can benefit from streaming on YouTube. People around the world use the live video feature for a variety of reasons. Perhaps they are showing a breaking news press conference or holding a webinar to share industry expertise. Whatever the case may be, businesses are more than capable of taking advantage of YouTube Live. Let's see how it can be incorporated into your business plan.
What exactly is
YouTube Live
?
When you sign into YouTube, there is a tab on the side labeled "Live." Clicking it leads you to a page that shows which channels are currently livestreaming, which streams happened recently, and which ones are starting up momentarily. For those that aren't live yet, you can hit the "Set Reminder" button so that you don't accidentally miss out when the stream does start. But you don't have to just go to this page and scroll through all of the options to find something interesting. If you are subscribed to any channels, you will be able to see who is using YouTube Live through your "Subscriptions" list. Simply enter the video that has the "Live" label in the corner, and feel free to chat along with other viewers or just sit back and enjoy the content.
Is livestreaming right for my brand?
Before you start engaging in YouTube livestreaming, make sure that you already have other digital marketing strategies in place. This should include other social media channels and email marketing, both of which allow your brand's advocates to stay in the loop with what you are doing. You need to make sure that these supporters know about your upcoming stream. Otherwise, how can you really make the most of it? Once you have thoroughly gotten the word out, you will be able to experience the many benefits of streaming on YouTube Live.
Increase your online reach
Influencer Marketing Hub reports that, between April 2019 and April 2020, online livestreaming grew by 99%. It continues to make up a significant amount of internet traffic. Users of both YouTube and Facebook have voiced their preference for live videos over those that are pre-recorded. The same goes for live videos versus reading social posts. It's exciting to see what's happening behind the editing process. You can gain more exposure for your livestream by optimizing your description and title by using relevant keywords and language that piques a user's curiosity.
Interact with your audience
As you are streaming on YouTube Live, you will be able to see what viewers are commenting. This is a great opportunity to engage with the people who support you enough to tune in. You can respond to their messages as soon as they send them. In fact, you should! Keeping your audience engaged for as long as possible is critical to the success of your livestream. Even if you have a more passive audience, livestreaming opens the door for meaningful interactions, not just between you and the viewers, but also between the viewers themselves.
Collaborate with other creators
Don't feel as though you have to do a YouTube Live all on your own! You are more than welcome to bring in another industry expert or two for an educational webinar discussion. Reedsy, a platform where you can locate editors, book cover designers, and writing advice, holds regular webinars with publishing professionals on YouTube Live. Users can sign up for the event through an email newsletter link, and listen to the host and their guests as they discuss a specific topic. When you have a guest, you can ask the audience to send questions to guide the conversation.
How do I stream on YouTube?
First things first, log in to your YouTube account and have it verified. You will be asked to enter a phone number so that you can receive a verification code. 24 hours and one activation later, you will be ready to start livestreaming. From there, you have to make sure that you have your webcam and audio set up properly. If you start your YouTube Live without checking them, you risk an awkward first few minutes with your early viewers as you scramble to fix things. Once you have ensured that all of your technology is doing what it should be, head to your channel's dashboard. You can click on the "Create" button, and then select the option to "Go Live" and fill out the requested information accordingly. When you finish your YouTube Live, you just have the hit "End Stream."
---
Check out WEBii's YouTube channel for our pro tips and client interviews!
---
What cool features can I use?
One of the disadvantages of YouTube Live that has been focalized by users is that there is a lack of tools. While YouTube Studio offers many ways for content creators to manage their presence, the same hasn't been able to be said for livestreams. Of course, this can boil down to the fact that the platform is still growing into itself. That being said, as the platform continues to expand, so do the features that users can access. They have several that are currently rolling out and can be expected to do so soon, but we'll look at what is already available.
Track livestream metrics
Analytics are your best friend across your digital marketing campaign. You need to know what your audience cares about so that you can develop your content accordingly. YouTube Live supplies the data on your stream dashboard. Data consists of your concurrent viewership, average view duration, likes, new subscribers, and total watch time. The combination of real-time and post-stream analytics will help you better prepare for your next stream.
Premiere new videos
When you have a new video going up, you can set it up to premiere at a certain time. Doing this lets you watch the video in real-time with your supporters. While the recording itself isn't live, it is a more interactive experience than typical videos. Setting up a premiere will generate buzz from your YouTube subscribers, as well as your followers on other platforms where you are encouraging them to watch the video. Any device can showcase your premiere and allow viewers to chat throughout it.
Cross-channel live redirects
One thing that Twitch is known for is raids. This gives an active streamer the ability to send their viewers to another active streamer's channel, as opposed to the stream outright ending. It's something that YouTube hasn't integrated until very recently. A major advantage of this addition is that content creators are able to help others grow their channels. If you are from an organization that knows of another organization that is going live, they will appreciate you for introducing your audience to them through a redirect.
Create short highlights
While you are streaming on YouTube Live, you can easily take snippets to post as standalone videos. You do this with stream markers. Simply tap "Insert stream marker," and then, later on, you can create a highlight. This is helpful because it marks where especially interesting moments were within your livestream so that viewers can easily find them. Add a title and description to make it more specific.
Share Clips across social media
YouTube has recently announced the addition of Clips. You are able to do a similar thing that you would with the highlights, but these are intended to share your best moments with other platforms. Clips are played on loop, and they can be between five to 60 seconds long. Once it has been created, there will be an option to "Share Clip." If you would like to share it to one or all of your other channels, just go to the respective social network icons.
Monetize your livestream
In order for your organization to gain money from streaming, you must be part of the YouTube Partner Program (YPP). Currently, the guidelines are that you must have a minimum of 1,000 subscribers and 4,000 public watch hours. You will also need to link your AdSense account. When your channel is enabled for monetization, you may be eligible for pre-roll, mid-roll, and display and overlay advertisements.
The live video market is only going to grow from here. In 2022, following the height of the pandemic, it's no longer a novelty. Next year, the amount of United States live video viewers is projected to reach 163.4 million. Keep in mind that if you aren't interested in YouTube livestreaming, you can always step up your Instagram or Facebook game with live footage!
Comments are closed.