Rank Higher Locally with SEO Best Practices for Bakeries
By Megan Marshall, Friday, June 10, 2022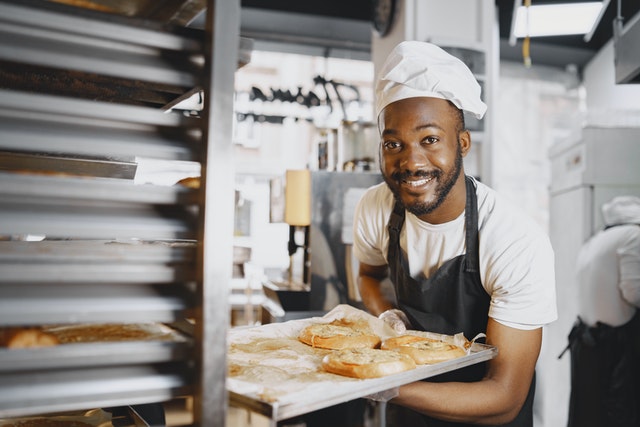 When you start a bakery, your goal is to supply the people of your community with delicious treats. However, although you may be the best cupcake-maker in town, your skills won't necessarily equal success. People need to know that you exist, that you offer the products they crave. If you want to capture the attention of customers and drive them straight to your door, you need to start thinking digital. And that goes well beyond just having a website with attractive branding.
Search engine optimization (SEO) is necessary for every type of business. It's what makes you more visible and, therefore, earns you more traffic and conversions. Holding hands with Google every step of the way is a must. When a prospective customer searches for "bakeries near me," for instance, you want to make sure you are there. To do that, you have to invest time and effort into an effective SEO strategy. Let's learn eight SEO best practices for bakeries to get your journey started.
Create a Google Business Profile.
Has your bakery been established for some time? If so, it may be the case that a Google Business Profile (GBP) already exists. To add any information, you are going to have to claim it. Note that there will be a link on the GBP labeled "Own this business?" Once you click that, you can see if someone else has already verified the profile and then request access. However, for those that don't already have live GBPs, you will have to go through the process of making one. Fill out all of the necessary information about your bakery so that customers know your hours, address, and offerings before even entering your site.
Use localized keywords on your site.
There are two types of keywords that you should incorporate into your bakery's SEO campaign—short-tail and long-tail. Short-tail keywords are broad. They may include "vegan bakery" or "wedding cakes." More businesses will be fighting for these phrases because they bring in a lot of traffic. Or you can extend them to be long-tail keywords, instead saying "best vegan bakery in Austin, TX" or "wedding cake bakery near North Lamar." Although long-tail keywords will return less traffic, they target an audience that is better catered to you. Also, keep in mind that mobile searches that include the additions of "near me" and "on-sale" increased by over 250% between 2017 and 2019 alone. This shows how critical it is to be present for your local audience.
Set up your product page and categories.
One major SEO best practice for bakeries is using high-quality content on your product pages. This goes for both your photos of the products and your descriptions of them. Even if someone decides not to make a purchase online and instead goes into your store, they are still going to browse your offerings. This way, they have a better sense of your pricing and whether you carry the sweet treats they want. With that in mind, be clear about what you bring to the table. Effectively organize all of the page elements in your product cards. The name of a product needs to be the biggest text and the button to make a purchase has to be very visible.
Write a blog to share relevant content.
Having a blog can help with your bakery's ranking because it gives you a greater opportunity to use keywords. If we go back to that short-tail keyword of "vegan bakery," for example, you can center a post around eggless desserts. But not only will it help you earn some points in the eyes of Google, it'll attract vegan consumers. Now, understand that you don't have to be a great writer to start a blog. Anyone can do it. That being said, you should make sure that you or some else copyedits the content before it goes live. Otherwise, there could be some errors in there that you missed when you were in the zone.
Make interesting title tags.
Let searchers know that they have come across the right site for them. Meta tags are a critical SEO best practice for bakeries on account of the fact that they are what tell a browser what should be displayed. Title tags are used in search engine results pages (SERPs), web browsers, and social networks. These can be different from the headline on a page. When you are coming up with a title tag, think about which keyword is the most representative of that page. You may even be able to incorporate more than one, if character count allows. The goal is to provide context in a concise space. Use your keyword(s) as close to the beginning as possible so that it's the first thing someone will notice.
Don't overload the site with pop-ups.
Did you know that pop-ups are one of the most hated advertisement techniques? Pop-ups are often viewed as frustrating to deal with because they block the content that someone came to your site to see. This could actually be bad for your bakery's SEO campaign, causing increased bounce rates and reducing the time spent on a page. That isn't to say that you should never use pop-ups. They can certainly still earn you conversions when they disrupt the ideal target. But limiting them is in your best interest. You don't need notices of cookies, promotions, newsletters, location access, and requests to chat with a bot all at once. When they start sticking, it's a problem.
Keep your page load speed fast.
Google recommends page load times to be under two seconds. To achieve this, follow the SEO best practices for bakeries that involve your images. When you have large images that aren't optimized, it can bog down your web pages. Compressing them can make a huge impact, taking some of the weight off of the file. Look into a plugin that will automatically do this for you, in case you forget to reduce the size of an image in the future. On that note, you should also optimize your dependencies, which include plugins. If there are any that you haven't been using, get rid of them. The same goes for plugins that are outdated. They may have compatibility issues that are impeding your site's performance, as well as posing a security threat.
Optimize your cart and checkout forms.
In the past couple of years, there has been a necessary rise in online shopping for food products. Bakeries today are adopting e-commerce features on their websites. When people have decided that they want to make a purchase from your bakery, you should keep them from bouncing at the last second. Make it extremely simple for them. If you are using WooCommerce, it's important to regularly test your checkout process. You don't want to deal with upset customers who couldn't get a payment to successfully go through. So, keep up with how your e-commerce shop is running for the end-user.
Help local customers find your bakery and not your competitor's. By taking on SEO best practices for bakeries, you can achieve greater traction both online and in-store. Are you interested in need of some improvements to your digital strategy? Contact the WEBii team to learn more about what we can do for your site. With over two decades in the web services industry, our Texas SEO company can get you on the right track.
Comments are closed.