6 Clues That You Have a Bad Web Designer
By Jacqueline Sinex, Sunday, April 3, 2022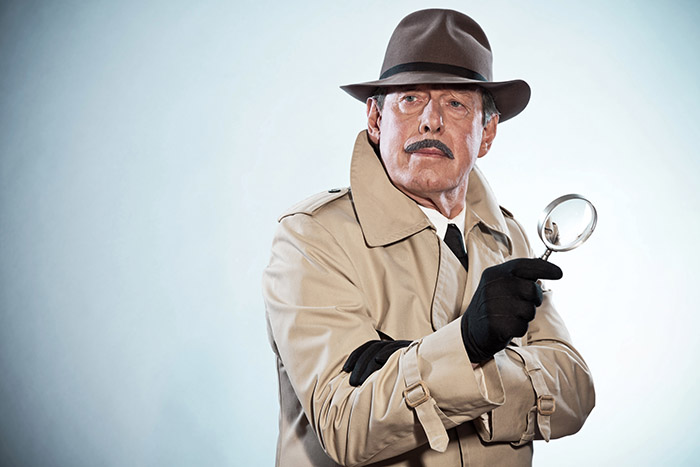 As much as I wish to avoid bringing you bad news, it's important to get real when it comes to business web design. A business's website is essential to the foundations of success, and yet business owners commonly trust this important asset to the wrong hands. Let's play business detective and reveal some clues that you may have a bad web designer.
#1. There is no preparation or kick-off for the web design project.
A great web designer knows that their creativity will be wasted if there is no plan for the project. It's necessary to have a clear understanding of the business and the audience (the business's customers and prospects), and to gear the website toward the goals of the business. Experienced web designers will lead the process with questions and research. They might have a creative brief or a discovery meeting to kick off the project with you.
If your new web designer simply accepts the project and starts designing without any discussion at all, it's a bit of a red flag. Without any knowledge about your target customer and goals, it is very difficult to create a truly effective design. Unfortunately, this is a common behavior for web developers who just browse template catalogs and shell out generic web designs. The value of a professional web designer is partly in their expertise to optimize a web design with better user experience and conversion in mind. It is not possible to achieve that with the one-box-fits-all approach.
#2. The web designer's attractive pricing is well below a standard hourly rate.
Remember that web design is a service, and services rely on time. The professional's time and expertise have value, which helps define a price for their services. Small businesses frequently subscribe to a web design service without thinking through the real scope of work. Truthfully, if the price you are quoted for a project is low, that likely equates to very little time spent on the project. If there is a good web designer on the other end of your agreement, there should be enough time dedicated to your project to create the web design you are envisioning together. Very low-budget web design services have to cut corners somewhere to turn any profit. In fact, they might even reuse the same templates from other clients and spend little to no time customizing your site. If you are expecting a custom web design from your vendor, make sure you set the expectations upfront and get a sense of the time and effort invested in the project.
#3. The website mockup designs you receive are riddled with misspellings.
Mockup designs are a common part of a web design process. The web designer will create the new mockups and share them with you for feedback. Those of us in the web development and marketing fields often use filler text (usually Latin) to place in mockups. That is perfectly acceptable when you are in an early stage of design. However, sometimes your content is ready and the web designer will populate the design with custom text to better demonstrate the web pages.
When you receive mockup designs that are full of mistakes and typos, it's not a good look. A large number of mistakes demonstrates a lack of attention to detail and a rushed mentality. And if really important information – such as your brand name – is poorly spelled throughout, it might be a red flag. Good web design projects aren't just about design; they are about good quality control and project management, too.
#4. When the going gets tough, the web designer's communication goes quiet.
The starting phase is going great, and you are excited to discuss the latest mockup designs. For a while, communication is smooth. But sometimes projects get more complex. Maybe you expressed some more detailed feedback requesting revisions to the mockup design. Perhaps there is a bump in the road with a technical aspect of the website that you need solved. Suddenly, the web designer is missing-in-action and you haven't heard back for several weeks.
Unfortunately, some responses to complex situations are "flight". If the person you hired is not confident enough to face your questions and admit they don't know something, they may avoid responding altogether.
Those of us who have taken on many years of professional challenges are willing to have crucial conversations with clients. And when something is unclear or requires more resources, a good vendor-client relationship can work it out.
#5. There are long delays between answering your simple questions and status checks.
It's understandable that people get busy, but there are other reasons why suspicious communication delays happen. In some cases, the person may not have the skillset you expected and is actually learning on the job. Maybe that is not a concern for you if you intentionally hired a student building a portfolio, but if you intended to hire a professional, it's a bad sign. In other cases, the vendor may have miscommunicated their lack of availability. Or, there is simply a lack of project management and time management. It's difficult to get a website fully built and launched without some quality project management.
#6. The final website looks exactly like your competitor's web design.
There are certainly trends in design today, and it is perfectly acceptable to enjoy features that are similar to other leading websites. And it is a common part of the process to review competitor websites for insight and inspiration. However, a custom web designer is not providing a custom web design service if they are only copying the exact layout of a competitor's website and handing it off. This is another area where setting expectations on the front-end and having those preparation meetings is helpful. Hiring a catalog-driven vendor without much creative leadership and development experience may end in disappointment.
Look on the bright side – websites are ever-changing and replaceable. Even if you are starting to realize you are in a pickle, it's never too late to shift. I yield this advice to business professionals because I know they need more guidance and understanding on how to tackle a website project and how to recognize the norms. Now that you have a few clues in your satchel, working with a quality web designer doesn't have to be a complete mystery.
---

See Also: How to Have a Happy Website Development Experience
Comments are closed.