5 Ways Your Business Website Can Be Better Today
Wednesday, February 12, 2014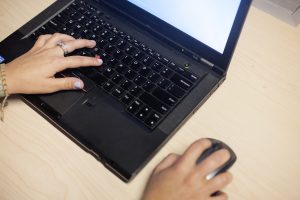 A business website should above all be informative and easy for visitors to understand. It needs to have a homepage, an about page, a contact page, and some pages that explain specific services or products. Many business websites end there, but adding a few other features and pages can take your site from good to great.
1. Add Social Sharing Tools
At a minimum, you need to have Facebook and Twitter sharing buttons. You should also consider Google+, Pinterest, LinkedIn and any industry-specific sites. Add the badges to your homepage, to your product pages, and to your blog entries. Which leads us to your next step.No business website should be without social sharing badges. Unless your business is already extremely wellestablished, today new visitors typically find sites one of two ways: through a search engine or by clicking a link someone posted on a social media site. By adding sharing buttons to your site, visitors are encouraged to share your information with others; it's essentially free advertising, and what business doesn't want free advertising?
2. Add a Blog
Having a blog on a business site is a great way to get more visitors because it adds SEO value to your site. When you write a blog on topics relevant to your business, you will include keywords. Search engine spiders will then crawl your blog pages, pick up on these keywords and send a message back to the search engine that your website is relevant to users who search these terms. This will help improve your site's visibility.
It is important to note that search engines like Google and Bing have very complex algorithms to determine the top sites for every keyword search, so this is not a guarantee to getting you to #1. But it is a huge step in the right direction. To boost rankings even more, you should consult a professional SEO company.
3. Blog Once A Week – Starting Today
Some business owners are intimidated by the thought of a blog because they think it means they have to be a professional-level writer. This simply isn't the case, though.
Instead of fretting over style and grammar – which can be easily helped by having a friend or co-worker proofread for you – focus on relevant topics and writing frequently. People read blog entries to find out information. You're already an expert in your industry, so write about things that people are always asking about or that you want to help people better understand. Blogging regularly will also get the attention of search engines.
4. Add a News and Press Section
A news and press page gives businesses the opportunity to share their latest projects and achievements. Have you been nominated or received an award? Great! Let your visitors know by posting a press release. Does your company sponsor a local charity event? Excellent. Tell people about it by posting pictures and information about the event. In addition to building your company's stellar reputation, these mentions will also add SEO value to your site.
5. Add Region-Specific Landing Pages
This is a great way to target local customers. For businesses that serve clients across the country, it may not work as well, but for businesses trying to target a specific region like the Austin-Round Rock area it can be very helpful. These landing pages tell your visitors exactly which towns or counties your business serves, and it tips off search engine spiders to direct local traffic to your site.
Adding these five features and pages can help your business appear higher in search engine rankings and help more people find your website. Once they have found your site, make sure you keep them interested by including lots of helpful information to demonstrate your expertise, and make sharing your information with others easy.
To learn more about SEO and business website development, contact WEBii today.





Comments are closed.