The Real Flow of Online Marketing
By Jacqueline Sinex, Wednesday, April 8, 2015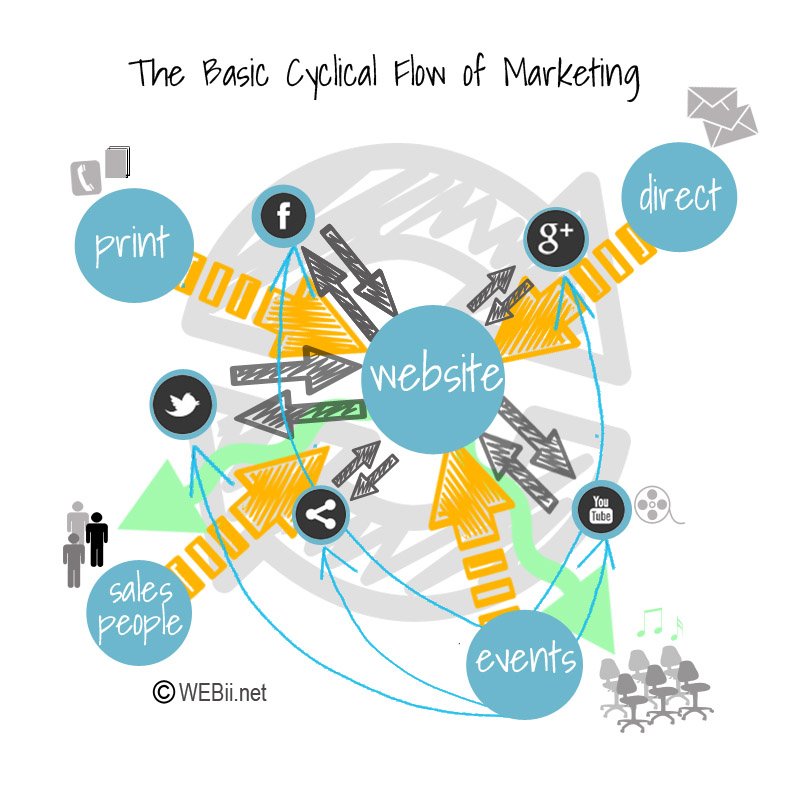 Websites are the central hub of marketing today, right? Well, maybe there is a little more to it than that.
Traditionally, we plan out our web design and populate it with some content. Then we establish all of our social media channels and make them pretty with our branded graphics. Next, we start telling people to visit our website and like us on Facebook. People visit the social media sites and visit our website. The eventual funnel leads back to the website every time, and so it remains the central point.
Actually, the flow of inbound marketing is a little more cyclical.
Let's take a look at a basic flow between the website and other forms of promotion.
First, what is inbound marketing?
Lately, we hear a lot of buzz words like inbound marketing vs. outbound marketing. Inbound marketing typically refers to marketing outlets that are attracting customers who are already seeking your product toward you (like SEO services), while outbound marketing refers to traditional methods that are sending your message outward and hoping it will land on a customer. Postcards, for example, are a type of outbound marketing that is usually addressed to people on a mailing list who might or might not want your products.
There is a relationship between all mediums of marketing.
When we consider a more integrated relationship between the business website and other areas of marketing, we realize there is some back and forth and some continued cooperation happening. For example, the website is indeed the central hub of marketing – plus, it serves as an entry point. Assume your search engine optimization is strong and has come up in a search result. Visitors proceed to your website to learn about your business. On the website, they see links to your social media channels. They visit social media sites and follow you. But the path doesn't stop there.
Your website and your social media channels are content producers. When you post content to your website's blog, you promote it on social media and link followers back to your website. When you learn something new or attend an event, you share it on social media and engage with your community, and maybe they become intrigued and visit your website again.
Additionally, social media often works together as you share what's on Facebook to Twitter followers and what is on Google Plus with LinkedIn followers, etc. So there is a sort of background circle that can continue to move around between the different social media sites. It may be focused differently depending on your industry and what kind of promotion seems to work best for your business. Some businesses do better with visual outlets like Instagram and YouTube, while others focus on Facebook.
Now, let's consider traditional forms of media outside the online cycle – print ads in magazines and phone books (archaic but still used by some businesses), direct mail like postcards and letters, the salespeople on the ground, and special events you are hosting. These are considered outbound marketing efforts in which you must distribute the effort out into the world, to find the right customers and reel them in. Once you grab the attention of a few interested folks, the flow is more one-directional, because the average outbound marketing campaign leads the person to your website to get more information about the product.
This is only a basic concept. If we really dig deeper there are probably other variations that occur, and maybe there are a lot of little circles missing from this diagram. For example, salespeople may also be referring people to social media and events. At an event, you might encourage people to tweet with a special hashtag and also meet the salespeople who are present at the event. The day after the event, you might write a blog about how the event went and share a series of pictures and videos that eventually are shared by your community.
The website continues to work for the business 24-7 and continues to be a very important central focus. The SEO of the website will become stronger as its content grows and changes and as it is shared and followed. The efficiency of all marketing will improve with this style of collaboration. Getting people within the organization on board with integrated marketing is the best strategy.
Comments are closed.