When to Move to a Dedicated Managed Server
By Ryan Feldman, Friday, May 15, 2020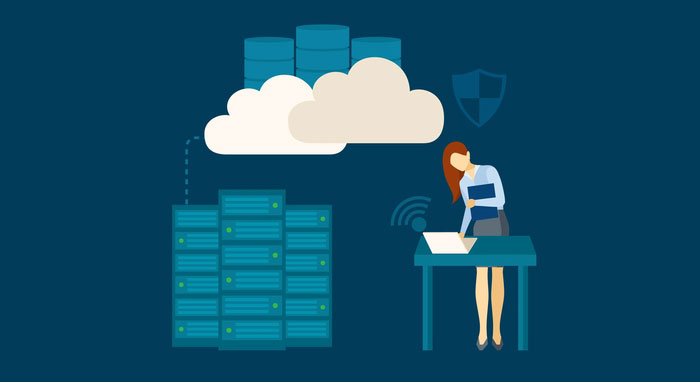 Shared web hosting works for many businesses. Their sites are small enough, and their traffic light enough, that they can share a single server with other websites. The right hosting provider can offer secure and reliable shared hosting solutions, plus these solutions often have the advantage of costing less than dedicated servers.
However, some businesses require greater security, customizability, and space available through a dedicated managed server. If your website currently runs on a shared server, but you think you might need to make the switch to a dedicated server soon, keep a lookout for these indicators. Any one of them may signal the need for a dedicated solution to your web hosting needs.
Consider a dedicated managed server when your website traffic exceeds 1,000 daily unique visitors.
Shared web hosting works well for websites that have hundreds of unique visitors a day. At that level, the shared server can deliver acceptable page load speeds and services with ease. Once-daily unique visitors exceed about 1,000 (or so), it becomes much harder for a shared server to provide the right level of services to the website.
A shared server's resources are split among the multiple websites using the server. A site with a large amount of website traffic may simply require more resources than a shared server can provide.
If you find that your website regularly exceeds about 1,000 daily unique visitors, you may want to consider a switch to a dedicated solution. However, you may also want to consider a dedicated server even if you do not exceed that 1,000 number.
A good rule of thumb is for websites to be able to handle an increase of 30 times their regular traffic volume. This capacity allows them to handle influxes of traffic due to sales, holidays, or seasonal changes in website traffic. If an increase of 30 times your normal website traffic would place you above 1,000 unique visitors in a day, a dedicated server might be the best choice.
You may also want to consider moving to a dedicated solution if your website experiences certain issues regardless of your traffic volume. What follows is a look at some of these issues.
Consider dedicated web hosting solutions if you anticipate imminent growth.
You may want to move to a dedicated managed server if you anticipate significant growth in your website in the near future. If you wait until your website size and traffic numbers are causing issues, you will have waited too long to move to a dedicated server.
At that point, you will already be experiencing issues that are preventing your visitors from enjoying an optimal website experience. That means that you are already losing customers and profits. Instead, give yourself time to move over to a dedicated web hosting solution and get settled there before your website needs exceed your shared solution's capabilities. By doing so, you can maintain an optimal experience for your website visitors.
Move to a dedicated solution if you notice issues with your page load speeds.
Often, one of the first signs that your website needs are exceeding your shared web host's capabilities is a decrease in your page load speeds. If your pages take longer than 3 seconds to load, you will experience high bounce rates as visitors move on to other websites. That means you are losing customers, profits, and search engine optimization advantages with your slow pages.
Page load speed depends on a number of factors. The issue may be with your web pages. You may, for example, have images that are too large to load quickly. However, if you have optimized your pages and still find that they load slowly, you may need to consider a move to a dedicated server.
The dedicated managed server can improve your page load speeds by giving you access to all of the server's resources. By not sharing these resources with other websites, you will enjoy faster load times that lead to a better website experience and happier visitors.
Move to a dedicated web hosting solution if you run short on storage capacity.
Shared web hosting solutions give you a limited amount of storage for your website. The server's storage capacity must be shared across all the websites using the server. For smaller websites, the available storage is usually sufficient.
However, over time, you may add pages and content to your site. As your site grows more complex and adds features like videos, web forums, or extensive blogs, you may find that you require more storage. If you are running up against your shared server's storage capacity, you may benefit from a move to a dedicated managed server.
Consider a dedicated web hosting solution if security is paramount.
The security on a shared server is usually more than adequate for smaller websites. Firewalls and other security measures protect your website's data. However, there is always the risk that if another website on the server is hacked, your site may be more vulnerable to a security breach as well.
In addition, some businesses have bigger security needs. They deal with particularly sensitive, or especially large amounts of private data. These businesses may benefit from the stringent, and customizable, security solutions provided by a dedicated server.
Choosing to move from a shared server to a dedicated server can help you to enjoy greater resources and stronger security as your website needs grow. Making that move can also help you to add customized solutions to your website that would not be supportable through a shared server.
Comments are closed.