SEO Trends and Observations from the Q1 SEO Checklist
By Jacqueline Sinex, Friday, April 3, 2015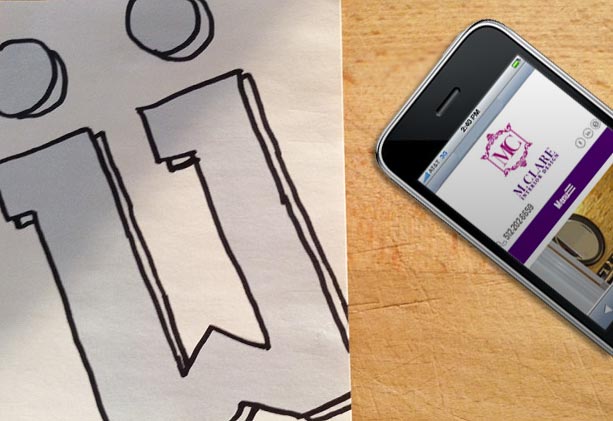 Various changes are among us in the SEO world. It's often difficult to keep up, even for professional SEO companies. In Google's quest to feed the world with valuable content that will keep them recognized as the top search engine, rules get tougher on content providers. If you own a website, that means you.
Mobile Responsive is in the Forefront of SEO-Friendly Websites
Recently, Google started sending out alerts from Webmaster Tools notifying webmasters when they are lacking in the mobile compatibility department. What it boils down to is an emphasis on mobile responsive web design. As mobile use continues to grow at a rapid pace, having a website that is easily accessible on smaller mobile devices is no longer an option. Experts on Moz have mentioned the importance of responsive web design for a while now. But it certainly feels more serious when Google sends you a personalized email "alerting" you that you need to improve the mobile-friendliness of your site.
For some businesses, this will mean starting over with a new web design that is properly coded and designed for all screen sizes. In some cases, there may be a way to apply a new theme or slightly revise the design to make it more mobile-friendly. How have we seen this change the way we work in web design? We used to make it optional in our proposals to select a module for mobile-friendly web design with a new project. Unfortunately, that caused several business owners to opt-out of that feature, despite the recommendation. Now, we typically tie this into most of our proposals as all-inclusive with the pricing, which gives the website owner a better value and less regret down the road.
When you test website performance on tools like Google Page Speed Insights, there are separate metrics for mobile performance. This again brings your website's mobile friendliness to the forefront of concerns that affect SEO; your website loading speed has an effect on your SEO ranking. This is usually an ongoing process to continue tweaking your web design, the website content, the server, and other factors to perform better. We expect to see more emphasis on mobile as the technology changes in future years.
Content, Content, and More Content
Did I mention content? "Content marketing" is all the buzz. Once upon a time, search engines gave us results from a few hundred websites and relied on simple keyword matching that wasn't always accurate. The results were often riddled with irrelevant information, and it was easy to create a site with relevant content to get to the top of the listings quickly. But today, the Internet is much more crowded – serving almost 1 billion websites – and search engines are smarter. Competition online is an ongoing battle, regardless of industry. So it should be no surprise that search engines have a higher standard for what quality content really is.
More recently, we are required to write lengthier blogs and articles. The minimum word count has been 900 or greater lately when it was about half of that in previous years. In some cases, I have seen sites do much better with pages that are in the 2000 – 3000 word range, and you can imagine that requires more effort. Even simple web pages describing a product or service should aim for more than 300 words and include images and links to other pages or internal resources.
While some websites still achieve high ranking with slimmer content, there are probably other factors affecting this. It could be the age of the website, or its validity as a frequently referenced source for information in other well-ranked blogs, news sites, and community sites. The fact is we have witnessed a rapid growth of focus on content consistently for several years now, and it is only going to continue being emphasized. Every day, new websites are added to the Internet. That means thousands more pieces of content for search engines and visitors to weed through. The only way to sustain quality search results that satisfy people is by maintaining higher standards of ranking content.
SEE ALSO: Why is Content So Important for SEO?
Looking at Your Website With a 50,000 Foot View
At some point, marketers realized that all of your marketing needs to work together, from your social media to your email newsletter. So when thinking about producing content, you must pursue more than just a blog post. Some expert CMOs like the ones I heard at the Marketo CMO Panel at SXSW noted that successful marketers of today (and the future) will not be afraid to collaborate and engage in a variety of ways. All of the panelists agreed that mobile strategy is no longer an afterthought nor a separate initiative, it is just part of the overall marketing strategy like social media, email marketing, and special events are.
When planning your web page content, plan your blog content. When planning your blog content, plan your social media content. When planning your social media content, engage with communities. Don't just publish and post – share, follow and measure.
It's time to stop departmentalizing everything, and allow all your media touchpoints to work for you. Your website can be the marketing hub, as well as a doorway to the business. A website has a certain versatility because it isn't bound by the limitations of traditional media and it is respected as a reliable source of information. You can refer customers back to a website after campaigning them in another way, or they can enter your world through the website and continue a journey of hearing about your brand in many other ways that also mention your website. If the website, direct mail, social media, press releases, email newsletters, on-site events, and even human salespeople work collaboratively, everyone wins.
A helpful tip is to simply pause and step back from your website for a while. Stop looking at it from an owner's perspective and take a look from a customer's eyes. Actually, take a look from the eyes of a very new visitor who has no idea who you are. Does the content on the homepage clearly tell them what you offer? Can they see the benefit of continuing to click through other web pages? Does the web design reflect your brand? Do you look like a competitor? Do you stand out from a competitor? Answers to basic questions like this can give you a fresh look at the priorities to tackle, so you have basic goals for your content. Sharing that information with a professional SEO company will help comprise the right formula of quality content.
Comments are closed.