Buyer's Journey and SEO: How to Align Strategies from an Austin SEO Company
By Julissa Guadagni, Wednesday, August 23, 2023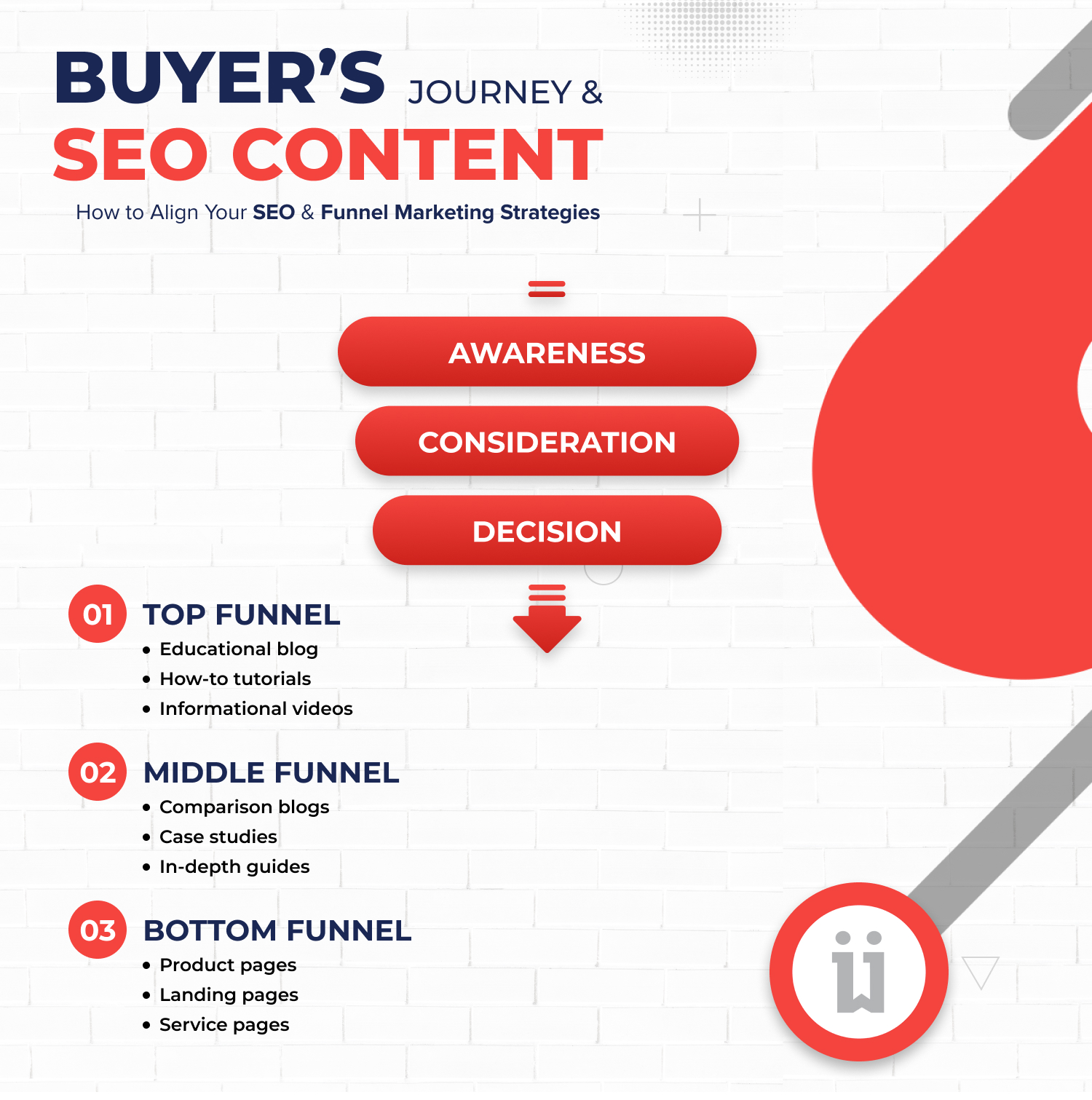 As an Austin SEO company, we commonly see businesses investing in funnel marketing and SEO — but they often have difficulty aligning both strategies for better results.
In an evolving and competitive digital landscape, targeting personas in all stages of their buyer's journey is crucial. It's also essential that your brand shows up in the SERPs when they search for queries related to information and solutions your company offers.
SEO and funnel marketing go hand-in-hand. Together, they connect businesses with their ideal customers in each funnel stage by having your brand show up at the moment they're searching online.
So, how do you align the buyer's journey and SEO? Below is a guide on coordinating search engine and funnel marketing strategies to drive more success from your website's traffic.
Funnel Marketing and SEO: Aligning Strategies for Target Audiences
Buyer's journey vs. SEO, what's the difference? This is a common question businesses ask our Austin SEO company.
The buyer's journey, or funnel marketing, is the path users take when shopping online. It's a unique process for each customer and is broken into three categories of the sales funnel: top, middle, and bottom funnel.
The three categories of funnel marketing are:
Awareness (Top of the Funnel/TOF)- may be unaware of your brand, informational and educational intent
Consideration (Middle of the  Funnel/MOF)- comparing options, best recommendations, may be familiar with your brand, can be influenced to buy
Decision (Bottom of the Funnel/BOF)- ready to buy, transactional stage
As mentioned, each customer's journey is different. Users can enter the sales funnel at any stage and even go through the process multiple times before buying – this is where SEO comes in.
Search engine optimization (SEO) is a marketing strategy that optimizes content based on Google's algorithms for greater search visibility. Since shoppers aren't always ready to buy when they browse online, SEO helps your business show up for other search intents, like informational and educational content.
The three pillars of SEO are:
Content- quality content that's keyword optimized with proper SEO structure, blogs, landing pages, product pages, etc.
Reputation- off-page SEO, backlinks, reviews, answering questions in community forums, etc.
Website Technical SEO- page load speed, mobile-friendly design, simple navigation, user experience, etc.
Funnel marketing and SEO are interdependent. Below we'll break down how to align both strategies with actionable steps to generate greater results from your marketing efforts.
Write SEO-Optimized Content in All Funnel Stages to Meet Buyers Where They Are
It may seem obvious that content creation is necessary for the bottom line. But the key to aligning buyer's journey and SEO strategies is writing optimized content for each funnel. As mentioned above, content is one of the three pillars of SEO. So, creating different types of optimized content that caters to your persona's unique needs in each stage is crucial to connect with them.
SEO content writing should include various optimization practices, like technical SEO, keywords, and metadata. If you aren't investing in SEO optimization for the content you create in each funnel, it's one of the biggest content writing mistakes you can make. Google prioritizes optimized content, and if you don't, it risks your content being undiscovered and low ranking.
Below are some SEO content ideas from an Austin SEO company to use for each funnel stage.
Top Funnel (TOF) SEO Content Ideas
For top-funnel (TOF) personas, focus on search visibility with educational blogs, tutorial videos, and how-to guides. TOF personas are typically new to your industry niche and need guidance on their buyer's journey.
By acting as a valuable resource for TOF users who are only looking for information, you can organically build brand awareness without being too pushy — especially since they're most likely unfamiliar with your brand. In return, this builds audience trust seeing you're an authority in your industry expertise.
Middle Funnel (MOF) SEO Content Ideas
When targeting middle-funnel (MOF) personas, also focus on search visibility, but dive deeper into your SEO content topics. These buyers are more educated on specific subjects within your niche and already know TOF content.
For MOF content ideas, aim for comparison blogs, SEO case studies, and email newsletters with customer loyalty program incentives. MOF personas may already be familiar with your brand and are considering their best options before buying. At this stage, they can be influenced to purchase through SEO-optimized content because you're providing the right value they're looking for.
Bottom Funnel (BOF) SEO Content Ideas
While it's always important to focus on search visibility in all stages, BOF content should primarily focus on engagement. In the BOF, users are in the transactional stage and are ready to buy. For this reason, it's essential to focus on promoting your brand's SEO content with engagement goals, like click-through rate (CTR) and conversions.
For BOF content ideas, invest in conversion rate optimization (CVO) to get users who are ready to purchase to complete their buyer's journey with you over your competitors:
Design product pages with captivating call-to-actions (CTAs) that provide value to the specific solutions they're seeking.
Create above-the-fold category page web copy with transactional keywords in title tags and naturally throughout the text.
Write persuasive landing page copy with reviews to strengthen your brand's credibility and website's content conversion rate.
By meeting your audience where they are in their buyer's journey, you can prevent spamming users with a sales push and influence those who are ready to buy at the right time.
Use the Right Keyword Search Intent in all Copy to Rank in Appropriate SERPs
Another common mistake we see as an Austin SEO company is businesses using the wrong search intent when aligning funnel and SEO marketing strategies. Search intent shows the reason behind a search query. By gaining insight into a user's intention for search queries they use, you can understand what they're looking for.
The four categories of search intent with funnel stages are:
Informational (Top Funnel)- question-based, how-to queries
Commercial (Middle Funnel)- comparison, best recommended, or review-based queries
Navigational (Bottom Funnel)- brand-specific queries
Transactional (Bottom Funnel)- product or service-based queries
---

According to Ahrefs, they generated a 516% increase in traffic by optimizing their landing pages for search intent.

---
Using the right search intent is crucial when creating or optimizing funnel marketing copy for keywords. If your blog uses transactional keywords, it can push top-funnel personas away, or they won't click on them because that's not what they're searching for. Additionally, Google prioritizes relevancy, impacting your content's ranking if you're using the wrong search intent.
According to Ahrefs, they generated a 516% increase in traffic by optimizing their landing pages for search intent. So, how do you know the keywords you're targeting in SEO content is the right search intent? Check Google. Simply type the keyword into a Google search and review the SERPs for common threads.
For example, the keyword "sneakers" is a transactional search intent because it generates product listings in the SERPs. Instead of optimizing blogs for "sneakers," use informational search intent keywords relevant to the blog topic instead, like "sneaker shopping tips." Since this keyword generates blogs in the search results, it would be the right search intent for optimizing informational content like blogs.
Some keywords may have mixed search intent results, such as blogs and product listings, and can change over time – which is why checking search intent is crucial for SEO content. If you aren't confirming search intent when building keyword lists, it risks negatively impacting your SEO and funnel marketing efforts.
Search intent is critical to the buyer's journey and SEO because it impacts click-through rate (CTR) and conversions. By utilizing the right search intent in your SEO content, you can meet customers where they are in their buyer's journey with relevant keywords.
Whether it's informational keywords for blogs or transactional keywords for product pages, creating relevant content users are searching for in each stage is the foundation for aligning funnel marketing and SEO strategies.
Monitor Analytics to Measure Marketing Strategy Performance for Success
Now that you know how to align the buyer's journey and SEO, the last step is measuring strategies for success. This is especially important if you're outsourcing to an Austin SEO company to track the progress of your investments for better collaboration.
Although there are SEO tools to monitor performance, do you know which Core Web Vitals to evaluate for Google and what to do with your data's findings?
For example, if you notice a high bounce rate or low keyword ranking on your blogs, check your search intent to create a better user experience for top funnel personas. If you notice a low click-through rate (CTR) in your service pages, add transactional keywords in title tags and create valuable call-to-actions (CTAs) to entice middle and bottom-funnel personas to learn more.
You can understand how users interact with your website in all funnel stages by analyzing your SEO data. When you know your target audience's online behavior, you gain insight into what influences them to buy at each stage in their buyer's journey – providing you with opportunities to integrate this data into your funnel and SEO marketing strategies for better results.
Meet Your Target Audience Where They Are in Their Buyer's Journey with SEO
Aligning the buyer's journey and SEO can be comprehensive. It requires deep knowledge of your buyer personas, online behavior in each funnel stage, and Google's best SEO practices. At Webii, we are an Austin SEO company that combines SEO campaigns with content marketing to generate greater results for clients.
Our SEO approaches include an SEO health check audit, website setup and optimization, and high-quality written SEO-optimized content. This way you can understand your website's search visibility, get a roadmap to improved optimization, and create unique SEO content in each funnel stage.
Ready to meet your target audience where they are in their buyer's journey with SEO?
Contact us to align your buyers journey and SEO strategies for better success today!
Comments are closed.