Making Your Website More Human: 7 Content Marketing Tips
By Jacqueline Sinex, Friday, December 6, 2019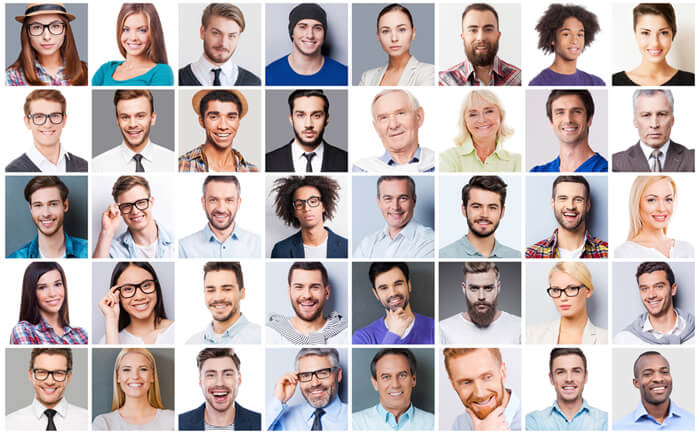 People are often pleasantly surprised when they learn about our company's long history building websites for more than two decades. "You must do great work," they say. But I think it's more than that. We are a human company. Good service is about good relationships. This is pretty hard to convey on a website sometimes, especially for B-to-B companies. Here are seven ways to make your website content more human.
Pictures Are Worth a Thousand Words
If you don't like seeing pictures of yourself, get over it. You are a real person, just like everyone else. Customers who meet in your office or connect over video conference are eventually going to see you. Give your website some personality by hiring a professional photographer to take head shots and group team photos. When showing readers who is behind a company, a little trust builds up. Personally, I encourage professional photos that have a consistent style which reflects your company culture.
Team Highlights
Try sharing your team's voice on the website. Ideas include:
highlight a special pro-tip from each department lead
expand the bio of each member in leadership
include a quote from each employee beside their team photo
add a byline under each person's title with their favorite hobby or local business
allow each person to write their own bio and describe their "why"
Related Reading: 6 Ways to Direct Visitors' Attention to Your Call to Action
Customer Stories
One of my favorite things is making the customer a hero. Great customers make our job interesting and rewarding. Case studies can really take on a story-like format. Enlist the best writer on your team, or your SEO content or PR agency, to interview a customer and write a journalistic story about their success. Don't forget to tie in how they use your services to help them succeed, and it becomes a hidden testimonial. The result is awesome website content that makes the customer feel very special and promotes their business as well. Check out some of our customer stories.
Your Products in Action
If you have a product that is able to be photographed beautifully, that is great. But how about going beyond this with a demo? Capture images that show people using the product. If you are service business, action shots of the team working with clients and doing their daily handy work make very interesting content. Now your website shows that you have more than a product – you have a solution.
Testimonials and Reviews
We always encourage including testimonials from customers whenever possible. A few regulated industries are unable to do this in a traditional way, such as legal and finance. Even in those cases, there are third party review sites you can highlight and link to on the website. Reputation management is the trendy term related to managing reviews and other reputation scoring opportunities, and it's importance continues to grow. Instead of you telling people that your company is great, someone else is. That's a very big trust bump.
Location, Location, Location
It's important that your office address is represented correctly on the web wherever it is posted, including on your own website. We encourage website owners to include the office address on the footer. Beyond that, photos of the office and those interactive team snapshots working give your company a physical presence beyond the often anonymous Internet.
Mission-Driven
Caring people are usually connected to their community in other ways. Is your company supporting a local non-profit? Share it. Tell a story about the causes you support on your "about" page or in blogs. You can also embed social media feeds on the website that showcase photos from the volunteer work.
As you venture deeper into your website content, keep these humanizing tips in mind. The end result will be a more approachable site with better conversion.





Comments are closed.