7 Steps on How to Set Up a Google Business Profile
By Megan Marshall, Wednesday, January 26, 2022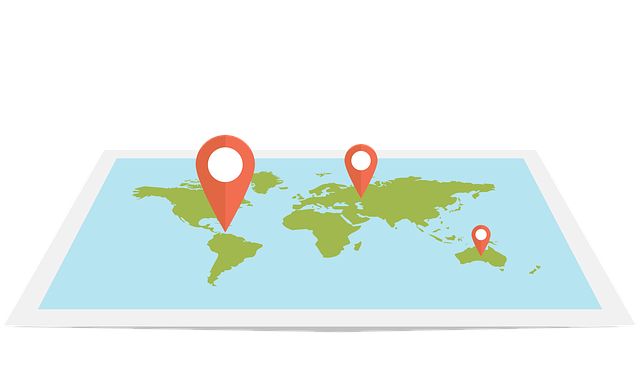 Before we dive in, what even is a Google Business Profile? Do you need it?
The short answer is yes. No matter the size of your business, it's a great tool to have so that potential customers can immediately find you. When your name is typed in, whether it be to Google Search or to Google Maps, your business listing will provide all of the necessary details. This includes your industry, address, number, and hours of availability. It also links back to your reviews and social media channels, and allows consumers to add photos or questions.
Basically, your Google Business Profile does it all. And it's a key strategy for your search engine optimization (SEO). Businesses that implement this profile increase their chances of landing in the local 3-pack. The local 3-pack is the top three businesses a user sees when they attach the keywords "near me" or "near [my location]." This will indirectly help with your website rank. So, how do you get started? These are the steps that you need to take to start boosting your local business presence today.
Step 1: Create your Google Account.
You need to have a Google Account for your business, before all else. Head over to the Google Account page. If you are signed in to your personal Gmail, you should see a bigger version of your icon, a welcome statement with your name, and some privacy settings. However, we are wanting to make a new account. That way, your personal business is separated from your business business. To do this, click the smaller version of your icon in the top right corner, then press "Add another account." Now, go to where it says "Create account" and hit "To manage my business." From here, you can make an account just as you normally would.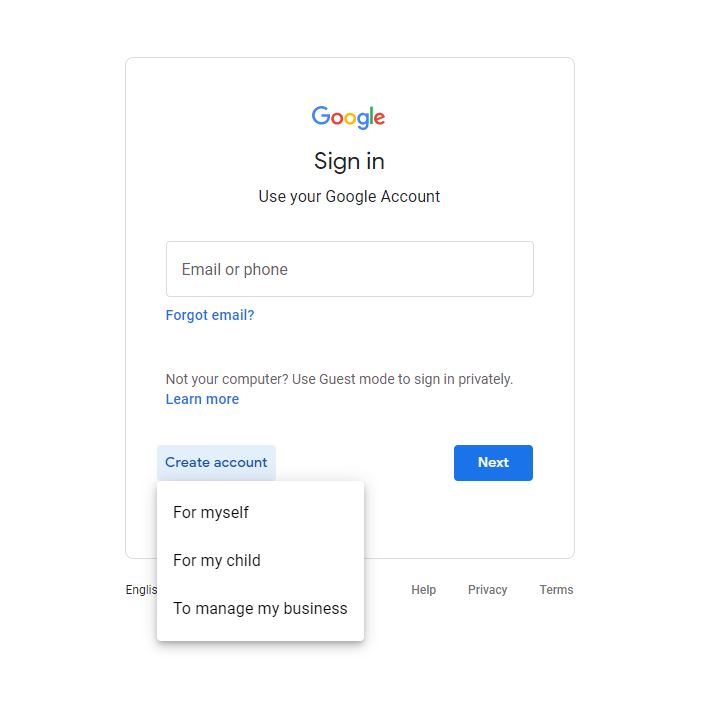 Step 2: Locate or add your business to Google.
We will now move into the Google Business Profile web page. Find the button that says "Manage now." Clicking on it will take you to the Business Profile Manager. Type your business's name in the space where it asks. A drop-down menu will appear with similar names. Should your business already be listed, go to that page. If Google informs you that your business has already been claimed, there will be a button that says "Request Access." A message will be sent to the person whose email is on file under your business's name. On the flip side, if your business is not shown, entering your name will take you to a screen to create your profile. Enter your business name and category.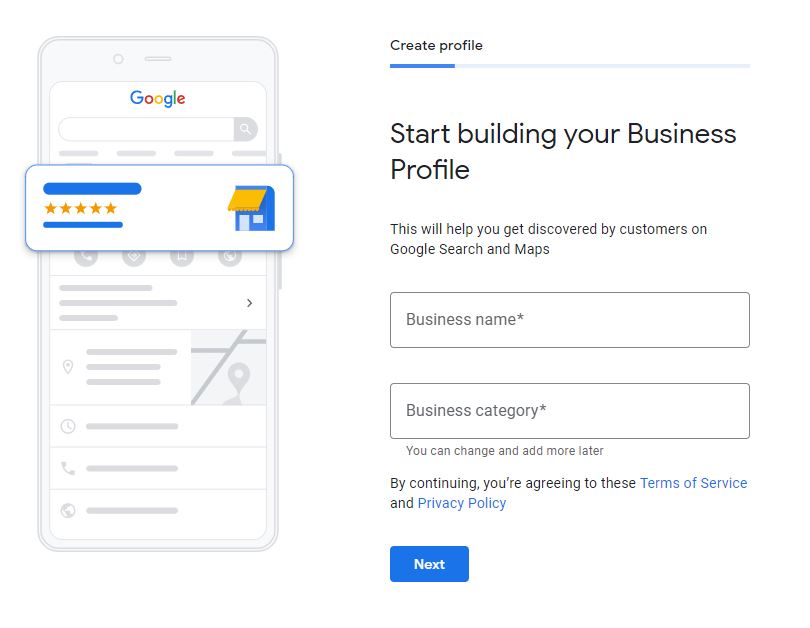 Step 3: Input the business information into the local Google profile.
Here's the fun part… Answering a bunch of questions about your business. For brick-and-mortar businesses, you will have to add your address. Alternately, businesses that only do e-commerce can hit "No" and move forward. You will then follow the same process with a question over whether you provide deliveries. If yes, you can list the areas that you serve. If no, once again, you continue to trek on. The next form asks for your contact information, including your phone number and website. We recommend that every business has these two things. They are necessary for potential customers to be able to reach out to you or check you out further.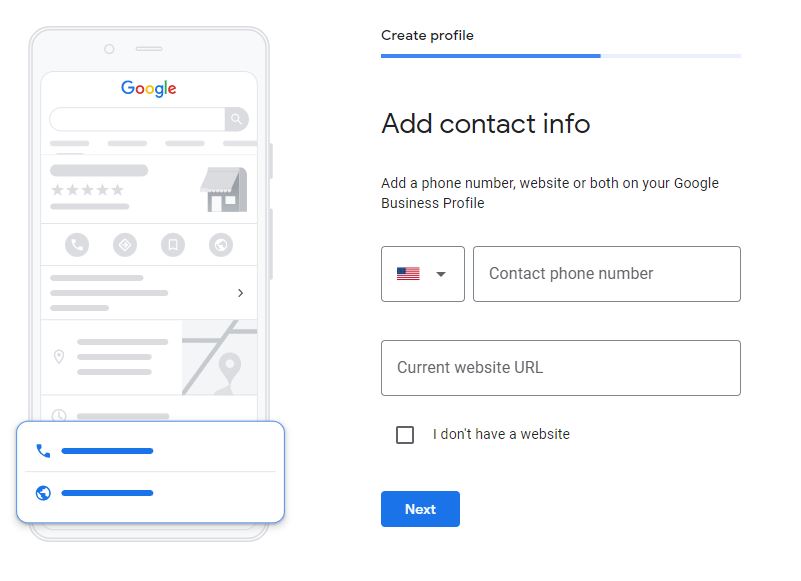 Step 4: Agree to receive updates.
Google loves for information to be fresh. In fact, it's an important factor for rank, meaning it's important for SEO. People are more likely to purchase from or work with businesses that are up-to-date. With this in mind, Google wants to help you stay at the top of your game. As you are setting up your Google Business Profile, you are going to be asked if you want to receive updates and recommendations for your business. Say yes! Any extra insight is good insight. You may score some very beneficial tips from the search engine pros.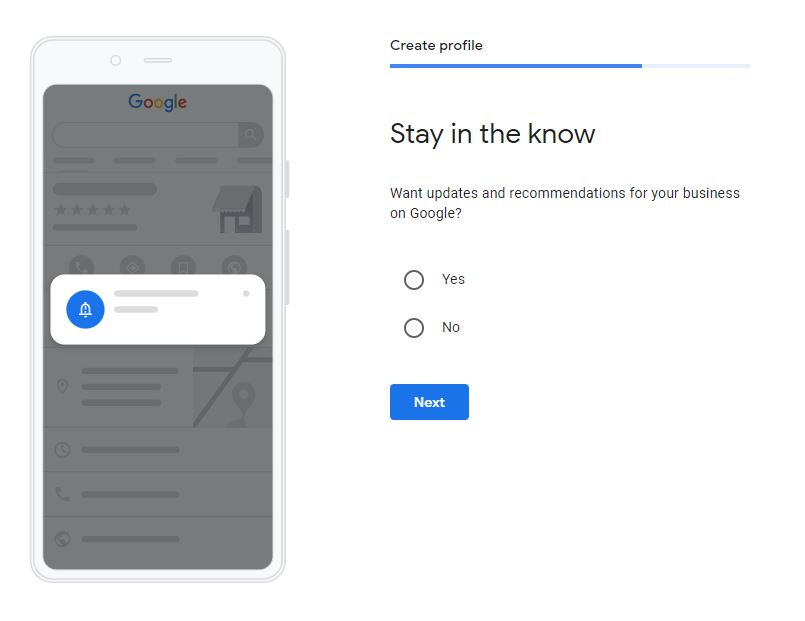 Step 5: Don't forget to get verified!
After all of this, your Google Business Profile still will not be live. You have to verify the account. By verifying your business, you are claiming that you are the owner. This will allow you to promote, track analytics, and respond to your customers. Google offers multiple ways for you to confirm that you are who you say you are. You have the options to be sent a verification code either by mail, phone, or email. For physical stores, you are most likely going to have to go with the mail option, which arrives in approximately five days. This is because Google wants to prove that you are operating at the address you claim to be. Until you have been able to input the code, any changes made to your profile will be invisible.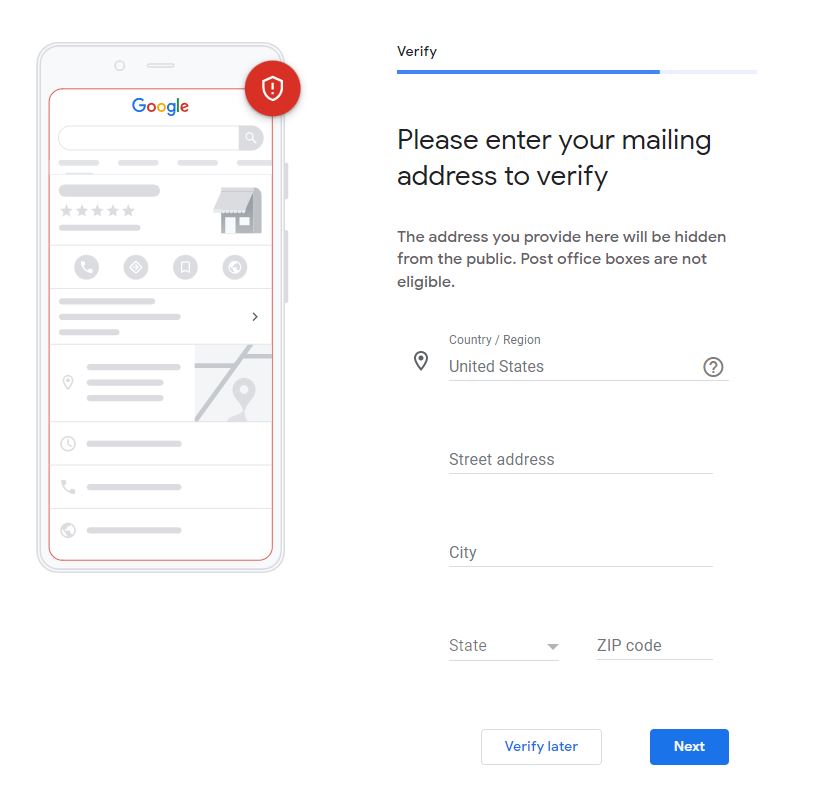 Step 6: Customize your Google Business Profile accordingly.
It's time to fill out even more information about your business. First, you will be able to list your business hours. This helps customers know when they can contact you. If your hours of availability end up changing, you will be able to edit them later on. Regardless, make sure that it is accurate. Next, choose whether or not you would like to allow messaging. By clicking the slider on "Accept Messages," you will be able to better connect with your audience when they engage with you. If you decide to go this route, commit to being responsive. Lastly comes the business description. Tell potential customers what they can expect from your business. Think of it as a mini homepage. You want to be able to convince them, in just 750 characters, that you are the solution for them.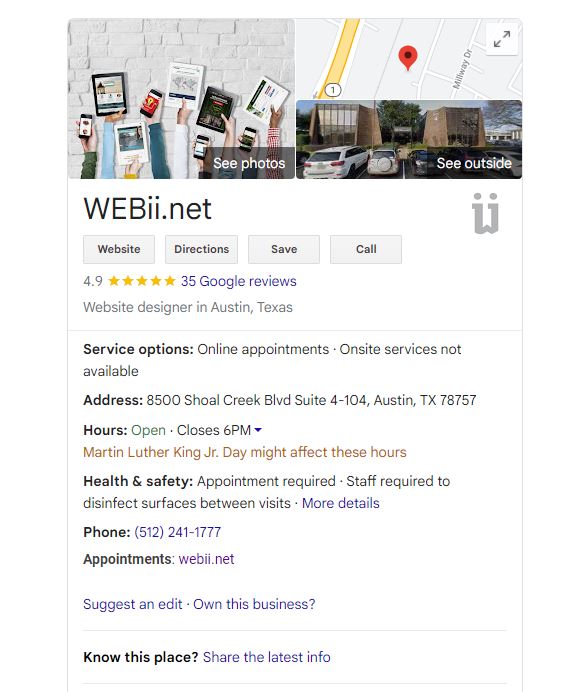 Step 7: Keep your
Google Business Profile updated
.
Remember back at Step 4 when we discussed Google loving updated content? You can't simply set up your Business Profile and be done with it. Otherwise, much like with if you don't change your hours of availability, how are people going to know what information is correct? It could absolutely cost you sales. Plus, Google really encourages fresh and frequently revised content. To combat this issue, keep maximizing your visibility. Consider adding photos and videos of your business using tools like Picsart Photo Editor to enhance your visual content.
If you search for WEBii and click on the "See photos" section of our profile, we have visual content from our website, our office, and events. Doing this allows people to get to know you better as your business continues to grow. And, if customers like what you have produced, encourage them to share Google Reviews. Then, let them know publicly how much you appreciate them. By regularly maintaining the profile, you are likely to increase you visibility in searches.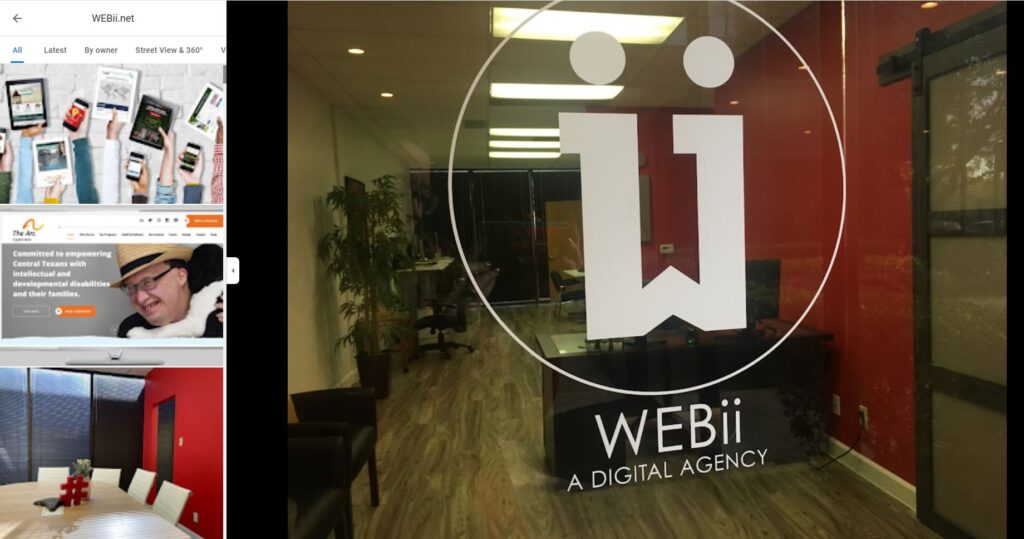 Signing up for a Google Business Profile is easy and free. That means your local business secures visibility without any stress. And if you want to really maximize the content and reach, an SEO professional can take care of the profile for you.
According to The Media Captain, there's more than a 50% chance of a potential customer visiting your website if they see your Google Business Profile. All you have to do to achieve this is show what you already know. Let's get your local business on the map. Literally.
Comments are closed.