What Features Clients Expect to See on Engineering Websites
By Megan Marshall, Tuesday, June 21, 2022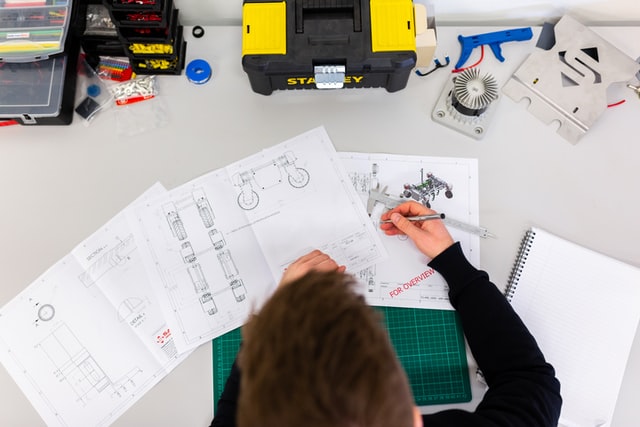 As an engineering company, you want to come across as professional as possible from someone's first interaction with you. Many times, that first interaction is going to come from your website. Visitors will inevitably judge you based on the usability and readability of your web pages. So, even if you offer the highest quality aerospace solutions in the business, they are going to look to your competitors who have a much more appealing site.
The question is… What do you and your web designer need to do in order to keep a visitor's attention on your business? Let's dig into nine must-haves of engineering websites.
Outline of Services
Without services pages, there is really no point in having a site at all. Aside from your homepage, your services pages are going to be the most viewed sections of your engineering website. This is because visitors want to learn what you have to offer. Don't make it a guessing game, expecting prospective clients to give you a call to fill in the blanks. Show how your engineering company is unique while being clear in your service outlines. As an industry professional, while you understand why your solutions are needed and what the specifications entail, that prospect may need further guidance. So, ensure that you have expertly described the features and applications of your offerings.
High-Quality Media Elements
Do you have any videos of your solutions in action? What about personal images of your staff doing work? These make an excellent addition to any page on your engineering website. Multimedia allows visitors to engage with your services outside of just reading about them. Studies show that 65% of the population is made up of visual learners. With that in mind, if you aren't capturing their interest with your content, you could certainly be missing out on partnerships. Not only that, but consumers across the board find that exclusive media elements bring humanity to businesses. Let them get to know you, while still doing it professionally.
Value Statements
Let visitors know what your engineering company's priorities are. The guiding principles at the core of your business are what lead them to understand what kind of an impact you intend to make. Directly providing your value statement, otherwise known as a mission statement, on your engineering website will make your company appear more committed to your cause. This helps the prospective customer simplify their decision-making process. Ask yourself these questions as you come up with a value statement:
What problem are you trying to solve?

What are you offering to solve that problem?

Who gains from your solution?

How is this different from what your competitors are doing?
Detailed Careers Page
Your company isn't going to want just anyone to apply for jobs. This means that you have to be upfront about what your expectations are for a position. On the web page dedicated to those positions, write career descriptions that explain what an employee will be doing, what skills you require of them, where they will need to be located, and what benefits come with the title. If you don't want to overload the page with text, you can link to another page or PDF document with the unique details of each role. Don't forget to take the positions off of the page when they have been filled.
Partners and Associations
There are two important reasons why you should include the people you work with on your engineering website. The first is that it shows appreciation to those organizations, while the second is that it brings your firm more credibility. You can add their logos on your homepage so that visitors will quickly know the kinds of organizations that you work with. Consider linking back to their sites so that visitors can easily check them out, as well. And note that it would be a good idea to ask them, in turn, to promote your company on their site. That way, you boost your authority and bring more attention to your name.
---
---
List of Awards and Certifications
Consider what you have accomplished at your company through the years. Have you earned any badges from accredited organizations? If so, you worked hard to earn those. Feel comfortable showing them off to the public on your engineering website, and know that prospective clients are going to find you even more reputable. They want to work with someone who has made waves in the industry. Awards for specific services can go on your web page for that service. You can also create a press page to hold all of your achievements. Press pages are even a good space for articles and videos that have mentioned you.
Free Resources
When you have useful content on your engineering website, more people are going to be encouraged to check it out and stick around for longer. It will also help boost your search engine ranking. SEO is important for any type of website because you want to actually be found by people who are interested in your products and services. This is why having a blog is such a great idea. A blog is a place for you to really dig into the keywords that you want users to associate with your company. They could be as simple as "electrical engineering" or as narrowed as "electrical engineering company in Austin." But you don't have to stop at blog posts. Create downloadable content, explanatory videos, and a regular newsletter.
Consistent Branding
Branding is necessary for every business. It doesn't matter if you are selling shoes, furniture, or engineering solutions for mission-critical applications—there is always room to improve your branding. If you aren't a fan of your current branding, you can always make the big shift of a rebrand. Some of the top reasons why you would rebrand include having an outdated image, experiencing a merger, or developing your corporate identity. Your engineering website needs to allow your firm's personality to shine in a professional and distinctive way. This is particularly handled through the use of specific colors, fonts, and graphics. Just ensure that, once the shift happens, you have updated every page accordingly.
Meaningful Calls to Action
Odds are, you have interacted with many buttons in your day. Think about when the last time was that you were on a site and clicked a bubble that said: "Learn More." Why did you do that? Because, of course, you wanted to learn more on that subject. When you are designing buttons during the web development process, make sure that they are going to provide a good user experience (UX). This means that users will understand what kind of action they will be taking when they click on your button. To achieve this, the buttons on your engineering website need to communicate a directive known as a call to action. They could include "Request a Quote," "Subscribe To Our Newsletter," or "Contact a Representative."
Looking for a professional web designer in Austin to refresh your current site? Contact the WEBii team today! Among the ever-growing list of industries that we have worked with, engineering websites are right up our alley. With over two decades of experience, we are committed to best executing any necessary updates.
Comments are closed.