How to Use Your Website to Establish Thought Leadership in Your Field
By Ruth Hawk, Friday, November 6, 2015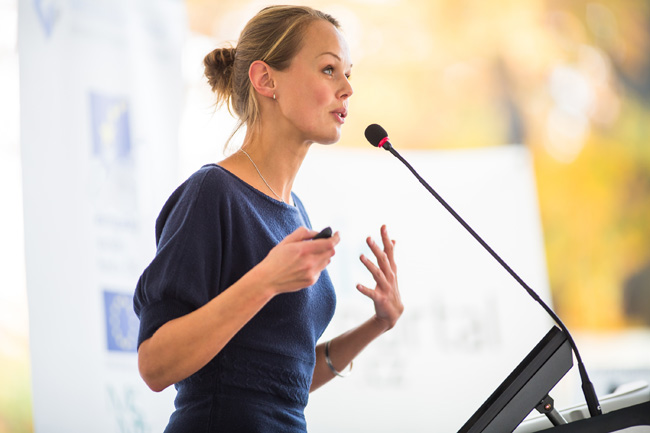 Thought leadership is an important concept for businesses looking to build brand awareness and attract customers. It refers to the ability of a business to establish itself as a reliable source for information and services related to its field. The more that visitors trust that you are an expert, the more likely they will be to purchase your products and services. One of the ways to build thought leadership is to leverage your website. Following are a few of the methods you can employ to use your website to become a respected thought leader and a more successful business.
Create and maintain a blog.
There are many reasons to create and maintain a blog, from improving search engine optimization to giving you material to promote through social media. However, one of its most valuable functions is as a place for you to demonstrate your knowledge and expertise in your field. For instance, if you run a business focused on health and wellness products, having a blog gives you a place to discuss problems impacting people's health, how certain supplements or health products can alleviate certain health problems, etc.
A truly successful blog is filled with engaging content that is relevant to your field. For instance, you would only focus on topics related to health and wellness for a health and wellness business, or information technology for an IT store. As visitors read your blog posts, they gain a sense for the depth of your knowledge. The more familiar they become with your content, the more they will trust your business. The next time they need any of the products and services you offer, they will turn to you because they trust your expertise. Just make sure you or your SEO service update your blog regularly to keep your content fresh (preferably, at least once a week).
Provide free content.
If you are going to establish yourself as a thought leader in your field, you need to get your writing and opinions distributed as broadly as possible. Otherwise, your expertise will remain a little-known fact, while potential customers give their trust and their business to your competitors. Fortunately, through careful custom web design and web development, you can create a site filled with the type of content that will reflect your expertise. By offering visitors this content for free, you make it appealing to access.
There are many ways to set up free content on your website. For instance, you can elicit email registration from website visitors and, from this information, compile an email list to which you can send updated blog posts, newsletters, and other new content. You can set up videos, guides, and white papers that visitors can access without paying a fee, or offer a free ebook to give visitors a taste of what your business has to offer. Once visitors become aware of the extent of your free material, they will be more likely to have a positive opinion of your business and come to you first when they need information or services related to your field.
SEE ALSO: Ecommerce Website Development: Tips for Maximizing Sales
Maximize website accessibility.
Once you have a strong blog and excellent, free content on your website, you should also consider ways to make that content as accessible as possible to site visitors. For instance, some websites require visitors to engage in a lengthy registration process before they can access certain material. Other sites are difficult to navigate, making it harder for visitors to find material such as blog posts or white papers. These barriers make it more difficult than necessary for visitors to find the type of content that will build your reputation as a thought leader in your field. In fact, faced with too many barriers, visitors may abandon your site altogether.
As a result, it is important to make your content as easily accessible as possible through careful website development. At most, you should ask for an email address in order to build a contact list. Otherwise, visitors should be able to instantly view and read your content. In addition, you should take pains when engaging in web development to make your content easy and intuitive to access. By doing so, you make it easier for site visitors to dig deeper into your site and absorb your excellent content.
Use social media.
Social media is an excellent way to build brand awareness, because of the potential it has to spread information quickly among large networks of people. However, you must be careful not to use it simply to promote your website and your products. Instead, if you wish to build a reputation as a thought leader in your field, you need to use social media to both participate in your community and to direct people toward meaningful content that relates to your field.
For instance, take the time to comment on other participants' material. When you do post your own information, you should focus on directing people to substantive content that will be useful to them, as well as answering questions that you know people are asking. By doing so, you add value to your social media presence that will help to position you as a leader in your field and draw people to your website.
Your website can be a valuable tool for establishing yourself as a thought leader in your field. Not only does it provide a place for you to create content that reflects your expertise, but it also provides a way for you to attract attention to that material. For instance, by creating and maintaining a blog, making your content free and easy to access, and using social media, you can establish yourself as a trustworthy and reliable expert in your field.





Comments are closed.