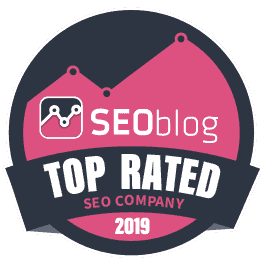 WEBii is a leading SEO, web design and web development agency in Austin, Texas, providing businesses with both a user-friendly and aesthetically-pleasing website, along with the marketing tools to ensure potential customers see it! We pride ourselves on responsiveness and follow-through, valuing our customers' input every step of the way.
Our ability to combine "small-town customer service" with "big-city resources" in the digital marketing sphere was recently honored with national recognition from SEOblog.com as one of the "Best SEO Companies in Austin in 2019."
"Search engine optimization in today's landscape is challenging yet exciting. There are many opportunities to do better – to create better content, to achieve better results, to see more conversion," said WEBii Managing Director Jacqueline Sinex. "Our home in Austin has a similar feel as a continually growing hub of so many businesses from small businesses and blooming startups to big brands. With the right customized strategy, these businesses can take advantage of digital marketing opportunities."
Our Austin SEO consultants have 23 years of experience designing, developing and marketing websites via SEO services that increase your search engine visibility. We put aggressive yet professional campaigns into motion and proudly work alongside our customers to ensure their website visions come to life.
---
"The WEBii team is phenomenal at understanding digital marketing requirements and executing them in a timely and efficient manner."

– William, Customer
---
SEOblog.com, a leading thought leadership site with a rich history of publishing educational content to help businesses grow, released its exclusive 2019 Best SEO Companies in Austin ratings in early September after earlier this year expanding its free offerings by launching a comprehensive SEO expert directory to help businesses easily connect with leading digital marketing agencies.
SEOblog.com ranked SEO service providers in Austin on dozens of key quantitative and qualitative factors. SEOblog industry experts examined each Austin digital marketing agency's website, market presence, client list, portfolio, expert certifications and authorship among other factors in its ranking system.
We're thrilled to be ranked among one of the best SEO companies in Austin by SEOblog.com. We'd like to thank all of our clients, partners and our WEBii team for their support and loyalty throughout this year.
Want to learn more about how we can help your business grow with SEO? Contact us today. Also, you can write a review on SEOblog.com about your experience with WEBii by visiting the SEOBlog Profile.