Leave Your Austin SEO to the Professionals
Our SEO services stand out from the competition by providing ongoing communication and proven results.
Expert-driven marketing strategy
Professional web developers
Content written for you
Proven success
Learn More About SEO
SEO is a form of Inbound Marketing. Unlike traditional media that relies on outbound contact, our techniques will ensure that customer traffic comes directly to you. Quality Austin SEO marketing plans involve a combination of quality content, linking techniques, website code, brand, social media, usability and website efficiency. At WEBii, we employ a whole team of experts to do all of this for you. While our team works on keyword research, website repairs, blog and web page content, and other tedious tasks – you can focus on running your business and assisting customers when the leads come in.
---

According to statistics from Mashable:

"Inbound marketing costs 62% less per lead than traditional outbound marketing."

---
Who have we helped with our professional SEO services?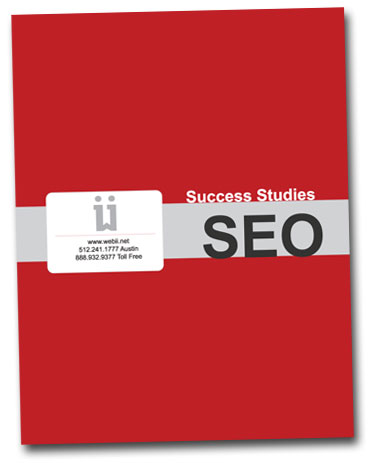 We help customers in a wide variety of industries. We know exactly how to tailor our communications and content to fit the needs and style of each unique audience. Here are some examples of our customer's industries:
Fitness businesses
Financial software
Retail
Jewelry sales
Construction companies
Staffing and job websites
Professional services
Non-profit organizations
Education businesses / schools
Healthcare companies
Dental practices
Law firms
Hospitality businesses
Home and commercial services
Physicians and surgeons
Moving companies
Business to business services
As you can see from the examples above, we have served a variety of businesses and non-profits with our SEO services. For each client, we pay careful attention to detail and customize our campaign strategy with their target market in mind. Many businesses are in competitive markets, and we can learn from their competition to improve the website and keywords. Some clients are in very niche markets, which gives us a fun challenge to come up with creative keywords that will attract the best customers.
---
Interested in learning more about how we can help you with your SEO strategy? Contact us now.