For Customers using cPanel:
To visit cPanel, go to your domain name followed by :2083 in your web browser.
For example: http://yourdomain.com:2083 (replace yourdomain.com with your own unique domain name)
Note: If your domain name is not live yet, you can use this temporary address: https://linux0300.webxess.net:2083/
You should see a login form like this.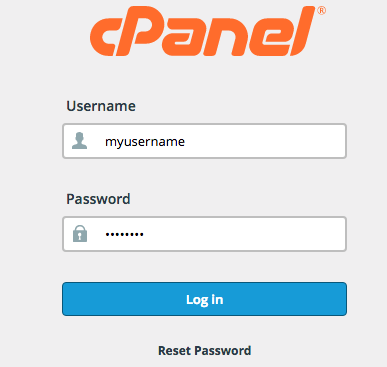 Enter your unique username and password. This information is sent to you in your account setup email when you sign up for services.
For more instructions on using all the features of cPanel, visit the documentation here.
For Customers using the WEBii Control Panel:
The Web Site Control Panel is available online by typing in your domain name (or your IP address) and the port number ":2327/". For this guide, the example website we are setting up will be "yourdomain.com".
So, if you wanted to log on using your domain name, you would type: http://yourdomain.com:2327/
into your Web browser.
If your domain is still under registration or is currently being transferred to our nameservers, you can use your IP address, which was included in your Account Setup Email.
For example: http://216.xxx.xxx.xxx:2327/
If you are on a Windows server, the address for your control panel is slightly different:
http://cp.yourdomain.com:2327/
Once your browser starts loading the page, a gray dialog box will open and request that you enter in your User Name and Password. These can be found in the Account Setup Email that was emailed to you with your IP address. After your User Name and Password are verified, a page will load that says WebSite Control Panel at the top, followed by a list of information and 2 rows of buttons. This is the main Control Panel page that you will be accessing to maintain your website settings.
This is what the login prompt should look like (enter your own unique username and password in these fields):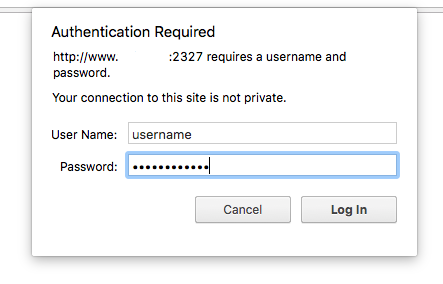 Please read on to learn how to change your default password.
Note that in certain Web browsers, such as Internet Explorer (IE), you MUST type in the entire URL including http:// in order to reach your Control Panel properly.
Security: Keep in mind that you should close your browser or exit the Control Panel in order to log out, for your security. If you leave your Control Panel unattended and open on your computer screen, it is possible for another individual to tamper with it's settings. Please express caution when providing your Control Panel username and password to others. Individuals with this master password will have access to a variety of information regarding your account.