Case Study: CAN Community
Case Studies: Community Advancement Network (CAN)
Redesign for a Service Organization Website and Dashboard
Project: Responsive Web Design, Content Management Customization, Dashboard Website Development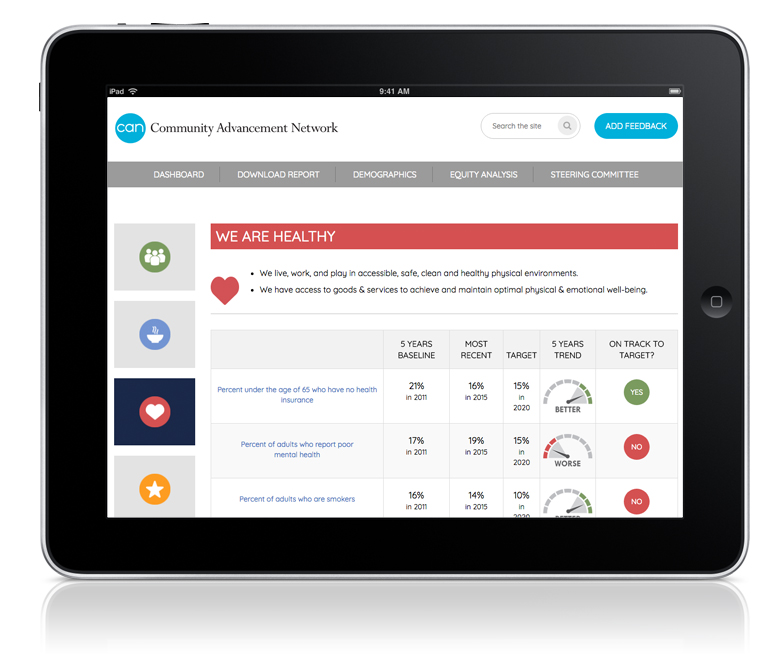 Customer: CANATX.org
At WEBii, we enjoy working with service organizations making great strides to improve communities. The Community Advancement Network is a partnership of government and local organizations working to improve the wellness of our community. Their efforts include tracking and analyzing vast amounts of data related to economic, health, social and educational topics. Our project included work with two websites: the organization's main public-facing website, and the reporting dashboard.
Website Application Features
The main website was re-designed with a new, modern and mobile-responsive look and integration to WordPress for easy content management. The dashboard features an extensive custom theme and several categorized elements that allow the administrators to easily create new pages related to their four goal initiatives. Admins use the custom tools to add new data efficiently. The dashboard format is flexible for adding images, charts, numbers and links.
Some features of this project included:
WordPress integration for easy management
Custom fields and administrative functions
Multiple layout variations
Flexible data entry tools for reporting
Categorized templates for report sections
Beautiful, responsive design