Everything You Need to Know About A/B Testing
By Karina Harchandani, Monday, August 30, 2021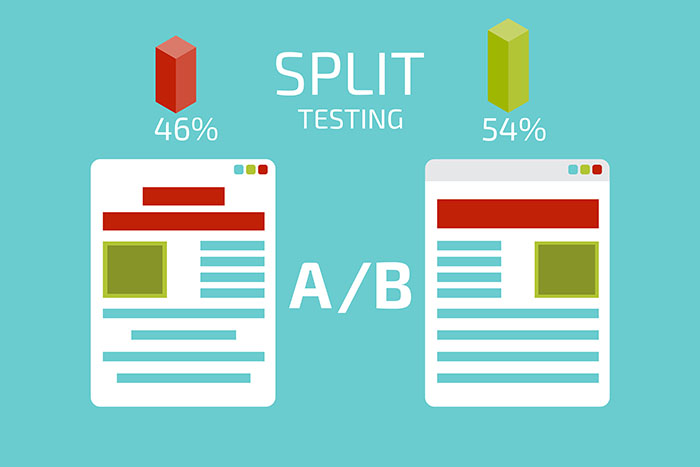 In this article, we explore the value of A/B testing in digital marketing and web design, from the perspective of a Texas web development agency.
A/B testing is something web development teams have known as a vital tool. When you are trying to develop or expand your business, implementing marketing strategies can be a challenge. A/B testing is a great tool to implement for marketing and promotional strategies.
Using an A/B test approach can increase not only your marketing strategy but the impact that it has. Using more effective tactics rather than trying out a lot of subpar tactics can help boost your marketing while keeping the stress low. Read on as we explore what A/B testing is and how it can help, according to a Texas web development team.
What is A/B Testing?
A/B testing (split testing) is a controlled experiment process where two or more variable versions are shown to website visitors and compared to see the impact. This is done to optimize your website in making sure that the traffic is receiving the best user experience possible. The variables tested are similar. Slight modifications are made to test which provides the best result.
The 'A' in A/B testing is the control variable in the experiment. The 'B' refers to the variation of the variable that is being tested in the experiment. The variable that has the most impact on your business is essentially the winner of the experiment.
A/B testing can be used in areas such as network, e-commerce, and B2B. For example, say that you have a banner on your landing page. In this banner, there is a call-to-action button leading to the product or service that your company provides. Variable A banner has a lot of information about the product or services and Variable B has a simple explanation. After running a user test, you find that Variable B had a significant amount of clickthrough compared to Variable A. Variable B can now be implemented into your site and help increase your overall clickthrough on your site.
Benefits
Improvements With Minor Changes
A/B testing does not put a dent in your budget to implement. It is inexpensive and can be effective with just some slight changes. Even putting changes on 2 or 3 elements can provide an overall benefit to your site in the long run.
Better Return on Investment (ROI)
The cost of directing traffic to your website can be high. Using A/B testing is a cost-effective way to make sure the traffic to your website will have a great ROI. This applies to time and money. You get to spend less time on testing different strategies and in turn, you can focus on matters that need more attention.
Bounce Rate Reduction
There are many factors to the bounce rate on your website. Unclear navigation, jargon, too much wording are all factors that can cause your bounce rate to spike. Using A/B testing, you can filter out those factors to make sure that users spend more time on your website and interact with the business more.
Website Redesign
Many people are visually inclined when it comes to looking at businesses. The design of your website can be a big factor in the user experience and traffic. If the design is confusing and cluttered, this can cause the user to click off your site. A/B testing different styles can help keep current clients as well as bring in future ones.
How a Texas Web Development Team Can Help You Succeed With A/B Testing
Working with an experienced web development team is important to implement these testing practices effectively. These trained professionals can conduct these tests for you and can get you results sooner without having to take away time from anything else.
Here is how a successful process will look:
Choosing what to sample
Before testing anything, evaluate with your web developer what can be improved on your website. There may be things that work amazing on the website, however, look at the small details. Even changing something such as placement can create a major impact. Talking with a professional can help you identify these small factors.
Testing each variable
After looking into what variables should be tested, the web developer will then test different variations to see which will bring the best possible result. Each variable will require a different experiment with a control to get accurate results.
Analysis
After the test is done, you and your web developer can sit down and talk about the results. These results can show how to implement new strategies if needed or if what is in place now is the best route to take. Another factor that can help in this is providing your web developer with customer surveys and polls to see how your audience is reacting to the change or what they would like to see.
A/B testing is a structured way to ensure that your website is providing the best user experience possible. For companies in Texas, web development can be a big investment, and this testing method will increase chances for a successful ROI. Whether it is design or content, this is one of the best ways to optimize your website.
Contact us to learn more about how we can implement A/B testing into your website.
Comments are closed.