Interesting Trends in Web Design That Affect Business
By Jacqueline Sinex, Thursday, June 25, 2015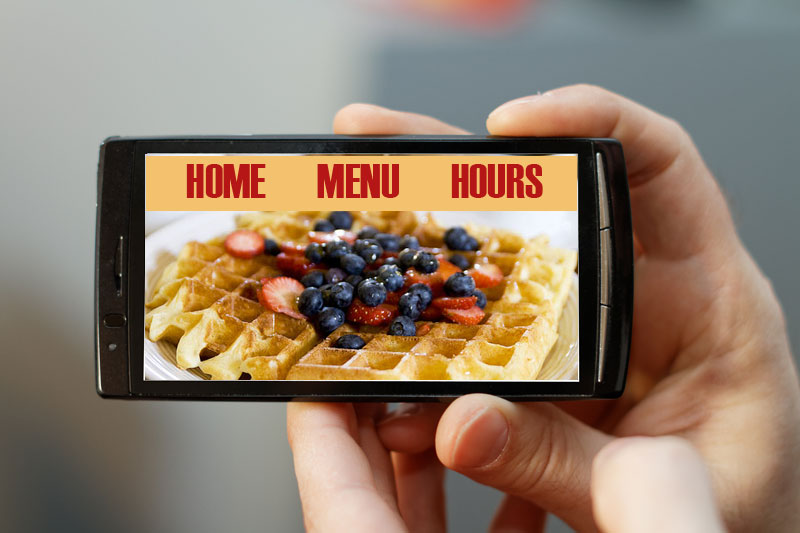 I am often amazed at how far we have come. Since the 1990s, the definition of a website has changed dramatically. In fact, what businesses deem as acceptable for an online presence has changed. Small business professionals who once considered skipping their web presence altogether (and did not consider online marketing important), are now participating heavily in social media, online ads, search engine optimization, and the website building process. Even some trade industries have completely shifted their marketing budgets from print publications and door hangers to online-focused activities. We have also witnessed changes in usability, user behavior, and web design preferences. Trends in consumer behavior are similar – people are savvier with technology and more attracted to Internet media, regardless of age or demographic. This shift influences how we use websites and what we expect to get from them.
Here are a few interesting trends I have observed in recent years that influence web design for businesses.
It's OK to have a vertical scroll.
I lost count of how many conversations I have had with people who want all their homepage content to be "above the fold". Design-wise, it looks nice when a beautiful visual fill up just the right amount of screen on your laptop and a few simple links and text are present right at the top. But this kind of limited design area can be a bad idea for a couple of reasons: SEO and usability.
If you have almost no content on your homepage other than one picture, some menu links, and a short intro paragraph, your page probably has very little SEO value. The competition level for search engine results has become much more challenging, which means more content (text mostly) is required to achieve a high-performing page.
But don't fret – because having web pages with a lot of vertical scrolls is ok. The latest trends in web design include many sites with nicely sectioned content that continues to draw the reader down – with different images, text, and links – and intrigue them to take action in multiple places. A nicely designed website will consider the priority call-to-action and messaging first and include that at the top, following with additional supporting details, testimonials, information about the employees at the company, case studies or white papers, and more. Business managers should decide what their primary calls to action are, whether a phone call, an email, or a form and highlight them in each section so there are multiple opportunities to grab the visitor's attention and start the customer conversion progress.
Vertically enhanced sites may break up the space with colorful visuals in between other text-heavy information. This keeps the site design experience less boring, even intriguing, as someone is scrolling along on a desktop or mobile device.
Everybody is looking at websites on tiny mobile devices and tablets.
You can't fight this one. It is happening. People from every age group have smartphones and Internet-enabled tablet computers. Every business audience is using these devices; a mobile browser is not secluded to just white-collar business to business customers. It might be more than you think – when I attended a presentation on mobile marketing less than 2 years ago, the estimated statistics claimed about 70% of Internet users were utilizing mobile devices to search for businesses and view websites. But a recent study says that number is over 80%.
How does this affect your web design strategy? It means that it is worth the investment of time and money to design your website in a mobile-friendly way. Smart business marketers pay close attention to details that affect their call to action on a mobile device – things like adjusting font sizes, making a phone number or link highly visible at the top of the page, and skipping interactive features like a pop-up ad or flashy banner. Since the goal of a mobile-friendly website is to provide an easier and more legible experience, the trend is to aim for a fully responsive site that auto-fits to the screen size and has a simple layout and accessible menu links.
Consumers also read content, like blogs, from their phones and iPads. When your followers are resting up during a lunch break and opting to read your blog, that should be considered a valuable opportunity to keep them as a fan and build a relationship. Therefore, blogs are often designed in a minimalist fashion that is easy to scroll through and read. Social sharing tools must also be mobile compatible, so these readers can share your content marketing with their own network of friends.
This is the real reason behind Google's decision to emphasize mobile-friendly websites in their search results. In order to continue being a leader, the giant search engine must cater to the needs of the consumers using their tools. Since users demand a mobile-friendly environment, promoting usability in this area is necessary. There was already a need for mobile-ready websites years ago, but Google's announcement was very powerful – causing more businesses and web developers to perk up their ears and respond.
Websites Are Getting More Personal
In more ways than one, websites are getting personal with their audiences. Set aside sophisticated personalization technology from sites like Amazon that recommend products based on your preferences and browsing behavior, even just website content is changing.
Now that we live and work in an enormous sea of Internet resources, the average website is an anonymous supplier of products and services. Consumers crave a little more than just information from an anonymous source and they are looking for higher levels of service. To stand out, companies have begun to paint their brands in a more personal light by sharing details about their staff, their offices, their community service, and events. Brands big and small are putting a face to a name and creating a customer-driven profile.
Since geography is also an important search factor to rank well in local search, it is acceptable and encouraged for business websites to include geo-focused words on their web pages. Google Maps, behind-the-scenes photography, and local events are commonly shared on the website. And finally, social media feeds are embedded or strongly highlighted. I expect to see this trend continue, as so many successful businesses are now community-oriented rather than just selling.
Comments are closed.