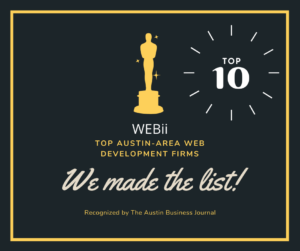 The Austin Business Journal published a list of top ranked Austin-Area web development firms, including WEBii in the top ten.
August 7, 2021, AUSTIN, TX – Despite a challenging past year during the pandemic, which affected so many agencies and client businesses, WEBii prevailed with ranking amongst the top web development firms in Austin.
The Austin Business Journal announced it's latest list of top local web developers on Saturday, following its efforts to continue publishing business rankings for the Book of Lists in 2021. The list includes survey information such as the number of major projects each company completed in 2020, how many employees are local to Austin, and estimated revenue.
WEBii ranked seven alongside many other established digital and branding agencies. This marks another consecutive year with WEBii in the top ten providers in Austin.