8 Online Learning Features Possible Through Custom Web Development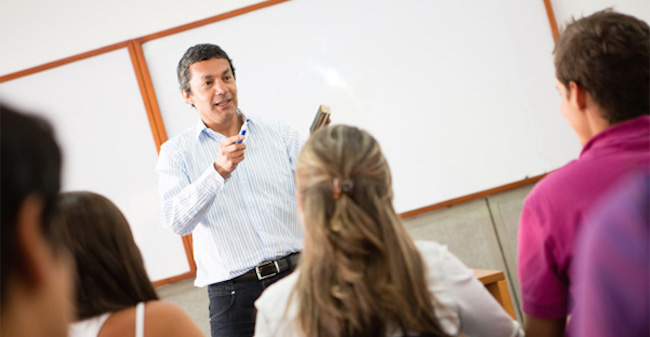 Online learning, also called e-learning, has been growing at an incredible pace over the last few years. Defined as any type of learning that takes place outside the classroom and with the use of technology, it generated almost $50 billion of revenue in 2015. Today, more than 77 percent of companies use e-learning to train their employees.
This incredible growth has accompanied equally rapid changes in the features available through online courses. Modern e-learning features include online registration systems, personalized learning, and the automated generation of documents. What makes these features possible (and successful) is custom web development. While the features available through custom web development are numerous, the following will give you a good idea of what is possible for an online learning course.
Registration System
E-learning enables students to take courses through the use of online technologies. A large part of their appeal comes from the fact that students can pursue these courses without needing to be in a classroom.
To make the experience even more convenient, many online courses are adding an online registration system as well. With custom web development, these systems can be tailored to meet the needs of the particular program for which they are created. As a result, they allow an e-learning program to maximize convenience for both its students and for administrators who wish to track enrollment information.
Interactive Testing
In addition to providing instruction and lectures online, e-learning programs also often provide online tests and quizzes. These materials evaluate students' grasp of the coursework and/or serve as an educational tool.
With the help of custom web development, an e-learning program can increase the usefulness of these tests by making them interactive. For instance, a quiz might provide the correct response and an explanation if the student selects an incorrect answer. By creating interactive testing opportunities, e-learning web development can encourage more engagement (and, therefore, more learning) from students.
Video Content
Nearly all businesses use videos as part of their training programs, and with good reason. Videos provide engaging information in a digestible format. As a result, people are more likely to remember something they saw in a video than they are to recall something they read in an article.
For online courses that must educate students without the benefit of a classroom, these qualities make videos a valuable tool. With the help of a custom web developer, e-learning programs can more easily identify, create, and integrate videos that will enhance their students' learning experience.
Automated Generation of Course Elements
Certificates are frequently used in online learning to confirm students' successful completion of an online course. Other course elements, such as tests and quizzes, are also commonly utilized in an e-learning environment. With the help of custom web development, these tests, quizzes, certificates, and even course materials can be automatically generated.
Doing so has a number of benefits. For instance, it cuts down on the overall time and cost required to create the course. The result is that organizations can more efficiently and cost-effectively create online courses that are also less expensive for students to use.
Organization of Course Materials
The more clearly your course materials are organized, the more easily students will be able to make their way through the online class. With the help of a web developer, you should be able to create a flow among the various elements of the course that will allow students to work their way through it without confusion.
For instance, reading can often be integrated with curriculum. Chapters can be organized in a progressive manner to ensure that the information students receive builds upon itself. Similarly, class units can be organized for maximum flow. The result should be a course that maximizes students' ability to navigate and comprehend the material.
Personalization
Within a classroom, the development and presentation of course materials, tests, and quizzes is conducted with the entire class in mind. Personalization of these course elements is difficult to achieve for individual students. Custom web design and development, however, has now made it possible for an e-learning program to tailor itself to the individual student.
For instance, coding within an online course can allow for the generation of a test or quiz tailored to a student's individual needs. In some cases, even personalized course material can be generated. The result is a tailored experience for students intended to maximize their ability to learn from the course.
Student Data Reports
Course administrators often need access to student data regarding the e-learning program. For instance, enrollment numbers for each course, completion numbers for each course, and more can all enable administrators to make smart decisions about the program. With the help of custom web development, administrators can now access reports that contain the information they need. These reports can be tailored to the administrators' needs and save them time and money that would otherwise be spent compiling these reports themselves.
Mobile Learning
Mobile learning is one of the most recent trends in e-learning. As a result, programs that allow students to access them through mobile devices are poised to become more profitable and successful than their non-mobile counterparts. Custom web development can create online programs with a mobile-friendly web design and mobile friendly features. As a result, students can access and enjoy their online learning programs wherever they are.
E-learning is a burgeoning field. Custom web development can support this field by providing a number of features that make the program richer and more individualized. By adding registration, interactive testing, video content, automated generation of course elements, organization of course materials, personalization, student data reports, and mobile learning, you can create an e-learning course that meets both your students' needs, and yours.





Comments are closed.