The Difference Between Online Marketing and Sales Conversion
By Jacqueline Sinex, Wednesday, October 21, 2015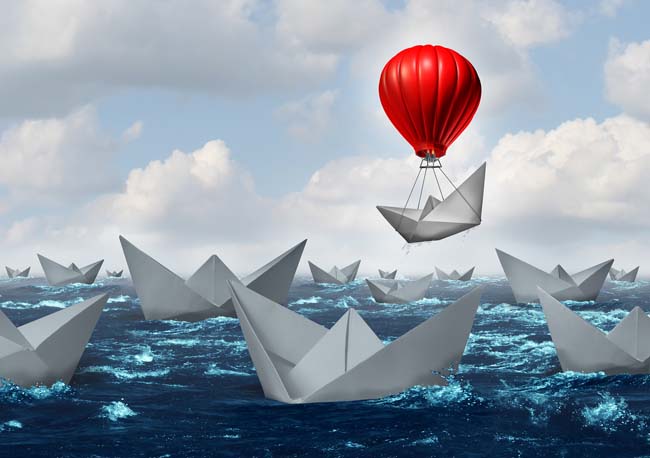 Marketers are getting frustrated with today's fast past landscape. The world is Internet-centric. We are bombarded with tools, tools and more tools. We are elevated to higher standards and expected to deliver more. People working in marketing positions are all too often expected to wear more hats than they can juggle. Part of the problem is that marketing is getting confused with sales.
Online Marketing is Not the Same as Online Sales. It's Part of the Path to Get There.
Consider the old model of advertising. Imagine you published a print ad in the Yellow Pages. You would love for people to see the ad and call your phone number, and for new customers to walk into your shop. But when that doesn't happen, do you feel compelled to call the phone book and complain? When you signed up with the phone book rep, you bought a print ad in a book that is potentially seen by lots of potential customers, but you didn't buy a guarantee to receive a new customer.
For some reason, this understanding is lost when we approach online marketing. Suddenly, our expectations are higher from marketing. Maybe because the Internet is so accessible and easier to track, or maybe because the audience is broader and more promising – we seem to expect online marketing to convert to sales immediately.
It is important to understand that online marketing is essential in today's business landscape, but it is not a replacement for sales. We should look at our web marketing strategy just like other marketing efforts and track them and tweak them to help our sales team. But it is also essential to continue strengthening and educating our sales team.
Without a sales process, you can't really close a deal. Without marketing, you can't really get leads in the first place. Sales and marketing should work together.
What the Online Marketing Path Looks Like
An effective marketing team can use several e-marketing tools to reach their audience, including SEO (search engine optimization), SEM (search engine marketing like pay-per-click ads), email newsletters, social media, webinars, and online publications (online content marketing). All of these tools should work together and compliment each other with similar branding, similar messages, similar keywords to reach a common goal – reaching a person who will potentially buy something.
Reaching a person is not the same as selling to a person. But you have to reach them, and get them to absorb your message and understand your product, before you can sell it to them.
The path to reach a customer can take different forms. Someone may learn about your company from multiple avenues – they read an email follow up after they attended an event, they visited your website, they read an article you wrote on an online magazine. This multiple touch point is what prompted them to be convinced that you are an expert, and they are steps closer to trusting you enough to buy something. But even at this point, this is still a potential buyer. You have reached them to convert them into a lead, but they are not yet a sale.
Another typical online marketing path is visitors just visiting your website. When SEO is strong, the website is visible in search engines and other online channels, so the target audience is seeing that link as an option amongst its competitors. When they choose to click on the link and visit the actual website, they begin a journey into the website content. The next step is converting that visitor into a lead, and that means the content must clearly express the value proposition. They must be compelled to perform an action, like call a phone number, click on a link, fill out a form, or do a trial. The action will depend on the type of audience, the type of product, and the amount of trust it requires.
There are a plethora of factors that go into website content. There is no one-size-fits-all content model, no matter what marketing consultants tell you. Each business is unique and each customer may be unique. You might even sell 2 different products to 2 totally different types of people. So this is where the marketing path may branch off in different directions. Some websites are designed with a simple singular choice of action – like landing pages with little to no navigation links and a form. Countless others are offering the visitor many choices; they can click onward to learn about specific services, they can read a blog, download free information or just contact you.
Your Brand and Reputation Matter
Online marketing consultants can help you better define some content and strategy, but at some point this goes way beyond online marketing.
There are many factors outside of online marketing platforms that impact sales. Your brand and reputation are a big part of this puzzle. If your brand is well recognized, it may have a very positive effect on the trust level of your website content. But if your brand is new and unknown, that trust will be more difficult to establish. If your reputation is very positive in one area – like a certain industry – that will be advantageous to your marketing and sales process, but if you have bad reviews online, you will have some challenges trying to convert a skeptic to a customer.
When your brand and reputation are tainted or unestablished, you may need more extensive help with your marketing and sales than a standard SEO service. While SEO professionals are very important to the overall plan, rebranding your entire company or coming up with a new sales process to help build trust in the company requires much different work.
Customer Motivation Impacts Online Sales
If you have a clear buyer proposition defined, maybe you explain enough benefits that most visitors are dying to buy your product. But it is almost impossible to control real buyer motivation. The visitor must have the right motivation to buy the product, and the people around them (influencers in their company) must be motivated enough to approve the purchase. There is no magic fairy dust that can make your website content so compelling that it will change an unmotivated buyer with no budget to spend. The best you can do is to "talk" directly to your customers and give them what they really want to know, so that the qualified leads will be more likely to convert.
Great Leads Can Vanish with a Poor Sales Process
When SEO is going well, you may have 1000's of visitors coming to your website, reading through your content. But what if the leads who do call the business are not greeted with the right information? What if the phone system routes to the wrong person and that potential customer gets impatient? If your website has a form with a few qualified leads coming through, but the email isn't answered promptly, that lead may have turned from an impulse buy to a tire-kicker. It is definitely important to know your sales process and be ready to service customers and fulfill orders; otherwise, the marketing efforts to receive those golden leads will be wasted. When marketing teams and sales teams are communicating, great things can happen.





Comments are closed.