Content Marketing Workshop Recap
By Jacqueline Sinex, Friday, May 29, 2015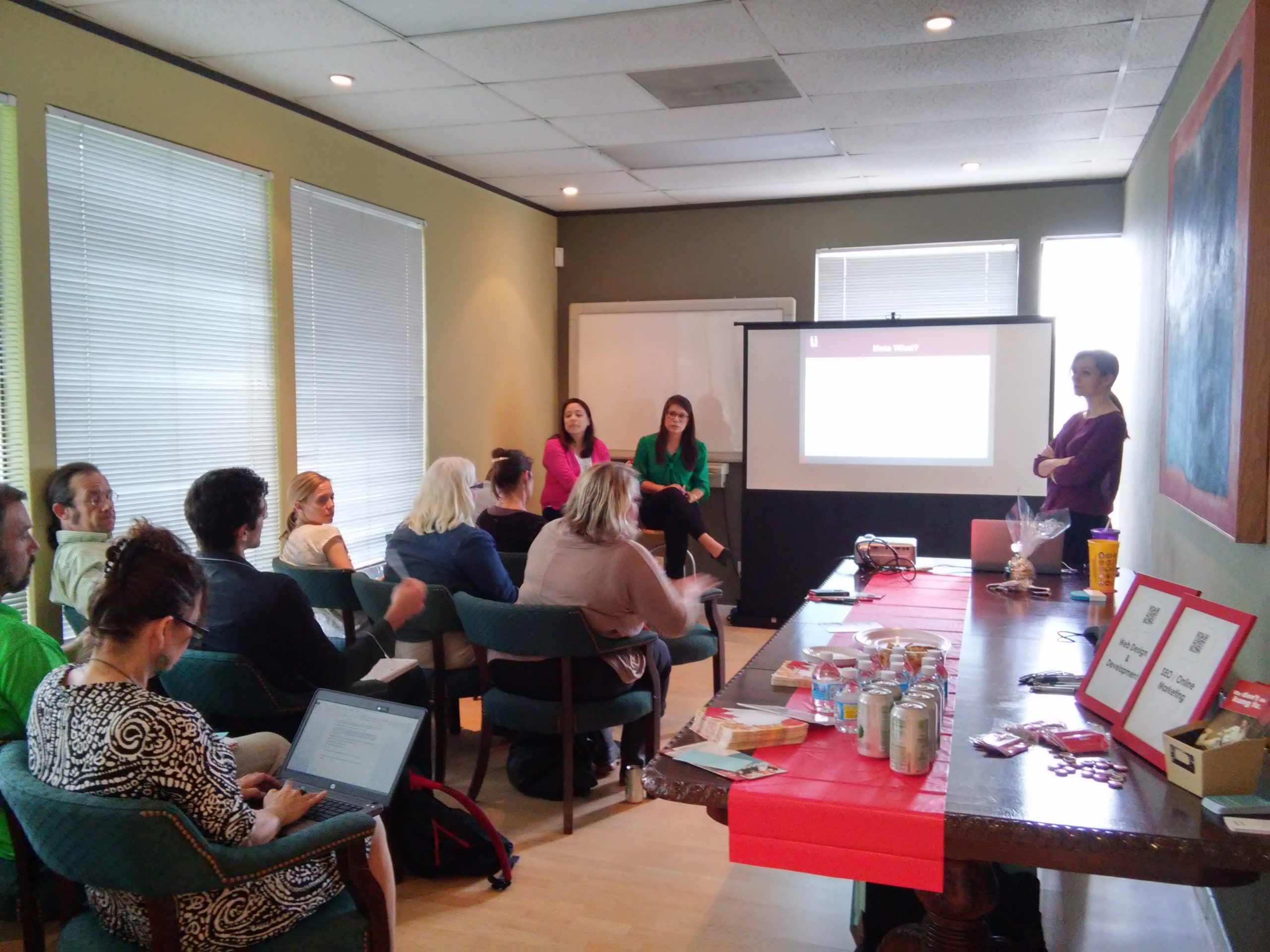 On May 20th, WEBii hosted a workshop called Content Marketing for Small Businesses and Non-Profits. Co-presented with Jessica Scanlon of Hot Dog Marketing, we covered various topics related to the landscape of online content.
We were happy to see a variety of business owners and non-profit organization administrators attend. Participants included a professional artist, women's clothing business, a water conservation expert, marketing analysts, school administrators, health and wellness professionals, a family not-for-profit organization, and a sports technology business. This demonstrates how content marketing really can apply to almost anyone, regardless of size or industry.
We began our session with a fun ice-breaker, dividing our participants into 2 groups. The first group was our "direct advertising" group, and tossed stacks of postcards at the unsuspecting crew on the other side of the room, referred to as the "mailing list". The one person who actually caught a postcard was asked if they happen to want to buy Group A's product today, and they declined. This exercise may seem silly, but it allowed us to demonstrate a simple point: The reason that direct mail marketing is not the same as online marketing is because you are sending out your message to a mailing list of people without any guarantee that they actually want your product.
As we led into the presentation, we cited why digital marketing is a great type of marketing for any business – because the leads coming "inbound" to your website are already seeking out your product.
We reflected on what the Internet looked like in the 90's, when search engines were very young and competition was still scarce for many niche businesses. Because of this, it was easier to put in a little effort to a website and get it ranked higher on a search engine. Blogs were still mostly for personal soap boxes, and business owners were relying on very basic website technology. Fast forward to our modern Internet landscape today, when it is "awful crowded" with nearly 1 billion websites competing for attention on the Internet. In order to achieve higher rankings today, it is necessary to put consistent and diligent effort into creating content that engages visitors.
We continued to share content writing techniques and strategies, citing examples of how to use keywords in a blog piece, how to properly use keywords in article titles, why keyword research is essential, and how social sharing can add even more value. My co-presenters Lizzy and Jessica gave advice on how to write in a natural way that is still helpful to SEO efforts. We touched on different types of online content, such as blogs on your website, guest blogs and third party website contributions, educational articles and social media updates.
A keyword brainstorming exercise helped the workshop participants to arrive at a stronger target keyword list that would lead their goals for writing new content. Jessica, Lizzy and I answered questions about keyword strategies and how to better identify when a keyword is strong enough to focus on versus one that is highly competitive and difficult to reach.
We also covered information on the appropriate length of content and provided goals on number of words and frequency. Some statistics that we shared recommend striving for 1,200 to 1,600 words for a high quality article, while 900 words is a good recommended starting goal. For web page content, we gave examples of slightly shorter lengths that are acceptable for landing pages and explained how more frequent content updates can lend to a site's relevance as well.
Our guests asked so many great questions that we have identified other topics we can potentially focus on to help them. And I am happy to report that several attendees followed up with me to report they successfully completed a new blog post after the event and applied the takeaways from our presentation. We anticipate announcing additional workshops in the future.





Comments are closed.