What Can Google Maps Do for My Restaurant?
By Megan Marshall, Tuesday, April 4, 2023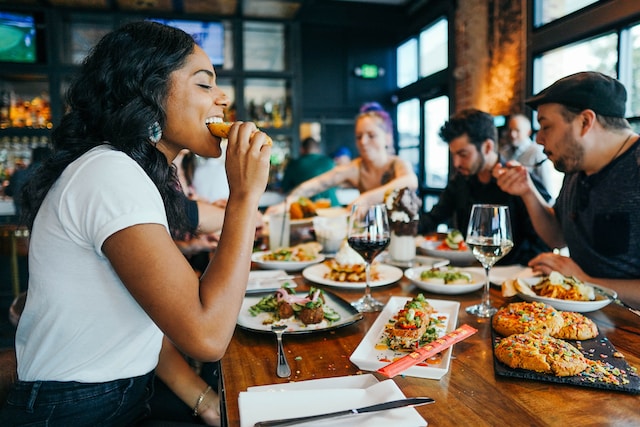 Before the age of technology, when you wanted to buy something, you had to physically travel to a business. But in recent decades, that has dramatically shifted. You are now able to go to a business's website and make purchases with just a few clicks, without leaving the comfort of your couch. The same idea applies to businesses that offer services. In several industries, it is entirely possible to go without ever meeting your service provider face to face.
That all said, just because so much of our lives are wrapped up in the internet does not mean that it isn't important to know where a business is located. Many people still prefer shopping in person. And in the case of restaurants, having your location known is critical to your success. With the amount of Google-driven due diligence that goes on today, you cannot expect people to simply show up at your doorstep. There are plenty of ways that Google Maps, in particular, can positively impact your restaurant's visibility.
Showcase Your Restaurant at Street View
You have likely heard about Google's Street View fleet. Perhaps you have even seen one of the cars while out and about. Each Street View car is equipped with a camera system on its roof. They collect street-level, 360 images to power Google Maps. You can view and navigate through panoramic images from around the world. The major benefit of this is that users know what to expect when they go to a particular area. Because Street View even comes with historical imagery, you can experience a location at its most updated point, as well as years ago.
Essentially, Street View adds a visual dimension to your online presence. It also builds trust by making your restaurant more available to the public. Prospective customers value getting to know a business before committing to go there, so it pays to make a good first impression on Google Maps.
Encourage Customers to Visit Your Website
Beyond enticing people to visit your restaurant in person, Google Maps guides them toward your website. Your Google Maps listing will directly link to it. With this ease of access to your website, you are able to drive more traffic and, hopefully, earn more business.
To achieve this, once again, you are going to need to make a good first impression. This means being able to check off every box that a customer expects out of your website. Your basic contact information should be there, for instance. That includes your address, phone number, and hours of operation. But having a site as a restaurant also opens the door for posting your menu, optimizing online ordering, and even selling branded merchandise and gift cards. Your site should be a one-stop shop for all things related to your business.
Update Your Restaurant's Information
The simplest way to utilize Google Maps and your Google Business Profile is by filling in the blanks. Include your location, business category, and hours. Further, while customers should be able to contact your business through your website, they should also be able to do it through your Google listing. If you have your phone number included in the listing, someone can call you with just one tap. It's just that easy!
Make sure that all of your information in the listing is accurate going forward. For example, if it happens that your hours have changed for whatever reason, you need to make those adjustments. Otherwise, you could have customers showing up at your restaurant at times when you are no longer open because they believed Google. And not only can having incorrect information impact how those customers perceive you, but it can impact your overall ranking.
Provide Images of Your Food and Team
All businesses benefit from showing off images of what they do. In fact, 71% of marketers believe that visual marketing is either important or very important. But when it comes to restaurants, photos are essential. When Google Maps users visit your profile, they should be able to see a variety of images to give them a better sense of what your restaurant serves and is like. Even if you choose not to hire a professional photographer, take care to use high-quality images that are a solid representation of your brand. You will be able to use these on your social media, as well!
And don't discount the importance of user-generated content. When people visit your restaurant, they might decide to take photos and post them on Google, too. Every plate that goes out should be picture-perfect to ensure that your profile stays attractive to future customers.
Build Your Credibility with Google Reviews
Have you ever found yourself in a toss-up between going to one business versus another? It may be the case that you decided to take to the reviews to read about others' experiences. This influenced you to make a more informed decision. People are going the same thing when it comes to your restaurant versus others in the area. Say you have a Mediterranean restaurant. You will be in direct competition with the Mediterranean restaurant on the other side of town. If their Google reviews are better than yours, the odds are that they will reel in more business than you.
Customers want to know that you provide high-quality products at a good price with good customer service. They appreciate hearing from others that you succeed in each of these areas because it comes across as more honest than your business saying as much. So, encourage people to leave reviews to take your Google Maps profile up a notch! Just ensure that you are actually making changes if there is legitimate criticism.
Create Local Google Search Ads
Investing in Google Search Ads can be a great option for your restaurant. As the name implies, they are designed to capture the attention of Google searchers. But did you know that you can get your ads on Google Maps? With these ads, you are charged a standard cost-per-click when people call you through your profile, look for directions or location details, or go to your website.
In order to show localized search ads on Google Maps, you need to enable location assets for your Google Ads account. You are then able to target a specific location and set bids by that location. On both mobile and desktop, when users search for restaurants near them, you could be featured at the top of the local search results, with a graphic that says "Ad."
An integral part of SEO is local search. Whether you are trying to get noticed in your specific neighborhood, city, or region, you need to be considerate of how to improve your local rankings. WEBii can help you with that! Check out our SEO services to learn more about what we can do for your business. Let's get you the real results that you need.
Comments are closed.