6 Reasons Why Using Pinterest for Business is a Good Idea
By Megan Marshall, Tuesday, July 5, 2022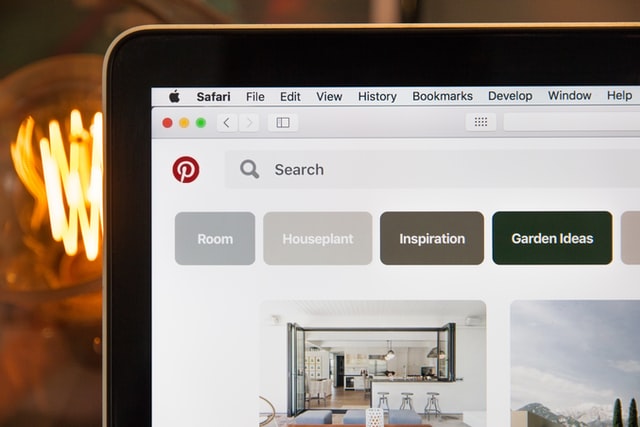 Get it out of your mind that Pinterest is just for personal inspiration. Sure, you can find some delicious recipes for dishes you've never tried. And, sure, you can make vision boards with extremely detailed birthday party themes. But Pinterest is about so much more than that. You may be surprised to find how great the platform is for exposing consumers to your brand.
When you use Pinterest for business, you tap into a niche marketplace. The people who use the channel are both looking for and sharing inspiring ideas. What sets it apart from Instagram is that there is an easy ability to add links to posts, otherwise known as pins. These take users directly back to your website. But how do you effectively incorporate Pinterest into your marketing strategy? Let's explore how to make it your social search engine success story.
Infographic: How to Use
Pinterest for Business
Figure out what is trending.

The Pinterest search engine behaves like any other. It relies on keywords to give users the content they would like to see. Keywords that are being searched a lot will start to trend, so cater to those.

Share pins that are actionable.

You want users to click on your pins. Considering how visual the platform is, of course you will want to make them look pretty. But you also need to catch their attention with a title that fits their needs.

Create unique content.

Remember that you aren't limited to just posting images on Pinterest! Consider promoting your giveaways or making a gift guide based on your products.

Use Pinterest for advertising.

Already, Pinterest is a great platform to get a lot of eyes on your business. But you can also take advantage of geographic targeting on Promoted Pins to get even more local users' attention!

Participate in group boards.

If you are working on a collaborative project, group boards are a fun way to keep your ideas together. Each person on the board can contribute pins that your followers will see.
It drives lots of traffic and user engagement.
Today, Pinterest boasts 433 million global users every month. That's a lot of people you could be reaching! One of the reasons why it's such a great channel for pulling traffic is that it's easier to rank for popular phrases than it is on Google. You just have to know what it is your audience is looking for. So, to rank well with Pinterest for business strategies, you target long-tail keywords and analyze their search results. Ask yourself what type of content and pins are ranking.
The Pinterest algorithm is going to focus on the positive experience of users. That is to say, whether they are saving your posts or staying on it for at least 30 seconds. These are indicators that your content is valuable. To prove that your pins and boards are valuable, make sure to optimize them with consideration for Pinterest SEO. By writing the right title and description, you are more likely to show up in users' feeds—both in their personal interest feed and the related pin feed.
You can integrate it with your YouTube channel.
When you make a video for your business, you want to leverage it as much as possible. That's why you may see brands distributing them not just on YouTube but across their social platforms, such as Instagram and TikTok. That said, you may not have yet considered posting your videos on Pinterest, given that it's known for photo sharing. However, you can actually use Pinterest for any business content you can think of. In fact, it's very beneficial to link your Pinterest and YouTube accounts. And it's an easy task to accomplish.
Once your video has been uploaded to YouTube, you will be able to use the URL. You can either create a board after clicking to "Share" the video with your Pinterest account, or you can save it to a board that has already been made. Doing this means that Pinterest users won't have to open YouTube to watch your video. It will, instead, be right there in their feed. But because they can't see the rest of your YouTube page, remember to clearly showcase your branding elements while you have their attention.
Pins provide you with more inbound links.
To effectively use Pinterest for business, you need to be mindful of SEO—not just in terms of the content, but also for backlink purposes. Otherwise known as inbound or incoming links, backlinks are a way for your website to gain more authority. When a link to your site is shared on another site, it is essentially claiming that your content is credible and useful. The first backlink that you can gain is right in your Pinterest profile. From there, Pinterest for business earns you backlinks through the use of pins.
When you create a pin, you use a URL that will lead to a relevant web page. This can be done on images, infographics, and videos. Your pins can then be posted to a board so that your related content is seen by more people. Boards are a smart Pinterest marketing strategy because they will add up to be a fully functioning archive of visuals and links. Once you have obtained a strong following of users that re-pin your content, you will generate even more backlinks.
You can boost your brand performance and support.
Every business needs to have a signature brand style. Without it, consumers won't be able to distinguish you from the next guy, which is precisely what you don't want. If you aren't building relationships with your audience and showing them what they can expect out of interactions with you, what's the point? Branding is what makes you memorable. Plus, having a positive brand image means that more people are going to be willing to trust you. Pinterest for business allows you to strengthen that image and, thus, that sense of trust.
To grow your Pinterest following, consider joining group boards. These are collaborative spaces where members are able to share their ideas. One user owns the board, but gives permission to others to add pins. You may even consider doing the same by making a special group board for your own niche. Being positive and helpful, whether it's through boards or engaging elsewhere, will set you up well on the platform. And don't forget to install a Pinterest button on your other channels and website to bring your other supporters in!
---
Fun Fact: 82% of Pinterest users access the platform on mobile devices.
---
More audience insight can be gathered.
With Pinterest Analytics, you are able to see which pins and boards have been performing the best. It will also let you know what is trending on the platform. Once you have logged into your Pinterest business account, click on "Analytics." The "Overview" tab will provide you with all of the insights you need. For instance, you can see impressions. This is the number of times that your pins have been shown on a screen. It's important to note, though, that the same user can be counted for multiple impressions.
In order to know who is creating those impressions, you need audience analytics. They are helpful because they will nudge you to further connect with the groups that are actually seeing your content. Audience analytics are broken into demographics and affinity. Demographics keep track of gender, language, and even device information. These details help you determine how to best organize your Pinterest strategy. On the other hand, affinity measures the general audience against a group that is interested in a specific topic. That way, you can build targeted ad campaigns.
It is an extremely visual platform.
Considering engagement on Pinterest depends on how visually appealing a post is, you must produce appealing content. Certain products and services thrive on Pinterest. Examples include weddings, food, art, and travel. Each of these opens the door for attractive, colorful photos and videos. These aren't the only industries that can use Pinterest for business, though. No matter what kind of content you create, make sure that it is high-quality. Pinterest recommends 1000 x 1000 pixels for square pins, and 1000 x 1500 for rectangular pins.
People go on Pinterest for aesthetics that simply cannot be found on other platforms. Hold yourself to the standard that has been set by users. This means investing time in taking photos. While you can certainly use stock photography sites for professional images, understand that Pinterest's algorithm appreciates fresh content. If you are using images that have been frequently used in the past, your Pinterest business profile won't come across as original. At the end of the day, have fun developing pins, and experiment to see what audiences resonate with.
You don't have to just use Pinterest for business if you have cute products that can be delivered directly to consumers. Companies in professional B2B industries can utilize the platform, as well. Just make sure that it makes sense within your digital marketing strategy. If you want a way for your business to come across as more personable and relatable, Pinterest can certainly be a solid contender.
Comments are closed.