Uplifting Stories and Local Heroes: Hayley Cakes and Cookies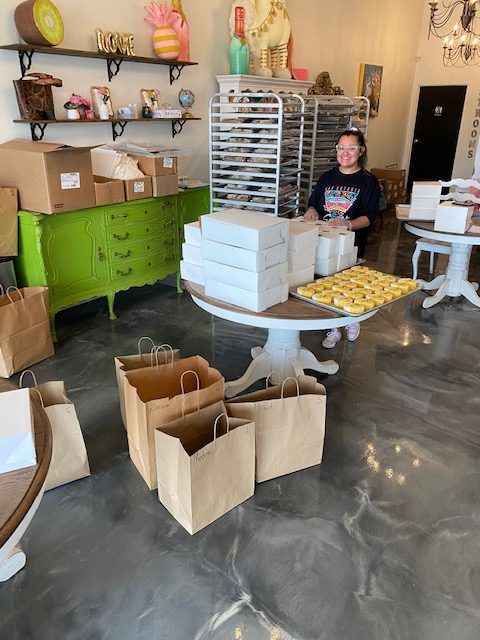 COVID-19 has forced us to stay inside, shut down schools and businesses, and heavily alter our way of life as we know it. People have managed to cope in all kinds of ways. Some are stockpiling goods to ease their fears (not recommended!), while others are utilizing this virus mania to drive their innovative thinking.
Folks are getting creative, finding new and interesting things to do within the confines of their home. Small businesses and local organizations are flexing their brain muscles and searching their hearts during this global pandemic, too. In fact, some companies are going totally off-script by offering things that are outside of their usual scope.
In this series, we share stories of our own favorite "local heroes" who are working wonders for the community.
How Hayley Cakes and Cookies Stepped It Up
As a family-owned bakery based in Austin, Texas, Hayley Cakes and Cookies has always been committed to producing high-quality, beautiful baked goods. Their usual offerings consist of cookies, muffins, cake – really just about any sweet treat you could think of.
During these trying times, Hayley Cakes and Cookies decided to step outside of their business model to bring customers what they need. What does this new model look like? For starters, it looks incredibly delicious. Everyone in the family that runs this local business decided to chip in to offer free delivery every day for various creative dishes, like bread pudding or cinnamon blueberry coffee cake (yum!). For entertainment they put together cookie decorating kits and "Mr. Potato Head" cake decorating kits for families. In addition, Hayley and her team started offering items that are particularly helpful during quarantine, such as loaves of bread, home-cooked meals (like King Ranch Chicken), and hard-to-find products (like flour).
While the free delivery menu proved to be a welcome solution, they didn't stop there.
They also designed special themed cookies that they donated to local hospitals and care units to show their appreciation for medical personnel during the outbreak.
Why They Did It
This business move is more than just providing tasty goodies – Hayley Cakes and Cookies is giving the Austin area something to be excited about and to look forward to. This is really important, especially as events like weddings, graduations, birthdays and other events are being cancelled everywhere. People needed something to keep them going, and Hayley Cakes and Cookies decided to meet the challenge.
"We have received several nice thank you emails that were very sincere and touching from people thanking us for delivering free bread and a meal… Also we receive many thanks from doctors and nurses for brightening their day with our funny or uplifting cookies. It is really weird to think how a simple random act of kindness like giving someone a loaf of bread or a cookie can have such an effect on people!"
Digital Tools That Made It Possible
Thanks to some talented web developers on our team, we were able to jump in to help the bakery when the need for the new delivery model arose. We setup a simple online ordering process that allowed customers to place their delivery order requests in minutes, bypassing a normal shopping cart experience. Every order request then automatically feeds into the fulfillment process via a custom order management app. Customer service reps are able to manage orders remotely, and they can easily change the menu offerings daily. Learn more about this work from our case study.
Support This Local Business
Want to support this local business? The bakery ships cookies and treats all over the US, in addition to their Central Texas efforts. Visit their website for online orders.





Comments are closed.