E-commerce: 4 Follow Up Marketing Tips
Saturday, October 15, 2011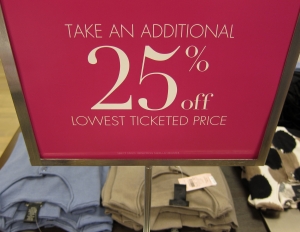 When you have an e-commerce site, you have ample opportunities to re-market to your customer base.  Maybe you didn't know it, but there are several of these opportunities right at your finger tips.
1. Product reminders.
Some shopping carts come equipped with this feature, such as Zen Cart.  After the checkout process is complete, the confirmation page can display a "would you like to receive update about this product?"  If the user selects yes, they are subscribed to a basic newsletter or email reminder system that sends them an alert when you update the price or information on that product.
This is especially great for products that fit that high volume benefit – or that come in different sizes and colors.  Maybe I bought the red scarf and if I get a product reminder that the scarf just reduced in price, I will come back and buy the blue one, too.

2. Thank you deals.
Ever have one of those moments when you come back from a shopping trip with your new shirt and as you are unpacking it you think, Man, I should have bought those earrings, too….?  Give your customers a little incentive right after their purchase, and help satisfy that left over craving for your product.
Staple a coupon to their receipt, drop a coupon in their email box, or display a simple discount offer on the thank you page of your website's checkout confirmation page.  (Thanks for your order!  Use this coupon code next time you shop with us….)  WEBii has been practicing this for many years on it's web hosting order pages; the final "thank you" page ends with a 10% coupon toward their next account.  Sometimes customers hang onto this and think about that other website they have been planning to start up; they prompt themselves to order web hosting just a little sooner than they might have.
3. Referral programs.
The best compliment your customer can give you is the referral of another customer.  And they probably already do that, right?  But wouldn't it be nice if everyone else – even someone who hasn't purchased from you directly in a while – was referring people to your website and your business?
I am a believer of tapping your current customer base.  A great way to do this (and simple) is to drop a referral incentive in their shipment (if you are shipping physical product to them).  If you aren't shipping anything, try this in your receipt emails.  A simple straight-forward program like "Refer a friend and get a $10 gift card".  Who wouldn't like ten bucks?  Set some basic rules, like the gift card is awarded after their friend makes an actual purchase.  Maybe you have other rules, but try to keep it simple (easy is key).
You could run the same kind of program with "outsiders" also – people who are not in your active customer database.  Just invite them to fill out an email form (again, very simple with few fields) to sign up for the free program.
Another route is joining an established affiliate program service, such as Commission Junction.  These types of programs are web-based and manage a network of various company affiliate programs that pay small commissions for referred business.  Companies can go through a review process to offer a program and individuals can sign up to become an affiliate and market those businesses.  The affiliate's benefit is basically generating cash by sending traffic to your website that result in sales.  There are thousands of these types of programs, so you are in a sort of competition to gain affiliates, but depending on the gain your business receives from a few new purchases, it could be well worth the effort.
4. Sister company offers.
Do you have a related supplemental service or business that compliments your customer?
Instead of offering a coupon toward a purchase on your primary website, try offering a reward for trying out the new service. Or how about sending them a flyer or follow up email asking if they would like to subscribe to newsletter updates about your other new service?  For example, companies like Red Envelope often market their existing online customers with specials from their sister company Sherri's Berries.






Comments are closed.