Top Tools for the Working Mom
By Jacqueline Sinex, Monday, November 8, 2010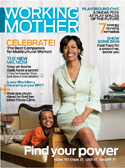 In a November 2010 issue of Working Mother magazine, Linkedin was sited as a "top tool" for working moms:
"The ability to multitask is a must for the working mom. LinkedIn is one of the tools you can use to maintain your work-life balance while also gleaning key insights from other career minded professionals. The site is also a fantastic way to establish your professional identity online, let other professionals know about your recent career accomplishments and even nab your dream job."
The Web in general can be used in wise ways to make a professional woman's life more efficient.  I believe that Linkedin is a strong contender because of its concentration on a business environment; unlike Facebook, Linkedin is solely focused on harboring and maintaining only business contacts.
Your website should also be used as a "top tool" in your work strategy.  Websites are really a multi-tool, and like a Swiss Army knife, they can be a "life saver".  Your custom website will serve as a marketing device, a reputation manager, a sales generator, and an efficiency tool.  Imagine how much more time a working mother can save by offering information, downloadable forms, and product ordering on your website – rather than being constantly tied down by the telephone.  Plus, make sure your Linkedin and other community profile links are present on the website, so people really get several touch points.
A tip for Linkedin: if you have had an active profile for a while, remember to log in periodically and review your entire list of contacts.  Have you communicated with these people in any other way?  Do you see any opportunities to reach out to someone either in another online medium or offline with a personal note or networking engagement?
I surprised myself one day when reviewing my list of contacts at Linkedin, realizing that I had nearly 100 untapped people in my database who I had not talked with in a long while.  I took the opportunity to locate some of them on Facebook and help boost our profile there.





One response to "Top Tools for the Working Mom"