Which Blog Platform is Right for You?
By Karina Harchandani, Wednesday, July 7, 2021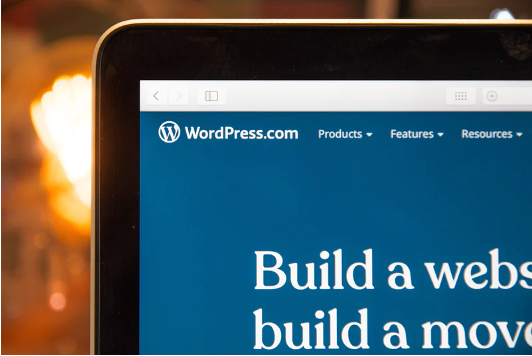 No matter if you are a small business or a corporate company, blogging can be very beneficial to companies. There are many hosting sites out there and they provide a wide range of tools and add-ins to create the blog that you want. It can get a bit overwhelming with all the options that are available nowadays. Just googling "blogging platform" brings up over eighteen million results of comparisons and sites you can use.
Choosing the right platform can be challenging. Working with a web development agency, like ourselves, can help with choosing the right outlet to meet your needs. We sat down and compared four of the top platforms used when starting a blog. Here is what we found. Skip to article.
Infographic: Options for Blog Hosts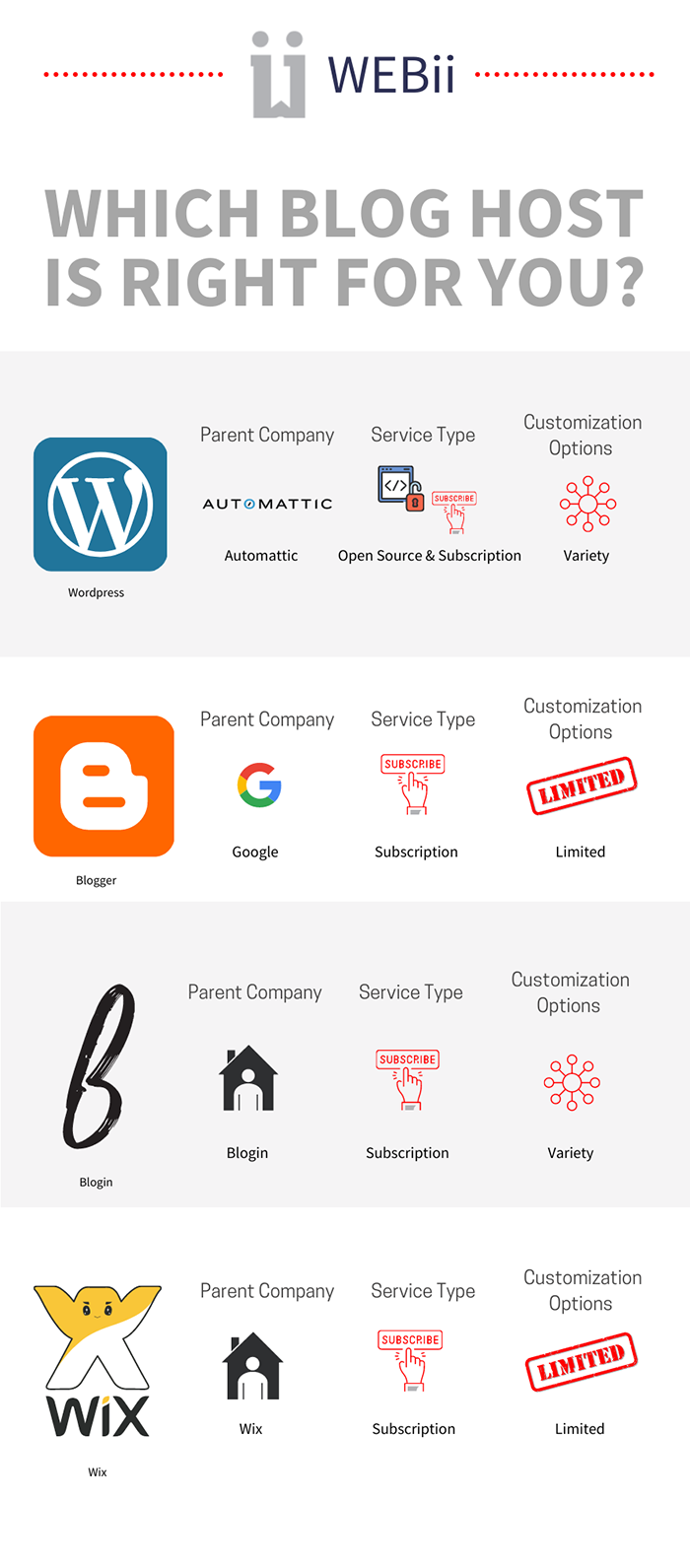 ---
WordPress
WordPress has been around for quite a while. Launching in 2003, the website started just as a host for blogs. It has now grown into a robust open-source website platform, website hosting, and even having the ability to purchase a domain directly through the site. A free option is still available with the domain being presented as (chosen name).wordpress.com. There is still the blog option available, but there is so much more regarding features and overall usage of this platform.
According to WPBeginner, WordPress powers over 41% of all websites on the internet. This platform is simple to use while still providing a lot of customization options. To start, you are given two choices. You can choose one of their many themes and customize it to your liking or build the website from scratch (developing your own theme). WordPress does have an option for a free platform or there are paid options that have more features, respectively. Depending on what blog or site you are trying to create will depend on the plan that you choose.
Some plans include analytics as well as search engine optimization (SEO). The analytics given are of the views, visitors, likes, and comments. Daily stats are recorded as well and have added analytics such as clicks and countries that have viewed the site.
Blogger
Blogger is one of the older blogging platforms. This platform launched in 1999 and began as one of the first commercial blogging services. It initially was created by Pyra Labs and was purchased by Google in 2003. Since then, it has been a blogging site that is continued to be used by many educators.
This platform has a simplistic style. The creation of a site or a blog is not difficult by any means. This platform seems to function as an earlier version of WordPress. There are a little over fifty themes that can be customized. The customization of the page is minimal, limiting the user to changing the font, overall theme colors, and background image. Beyond that, there is not must customization on the pages. The analytics given are minimal as well. The reports given are of the views on posts and pages as well as comments per post.
There is an option to buy a domain on Google Domains, however, the free domain will look like (chosen name).blogspot.com.
Blogin
Blogin is a blog hosting website that has come up within the last decade. Launching in 2013, Blogin was initially launched for the creators to use internally in their company. Five years after launching, Blogin spread across the world in providing a hosting platform for company internal usage.
This hosting site has a flat price for hosting, with options of paying annually or monthly. Both give full access to the features that are available in Blogin. The posts are only available to users that are added on or to your team. There are no customization options available, however, you can categorize posts into five different folders.
Third-party apps such as Slack, Google Chat, and Zapier can be connected to the blog. The free domain is provided during signup appearing as (chosen name).blogin.co. Custom domains can be connected in settings or purchased through a third-party provider.
Wix
Wix came along in 2006 and gained 1 million users in 3 years. Wix is unique from the websites mentioned above in the sense that this website was not started with blogging in mind. This website was created to be a hosted website builder tool (originally based on Flash) and brought along blogging with the hosting.
When setting up the blog, there is a free option and paid options. Wix allows the creator to purchase a domain through their site or use a free domain that will appear as (chosen name).wixsite.com. Regardless of free or purchased, Wix has a wide variety of templates to choose from. There is, also, an option for Wix to create the site for you by answering some questions.
This platform is designed for beginners; however, it can be used by anyone. There are some customization options, but they are limited to coloring, text, and arranging. Also due to some limitations, this platform is not considered to be very SEO friendly by search engine optimization experts.
Blogging on your site can help connect with your target audience. Having this engagement adds a personable element to your site and allows users to be more involved. Web development agencies, like ourselves, can provide insight based on what your company is looking for in a blog. Whether internal or external, having a blog can open engagement and increase SEO for your company.
Comments are closed.