Get Your Recognition – Optimize with Yoast SEO
Wednesday, December 9, 2020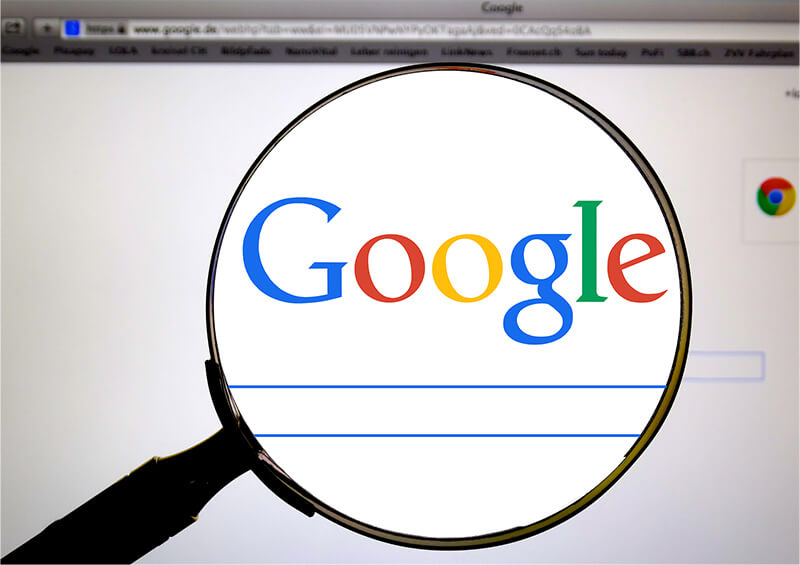 For website admins looking for basic SEO foundation, using the Yoast SEO WordPress plugin is a good option. 
The internet is a rather large place. With millions of websites competing for traffic, relying on word of mouth and social sharing of your website would be doing both you and your website a disservice. Professional SEO services are now a standard in digital marketing, and can-do wonders for earning the exposure your website needs. But while professional SEO services can significantly boost your traffic and search engine ranking, they require a big collaborative effort between yourself and your SEO team. Not to mention, as with all professional services, you do get what you pay for. Professional services do not come cheap, but the rewards outweigh the costs.
Not to worry, though. If you are not yet in a position where enlisting in professional SEO services is a viable option, there is an easy-to-use WordPress plugin that you can benefit from.
Yoast SEO is used by millions of websites and is offered in both free and premium versions. While the premium version offers more tools, both versions offer an array of options for optimizing your content and making sure that your web pages are indexed by search engines.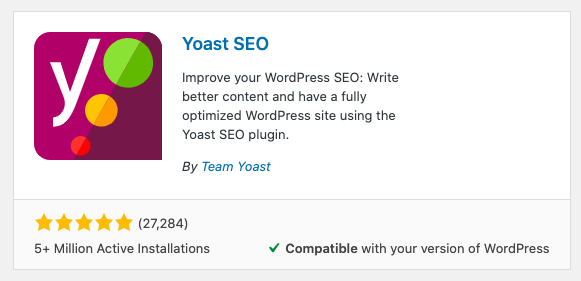 After installing Yoast SEO, you have your choice at using a variety of built-in features, some of which include:
SEO Analysis – Get recommendations for optimizing your content.
Readability Analysis – Get recommendations on how to better structure your content.
XML Sitemaps – Yoast SEO can generate XML sitemaps.
Webmaster Tools – Enter your verification codes for Google and Bing.
If you've opted into using the above tools, you can use the SEO module for each page and post of your website.
The SEO analysis tool allows you to add an optional focus keyphrase to make sure your content is optimized for the given keyphrase (do keep in mind that this keyphrase analysis is based on an automated tool, and does not analyze your content as thoroughly as would a professional SEO team). You can also preview how your page or post displays in search results. Last but certainly not least, you can revise your meta title, meta description, and slug. There are even indicators that will let you know if your titles and descriptions are too short or too long.

As part of the SEO Analysis, you have the option on a page-by-page basis to choose whether search engines are indexing your pages to show in search engine results, along with whether links within the page are followed by search engines.

The Readability Analysis tool provides helpful information for structuring your content. This tool will alert you if paragraphs are too long, if you need more headings or sub-headings, or even whether you're using too much passive voice. The recommendations are helpful and give you better insight into how to approach future content.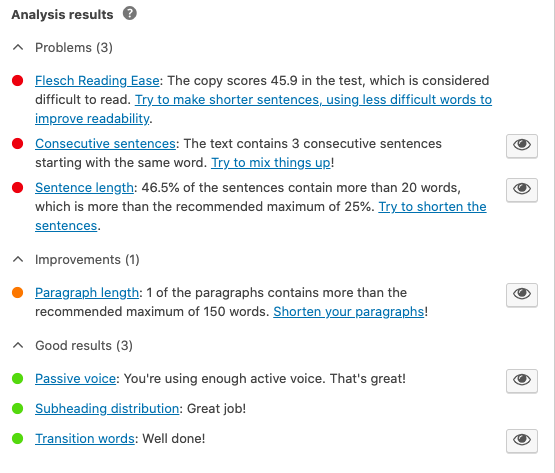 There are many more features included in the free version of Yoast SEO, and even more helpful and robust features as part of the premium version. While a plugin cannot replace the effort, experience, and knowledge of a professional SEO team, Yoast SEO is a good foundational tool to use for some automated / robotic style analysis of your website and content.
Need some help with keywords and website tuning? Reach out!





Comments are closed.